Most of us are happy to manage work on Trello boards. However, sometimes it happens that we have to prepare a report based or just need to share project information with clients or other non-Trello users. That's the moment when start looking for the exporting solution.
In this article, we will show you the simplest ways of how to export data from Trello.
How to export Trello board
Trello has some built-in options to seize the data, but there are some power-ups that can give you a hand as well, such as Planyway and Board Export. We've tested them all, and now we're happy to share our knowledge with you.
Planyway
Planyway power-up is primarily a project management app that helps you visualize your workflow on the calendar or timeline, do resource planning, build project portfolios, and track time. The tool adds lots of cool features that Trello is missing like recurrent cards, dependencies, multi-board view, etc. In addition, it allows you to export Trello to Excel, CSV or JSON at a click.
Comparing to the default Trello export, with Planyway you have a chance to export multiple boards at a time and filter data beforehand to export only what you need.
In order to choose what data you export, set the following parameters:
1. Filters. You can filter exported data by members, labels, and lists. Also, as with Planyway you can mark cards as compete when they are done, it's possible to filter cards by their completion status.
2. View settings. They will allow you to decide whether you'd like to or not export archived cards, check items, time entries (time tracking is another feature of Planyway) and milestones.
3. Connected boards and calendars. This is the way how you can export multiple boards at a time. As Planyway also lets you connect external calendars like Google Calendar, Outlook, etc. you can export these cards too.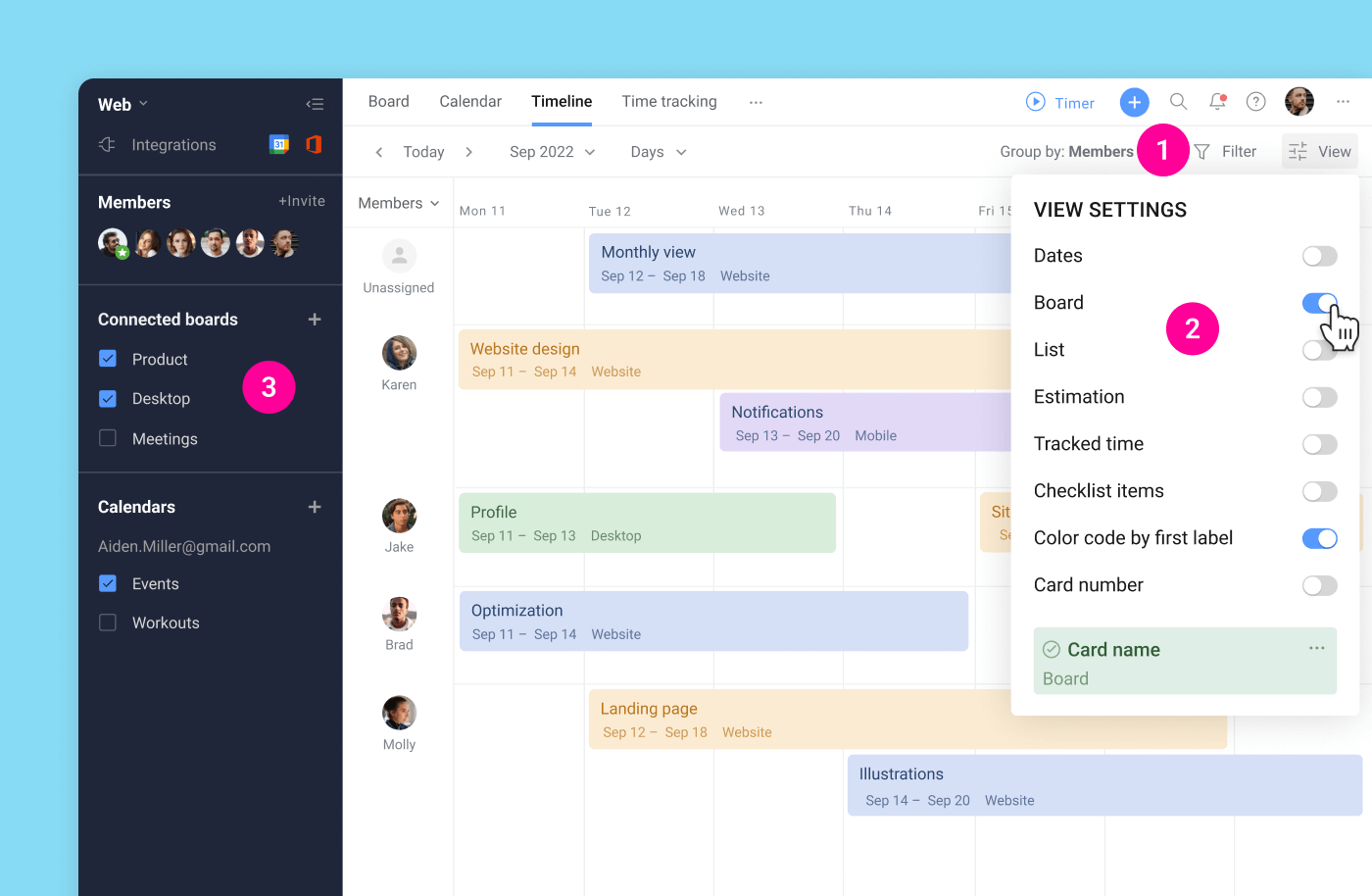 After you make sure that Planyway shows all information you need to export either click Export to Excel or Export to CSV and select the date period. Then, data will be converted into the Excel or CSV file on your computer. Here's the instruction on how to open the downloaded file in Microsoft Excel or Google Sheets.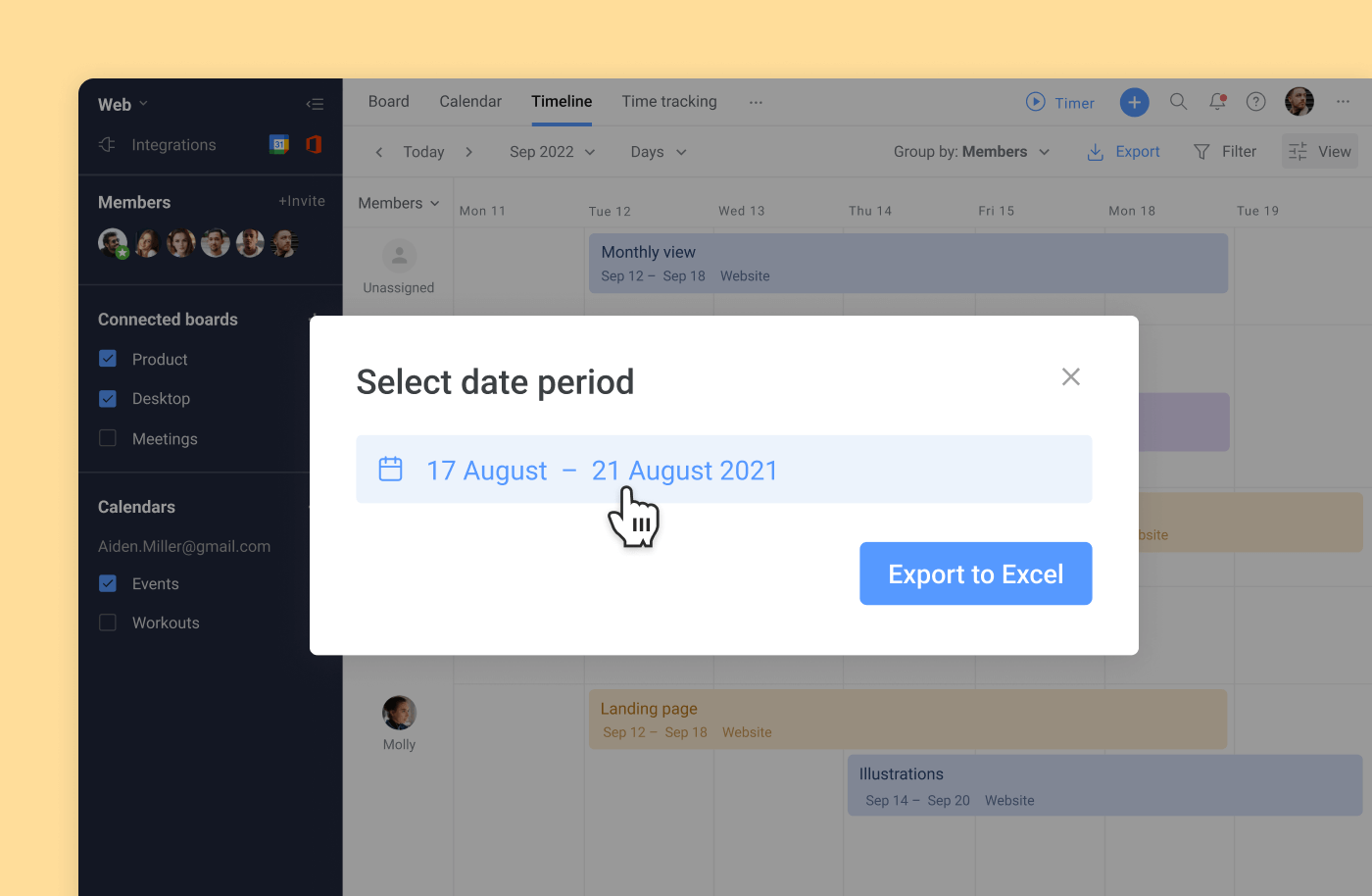 In case you want to export data as JSON for importing into other tools, it's available even with the free plan. Go to Integrations and choose to sync data in JSON format.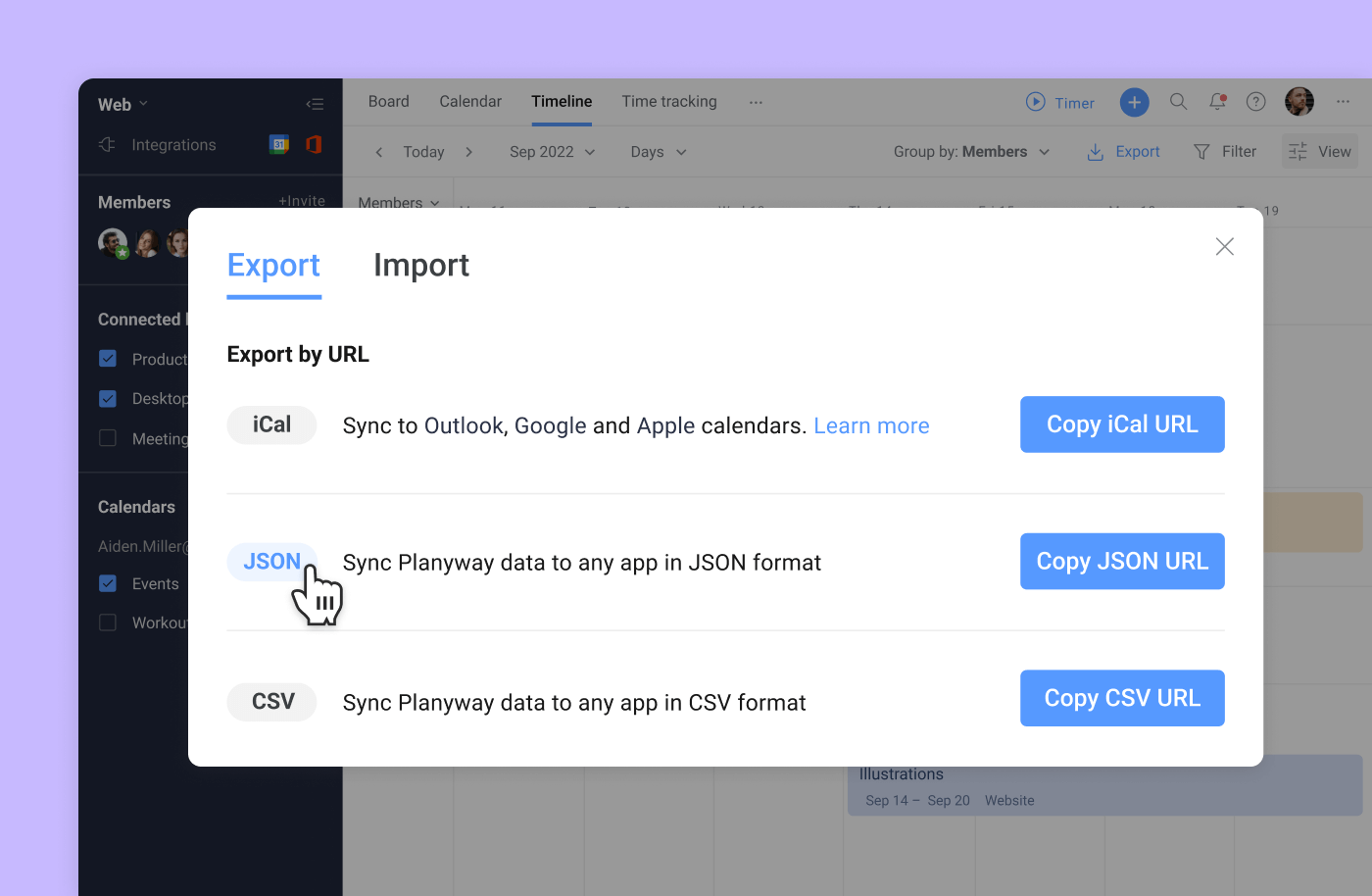 Pricing: $7 monthly per user for the monthly subscription and $5 monthly for the annual plan (includes all paid Planyway features).
Default Trello Export
Trello provides with JSON and PDF export for free, while CSV export is only available for boards in Premium Workspaces and direct Trello export to Excel is not possible at all. All export options are available under Menu > More > Print and Export.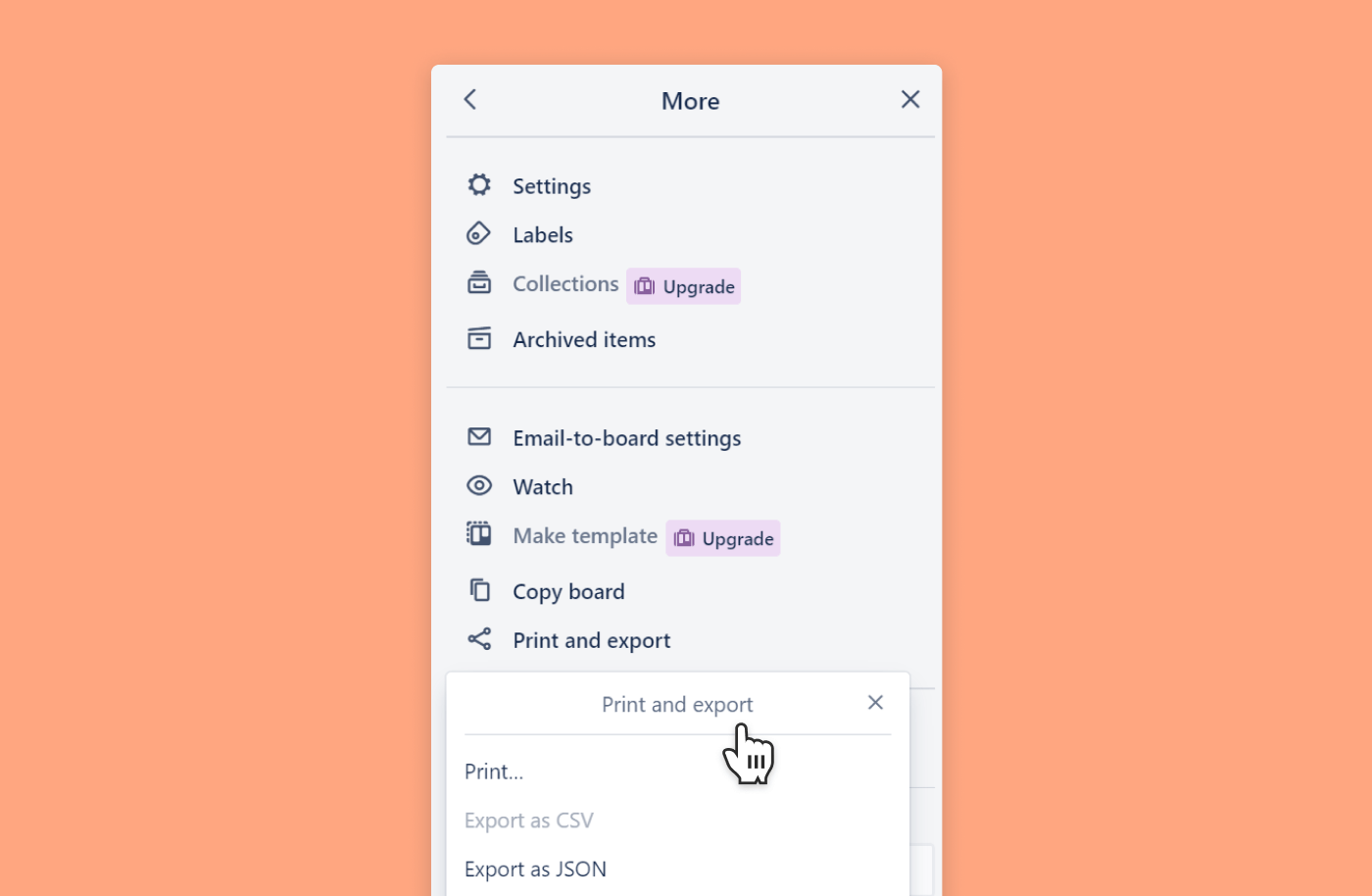 When exporting data in CSV you may face the problem with checklist items. Unfortunately, it doesn't load their names, but only the count, which is doubtfully helpful. What's more, comparing to Planyway, you are not able to choose what data to export and can do it only for one board in a row.
Pricing: $12.5 monthly per user for the monthly payment and $10 for the annual (includes other Trello Premium features).
Board Export
Board Export power-up is selective, so you may decide what data to export, but it still sticks to only one board at a time. You can select the fields that will finally appear in the spreadsheet, so it's completely customizable. The app allows Trello export to CSV, Excel, and PDF formats.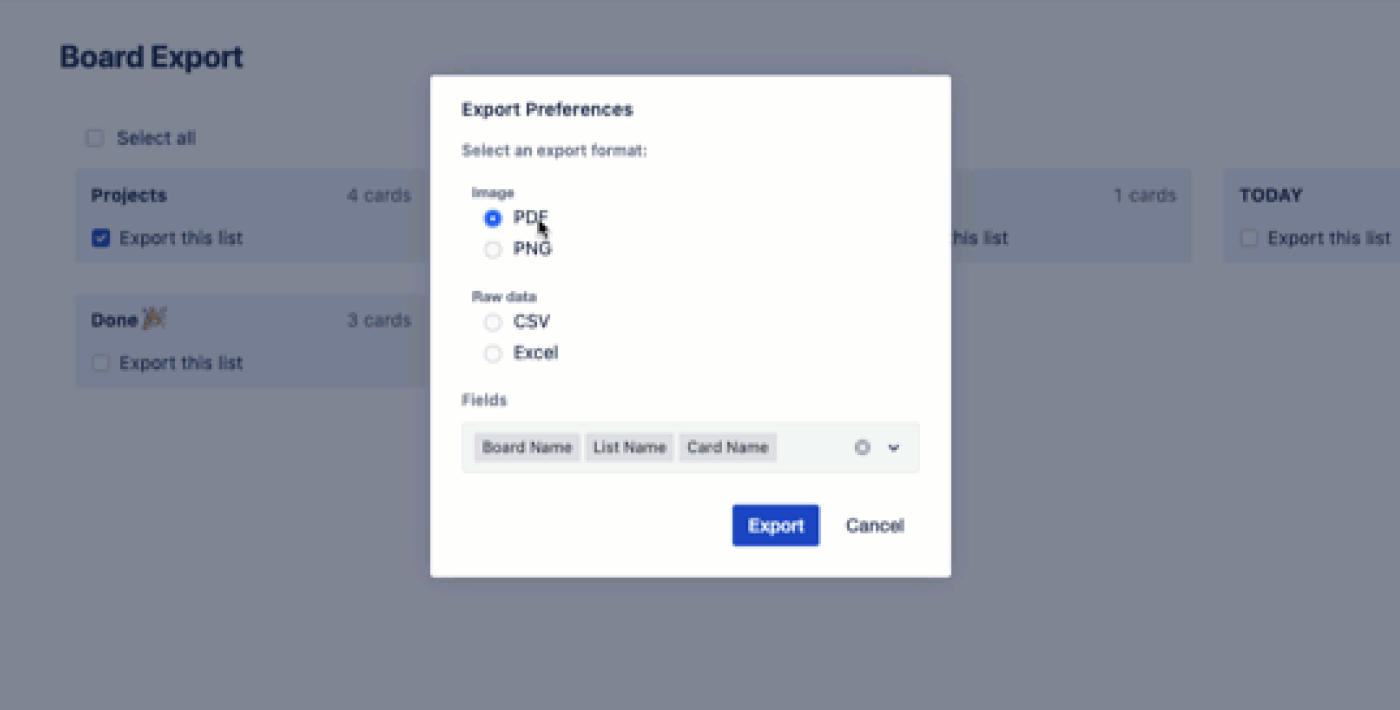 Pricing: $7.5 monthly per user for the monthly subscription and $24 in total in case of annual payment.
Conclusion
While all the suggested solutions may work pretty well for you, we recommend to pay attention to the cost. If you have Trello Premium — you have no additional cost, but if not it might be too pricey. Planyway and Board Export charge the same and actually are very similar in terms of the way they export Trello cards, but note that apart from exporting functionality with Planyway you'll get all the other features which are absolutely must-have when managing a project.