No matter if you're an office creature or a remote work fan, almost everyone has experienced the need for distant work due to the pandemic. And even though the situation is improving, it's evident that the world now has changed and more and more people prefer home to office.
With this in mind, we've come up with a big list of useful Trello power-ups. Each of them serves its own purpose, making sure you're just as efficient working remotely as when you are working from the office — and maybe even more.
Calendar power-ups
It's easy to lose track of your tasks if you work from home since all the days blur into one. The Trello Calendar power-up can help you with that. It visualizes your cards from the board on a calendar depending on their dates and gives you a better overview of your schedule. This way, you can easily manage your deadlines with the power-up and plan out work weeks or months ahead.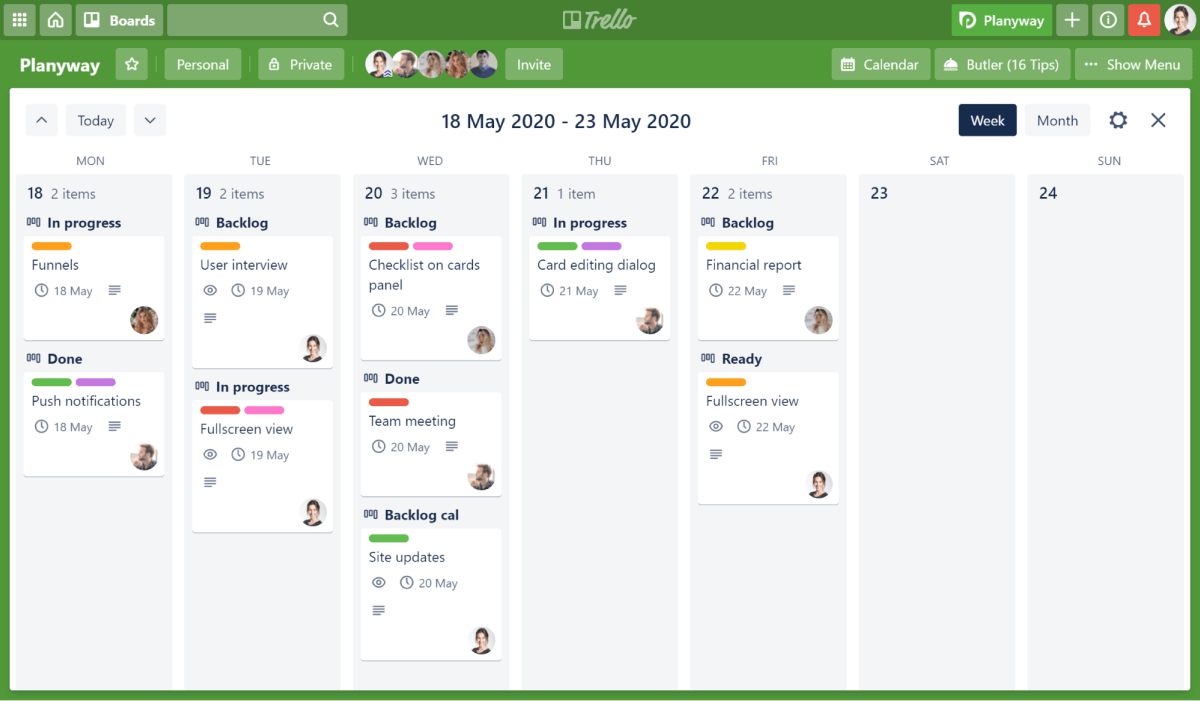 Planyway calendar can provide you with two more views - daily and a 3-day agenda as well as provide you with more flexibility thanks to its extra features. The cards on your calendar can be filtered by team members, labels, and lists. You can make cards recurrent, so they show up on your calendar on a repeating basis. Another bonus - visualizing checklist items so that you can plan tasks in smaller steps.
With Planyway, you can also integrate with external calendars like Google Calendar, Outlook, Apple, etc. It will help you have a full overview of your availability on a single page and share your Trello schedule with the others.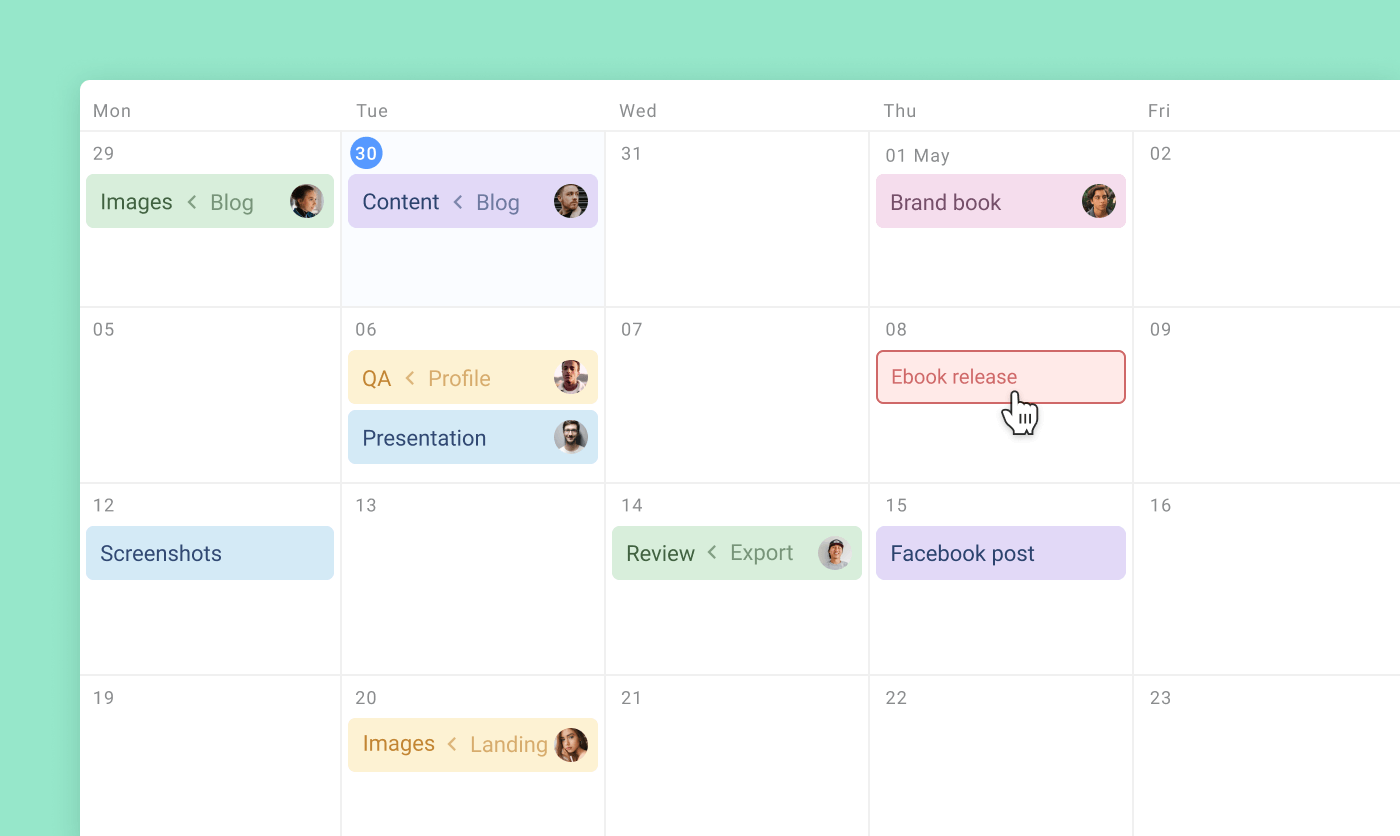 If you're interested just in seeing Trello cards in your Google Calendar, then try out Cronofy. It won't give you more than this, but solve your main issue at minimum cost or even for free if you need to sync only one board.
Communication power-ups
Slack for keeping in touch with your team
When working remotely the value of collaborative tools only rises up. By using Slack power-up you can integrate one of the most popular messaging tools with Trello. The conversation in Slack can be preserved as comments on the Trello card, so you can easily refer to it from Trello if needed.
Another feature of this power-up lets you link a Trello board to a Slack channel. This way, the board will be connected to a relevant conversation, so anyone joining the team can easily catch up.
The Slack power-pp allows you to set reminders for Trello tasks so you won't forget about them. You can create reminders for yourself, your colleagues, or even a whole channel! When the right time comes, the power-up will send you a direct message with a card link in Slack.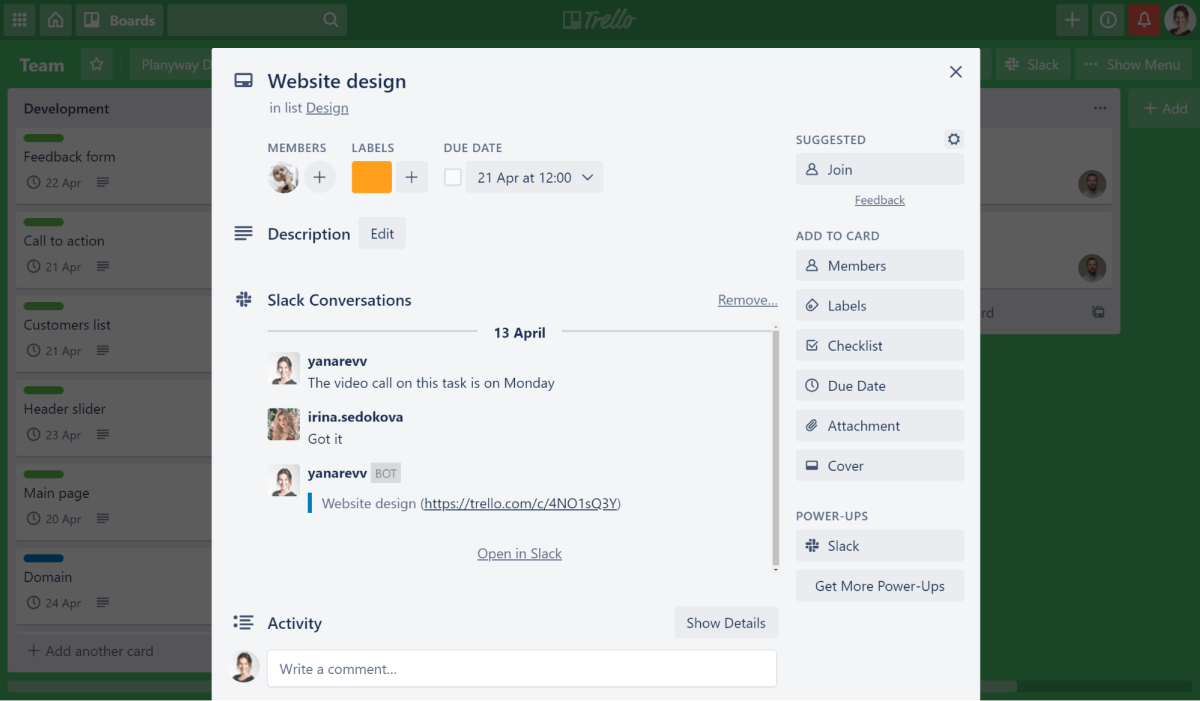 Communication may be difficult when your team is spread across the country or even the globe. You can discuss ongoing matters in work chats or call your colleagues. However, sometimes the whole team needs to participate in the conversation right away.
To help you in situations like these, we've picked the BlueJeans Meetings and Whereby power-ups, both of which allow you to start a video conference with a single click right from the Trello board. There's no need to install additional software or spend time setting up a meeting in advance!
These power-ups let you instantly get to discussing your project with your team members or clients. You can plan, assign tasks, and get feedback in real time with just one click. Moreover, you won't need to jump between windows. Your tasks and the other speakers will all be on one screen. You can even share your screen if you need to go beyond Trello.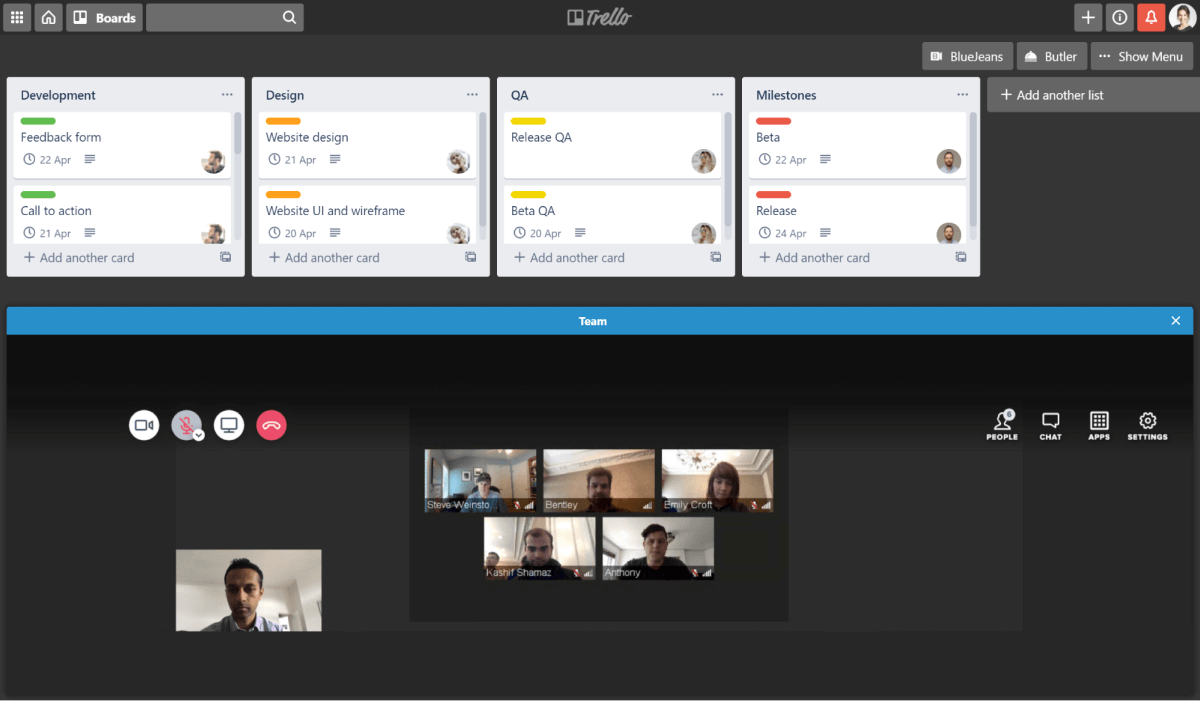 Voting for choosing the best options together
Another excellent tool that can help you agree on something with your team is the Voting power-up.
We've all been there: you've come up with a couple of great ideas, but which one do you choose? You can email all your team members, leave a message in a work chat, create a Google Form, or start a video call to find out what others think. Unfortunately, these approaches take time and won't be convenient for everybody. Instead, you could simply ask them to vote on a Trello card. One click is all it takes.
With Trello's Voting power-up, you can empower others to choose the best ideas and prioritize tasks. What's more, voting is not limited to users who belong to a certain board or team. You can allow public Trello users to vote, too. That way, you can get feedback from your community — for instance, when using a public roadmap.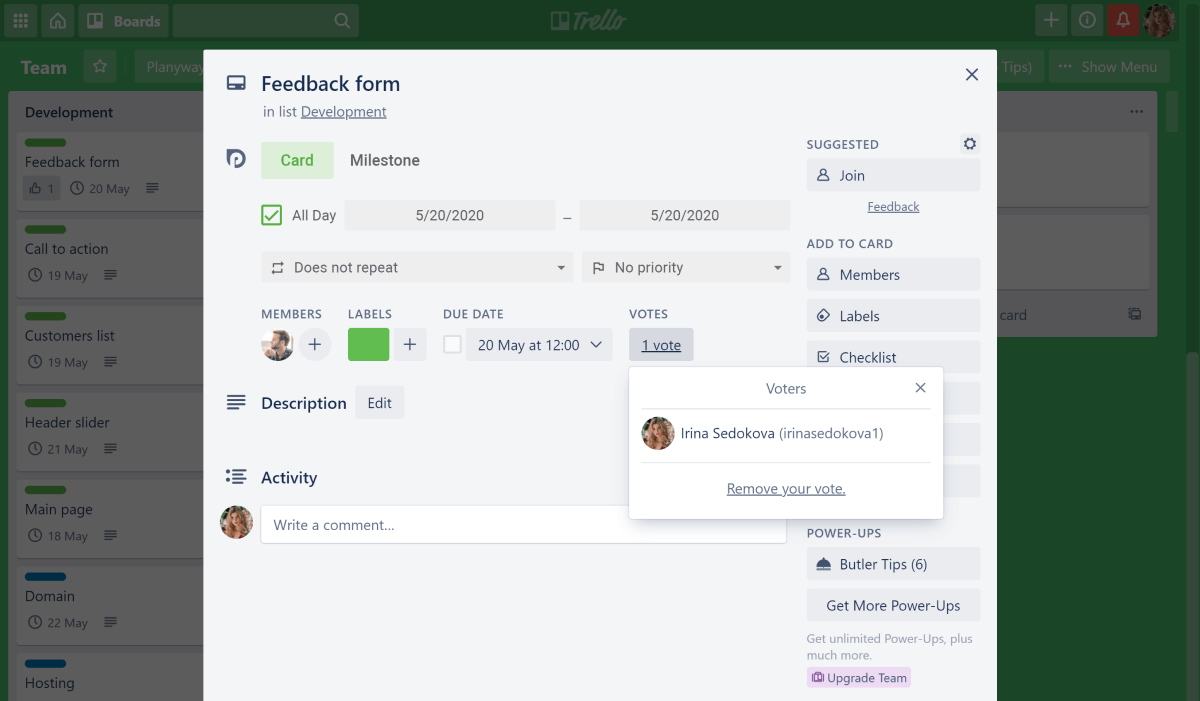 Miro for visual collaboration
When working in the office, you often have meetings where your whole team takes part in brainstorming sessions. Everyone has something to offer, so you write it all down on a whiteboard or sticky notes.
Remote teams can continue using this familiar system with the Miro power-up. It offers you a digital whiteboard that your team can use to discuss tasks and contribute their ideas. Graphics, notes, flowcharts, you name it — it can all be placed on a Miro board. This way, you can not only keep all relevant suggestions in one place, but you can also preserve the feel of a live meeting.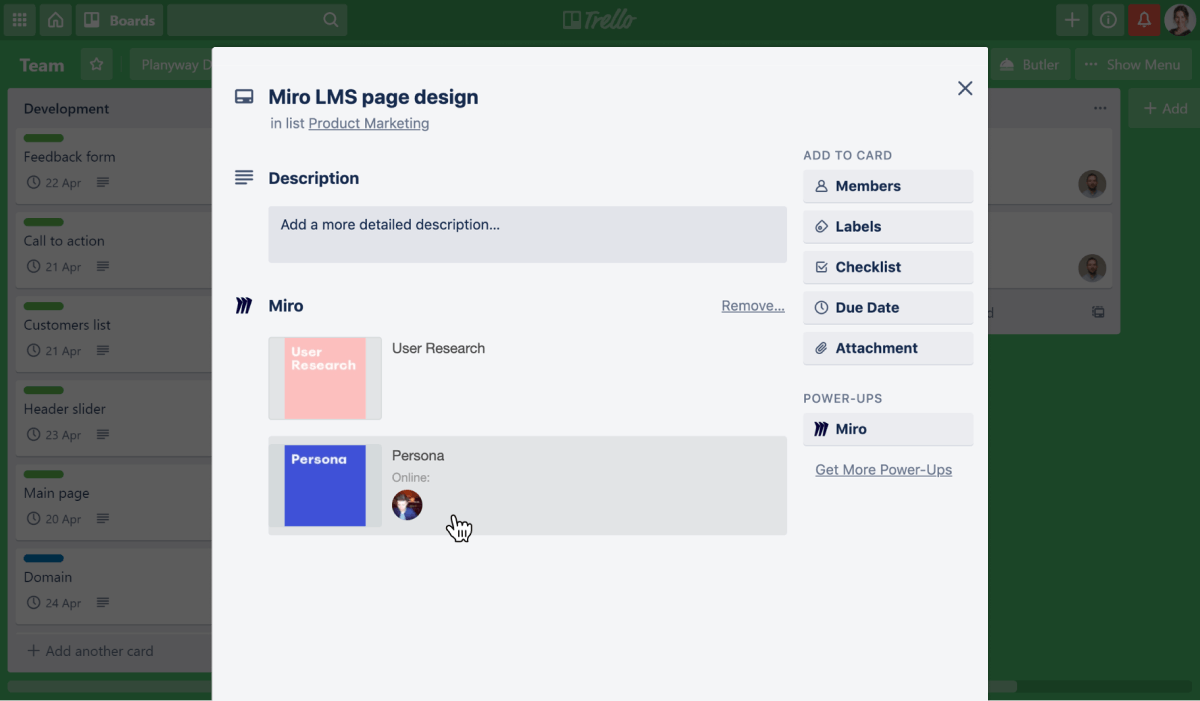 The Google Drive power-up allows you to attach files from your cloud storage to a Trello card, preview them, and comment without leaving Trello. You can also add folders to a task to display all of their contents in a card. This lets all of your team members quickly access the documents they need, and it saves work chats from being cluttered with links. If you do need a file link, after all, you can copy one from the Trello card, too.
Another handy feature of this power-up is the ability to create all sorts of Google documents right from a card. New files will be automatically linked to the card from which they were created.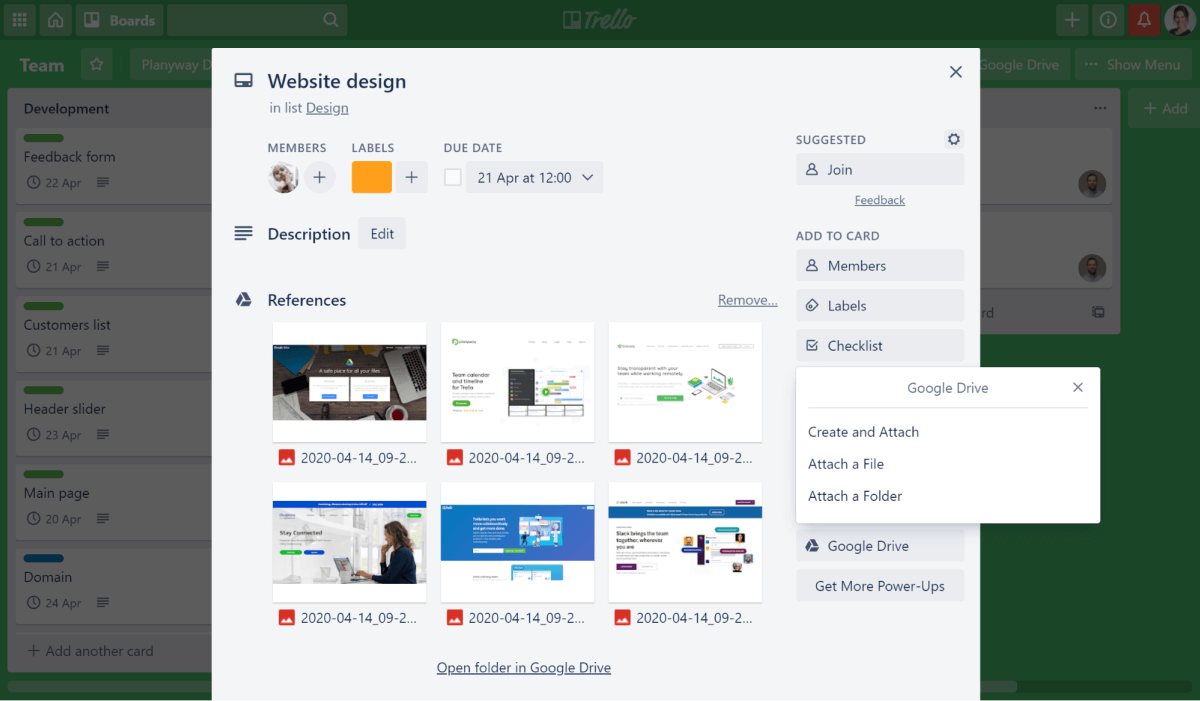 Much like the Google Drive power-up, the Dropbox power-up lets you attach all the files related to a particular Trello card. Whether you have graphics, documentation, presentations, or even a whole folder, just link the files you need from your Dropbox. Additionally, you and your team can preview these files from Trello, so you don't need any special software to open them. That way, you'll always have all the necessary files at hand, while your team can easily access them as needed. Say goodbye to lost email attachments!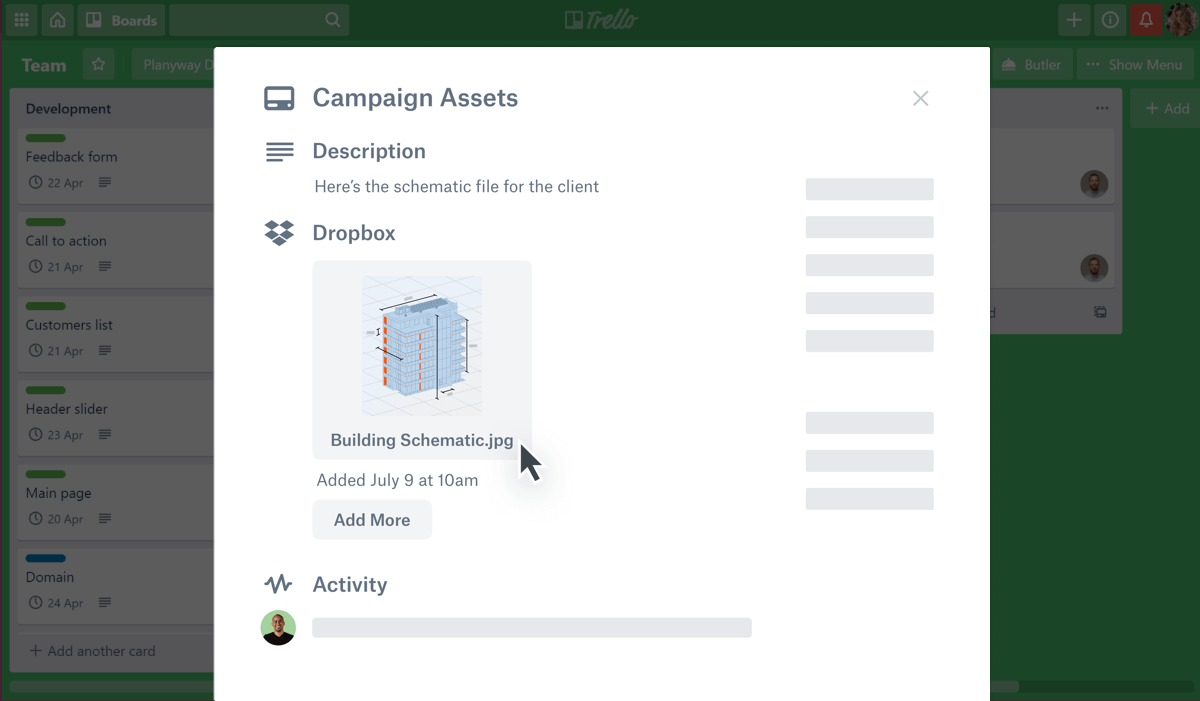 Trello reporting power-ups
Teams that work remotely may find it inconvenient to hold morning meetings where team members share updates on their work and discuss issues. Setting up video calls may turn out to be troublesome if team members live in different time zones. Emailing reports is an alternative, but reading all those emails can leave managers with little time for anything else. However, there is a quicker and more efficient way to do this - the Daily Updates power-up.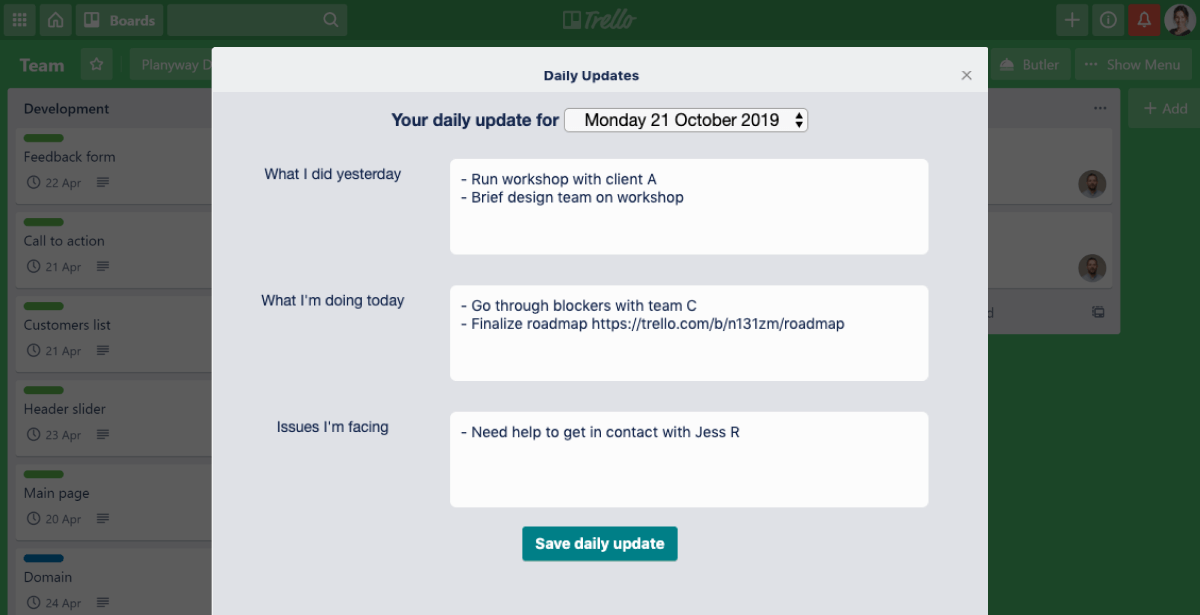 This power-up asks each team member for three pieces of information at the beginning of the day: what they did yesterday, what they're doing today, and what issues they have. All the answers are then shown in Trello, so everyone can check on how their colleagues are doing. You can also download the answers as a spreadsheet, should you need to gather data for a report.
Another case is when your clients or stakeholders want to have a look at how your project is going. Naturally, you can send them an email every week or hold online meetings. However, it would be much faster to generate weekly reports using the Board Export power-up. All you have to do is choose which lists you wish to share and export them in a suitable format, depending on how much detail you need to give. For instance, a spreadsheet will do for a full report, while images can be used for presentations.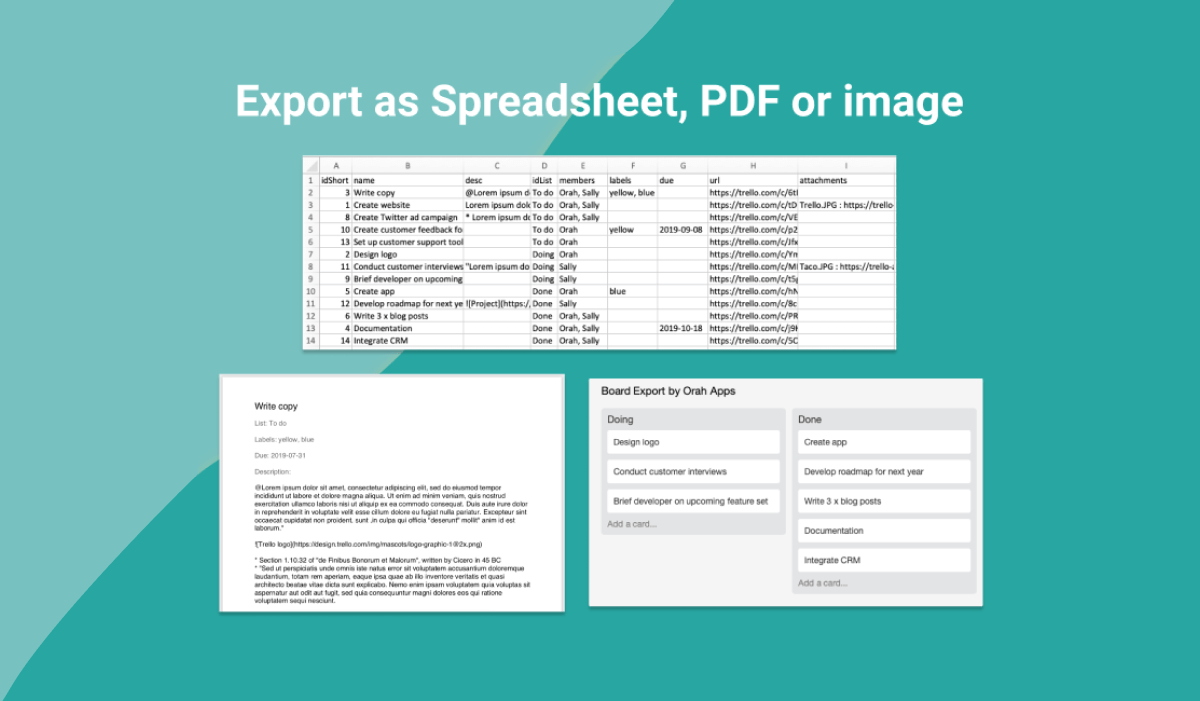 One more option is Analytics & Reports by Screenful which enables you to build charts and reports from your task data and share them with others. The tool lets you create custom charts, including line charts, dual-axis line charts, bar charts, scatter plot charts, and list view charts.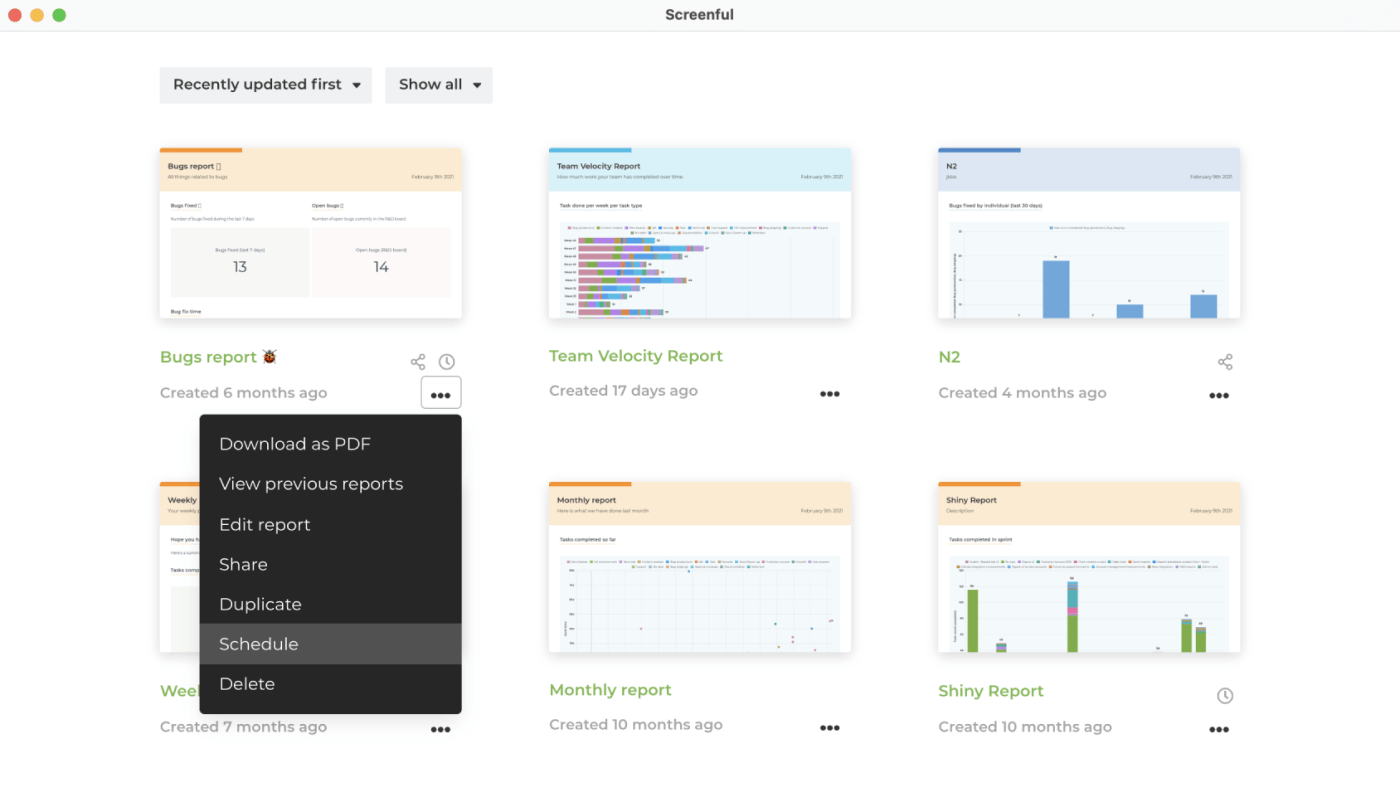 Planning & tracking power-ups
Visual project planning and time tracking with Planyway
Whether you work from the office or from home, you need to plan out your project and keep track of how it's progressing. Planyway, a project management power-up, can help you with that. Not only it can visualize your boards, but it also helps you build project roadmaps and makes it easier to stick to your deadlines.
Planyway is useful when managing workloads for both small and large teams across multiple projects. It shows who is working on what and when each task should be completed. It prevents you and them from distraction as you see task status straight away without asking. What's more, Planyway can visualize several boards on one calendar or timeline, giving you a higher-level view of all your plans and deadlines.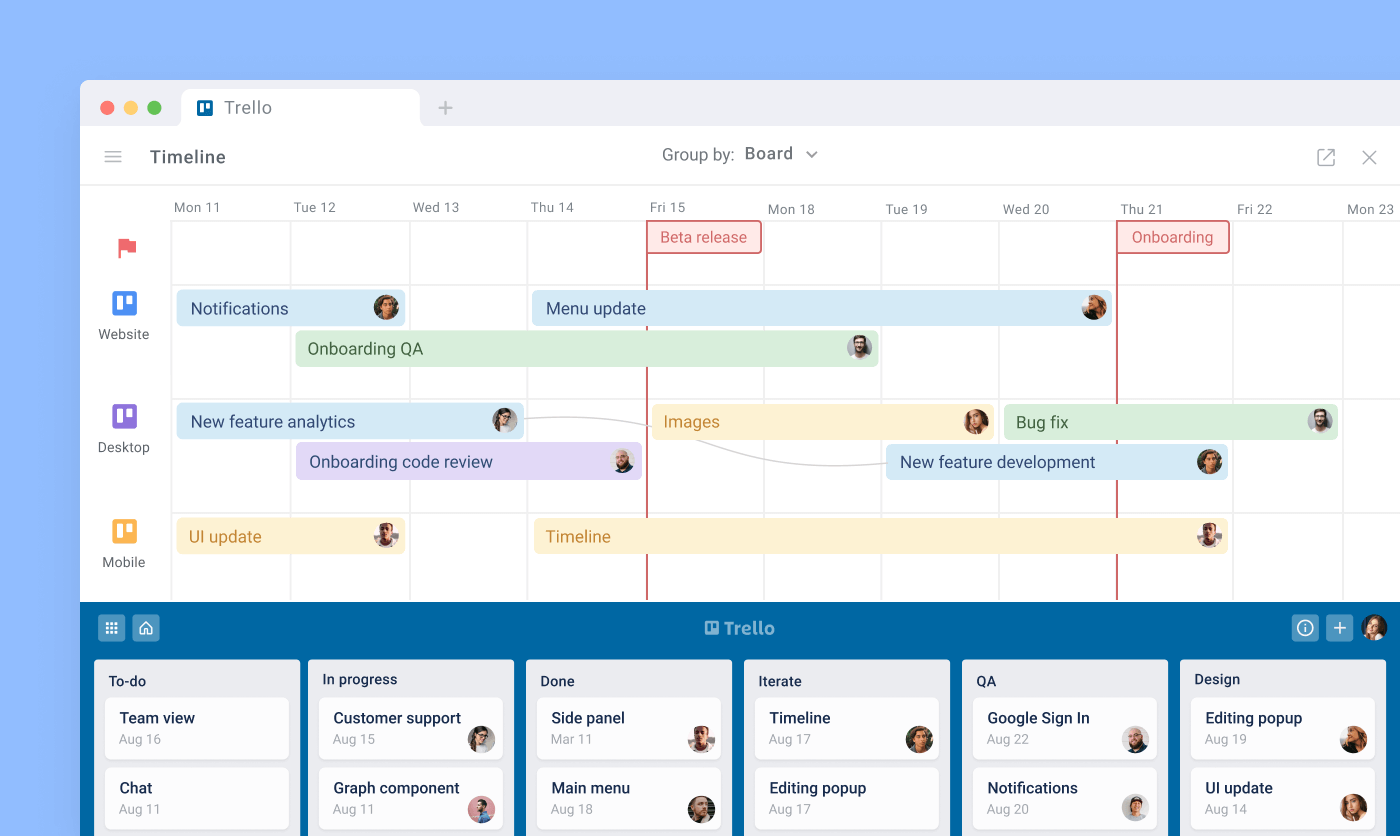 And the cherry on top is that apart from visual project planning, you get another powerful feature - time tracking. It allows you to record time spent on tasks, set up estimations, and compare estimated time vs actual.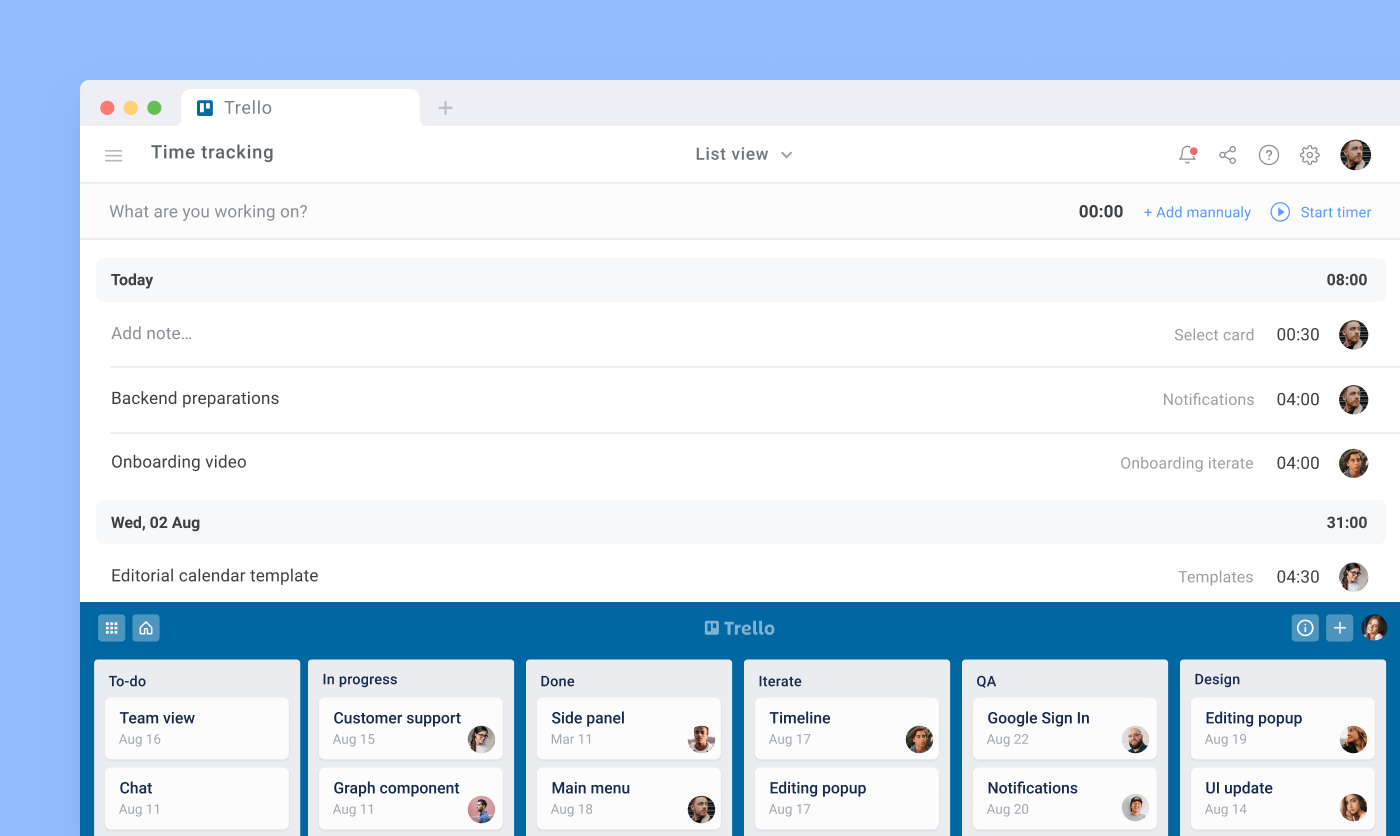 TimeCamp and Activity for time tracking
Another time tracking solution that can help you maintain self-discipline is power-ups like TimeCamp and Activity. They track the time spent on tasks, so you can analyze your and your team's productivity as well.
To use these power-ups, start the timer when you begin a task, and stop it when you finish or decide to take a break. This data can help you discover problems and adjust your workflow to make it more efficient. Moreover, with TimeCamp, you can generate reports for each card based on this data. Meanwhile, Activity supports multiple stopwatches per card, giving you a picture of how much time each team member has contributed to a given task.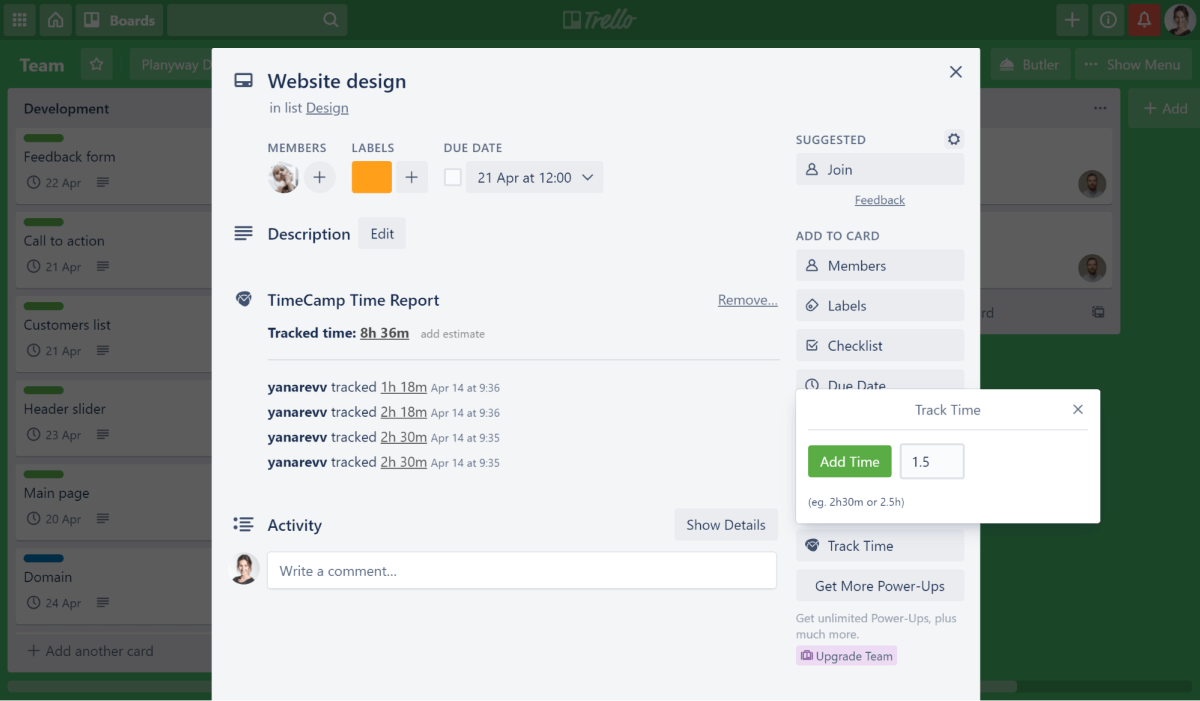 Due Next for sorting tasks
Maybe your board is overloaded with tasks, and you aren't sure what should be next on your to-do list. Or, perhaps your stakeholders want to know when to expect updates on a project. What can you do to sort this out? Try the Due Next power-up! With this power-up enabled, you can get an overview of upcoming and overdue tasks to see when deadlines will strike. Simply filter cards and export your board as a CSV or PDF file. With your tasks sorted, it will be easier to prioritize them.
Private Notes for keeping your ideas secure
If you share a Trello board with other users, like your team or clients, you might have some thoughts you would rather keep to yourself. For instance, you might keep personal notes about your current task or an entire project. You can use external applications, but it's more convenient to have all the relevant information in one place, right? To make sure your notes stay private, you can use the Private Notes power-up.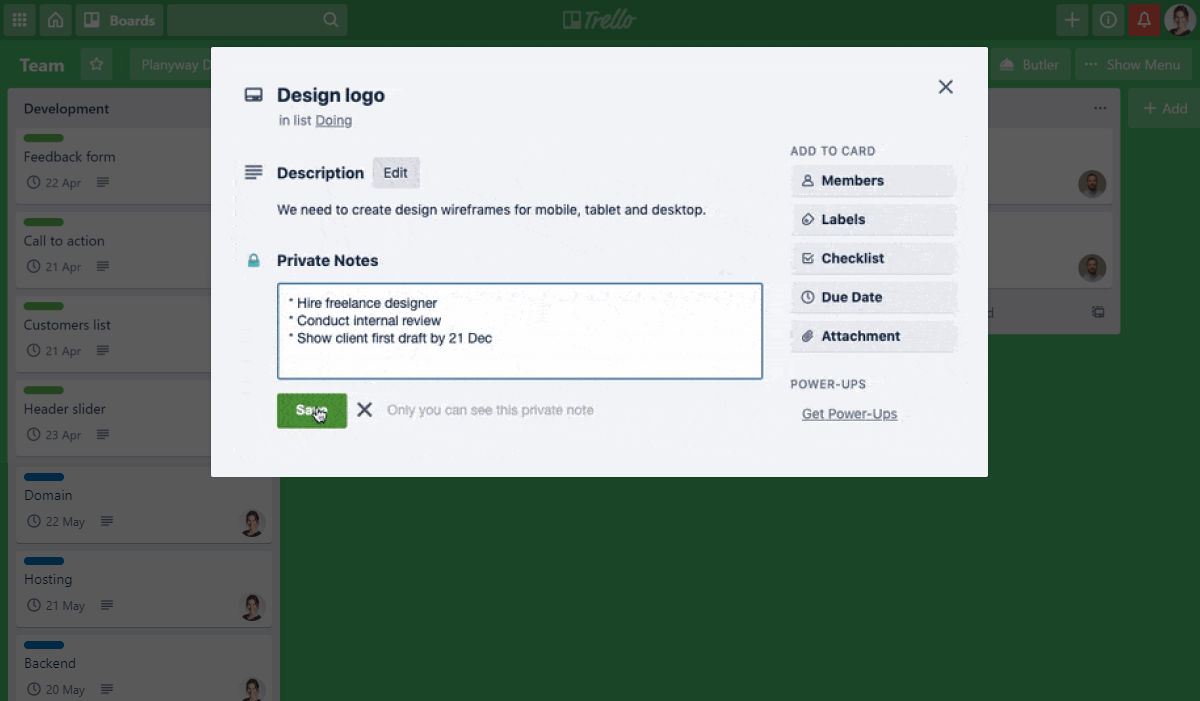 This advanced comments power-up allows you to add secure notes to a Trello card — no one but you will have access to them. HR managers can use it to write down their thoughts on junior employees and how they're performing, while tech support can store notes on bugs and requests. This approach also keeps boards free of clutter, since other users will see only information relevant to them.
Power-up to connect with other services
When we work, we use all kinds of applications, ranging from planners and messengers to spreadsheet software and email clients. Unfortunately, workflows that require us to use many different applications can be repetitive and time-consuming. As a result, it's easy to get distracted from the task at hand. This can be a major issue for remote management, since you may find it hard to focus.
The Zapier power-up is designed to help you deal with these kinds of challenges. It lets you automate these processes, saving you lots of time. For example, you can tell Zapier to create new Trello cards using data from your emails or from a spreadsheet in Google Sheets. Zapier doesn't stop there — it supports a wide array of services, so you can create a setup that suits all your needs. That means less time clicking and more time for important things!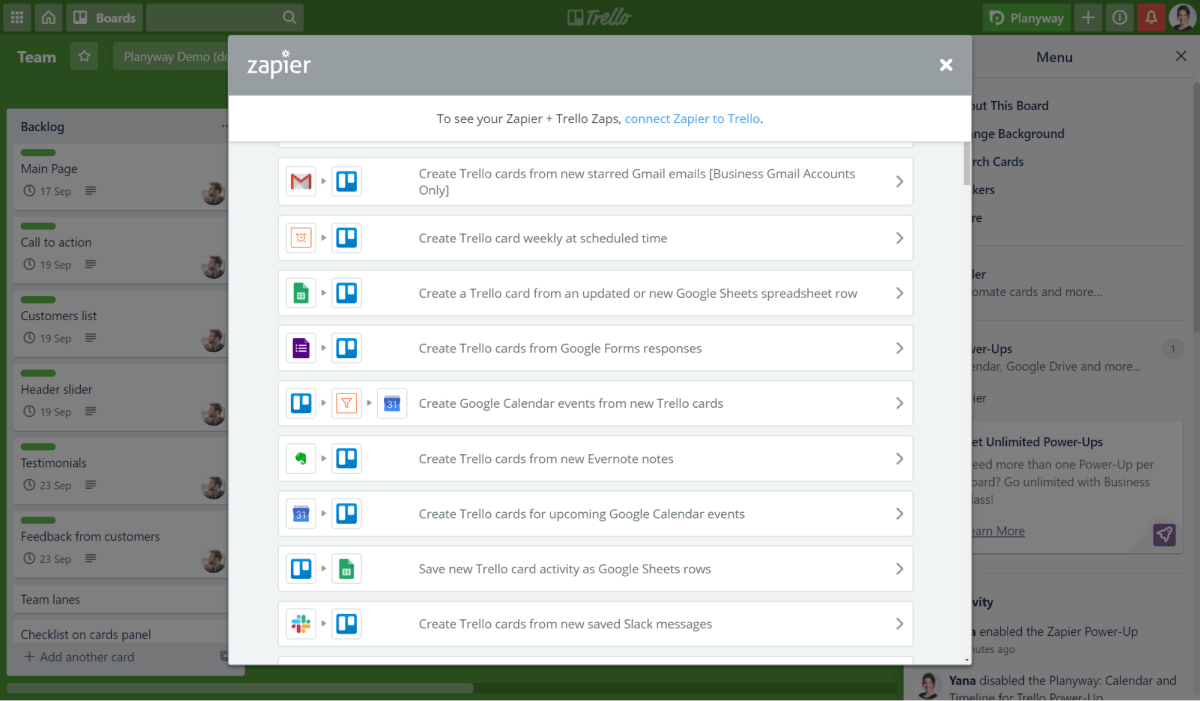 Conclusion
All of the power-ups mentioned above may give you a hand when trying to be more effective while working remotely. So, whether you're looking for a way to manage your time more wisely, collaborate with the team, or reduce the number of apps you use - all of it is possible with the help of mighty Trello add-ons.