Trello is a simple Kanban-based solution that helps people all around the world organize and manage their projects in a clear and straightforward way. Its philosophy resonates with millions of people as it lets teams work better, faster, and more efficiently.
When running projects with Trello project management, you might have noticed that even though there are lots of advantages, Kanban boards lack visualization and, unfortunately, are not able to provide you with the overall picture of a workflow to gain profound insights into how work is progressing.
But worries aside, this problem is easily solved with the help of the Trello Gantt chart that you can get through multiple power-ups. In this article, we're gonna see why the Gantt chart is a valuable improvement for Trello, how it can be helpful to you and what Gantt chart tools for Trello are available on the market.
What is a Gantt chart and why do you need it?
First invented for scientific management, today the Gantt chart is a must for almost every business field. It's a great approach for planning work helping to understand project time requirements and scope through simplifying complex projects by visually transforming them into the timeline-based view.
Here's the example of a Gantt chart: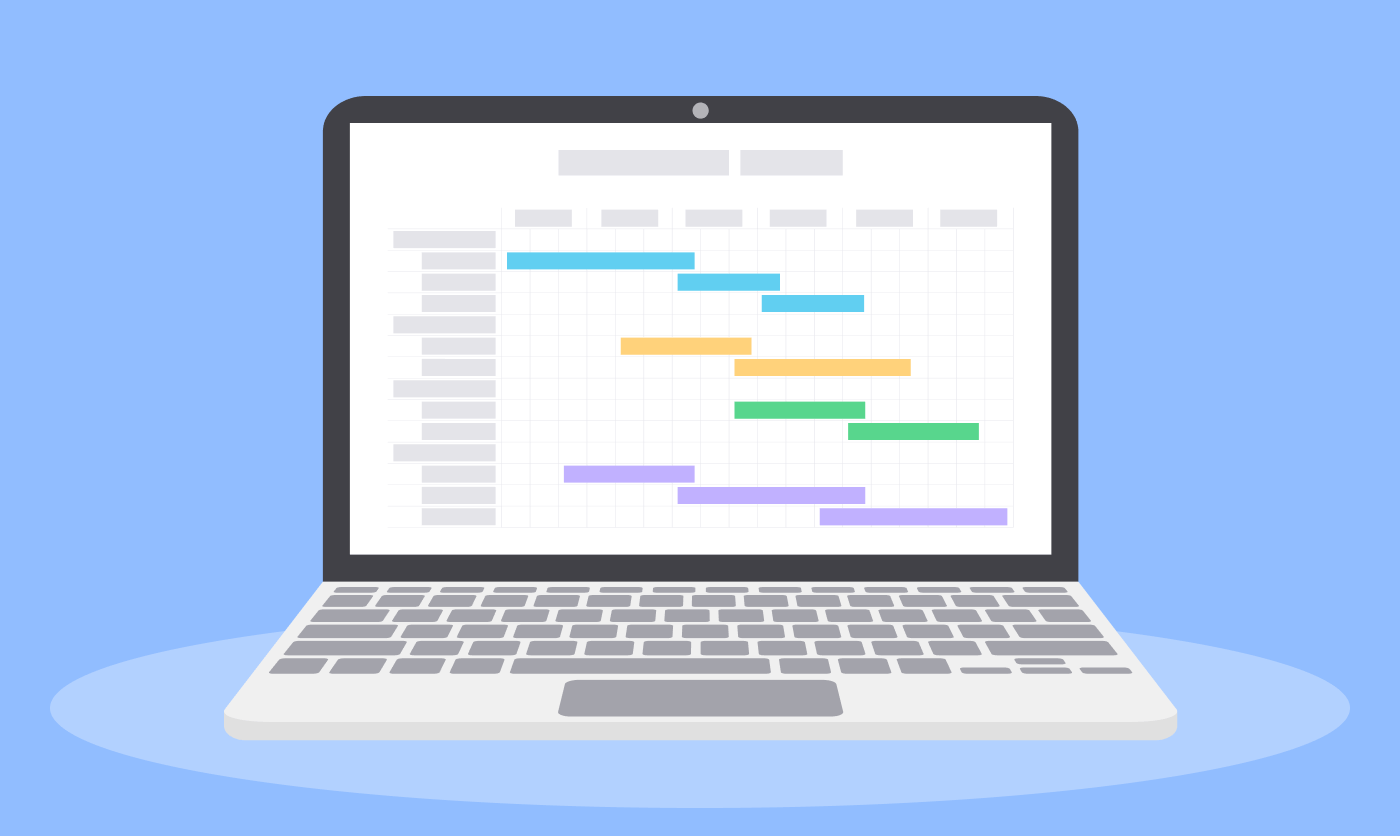 As you see from the image above, Gantt illustrates the steps of your project, including all interdependencies and potential bottlenecks. It's the bar chart that consists of the sequence of tasks that have to be completed to gain your project results within certain time frames.
The key feature of Gantt charts is the timeline which brings you a clear understanding of how long a project and each task will take. This is especially helpful when planning resources, tracking milestones and dependencies and evaluating how you're progressing at a glance.
How to use the Gantt chart?
Gantt chart within Trello can be adjusted for various purposes and absolutely different workflows thanks to lots of modifications suggested by the power-up. But even though none of them look the same, most of the apps have the following core elements:
Date and Duration: the start and end dates given to tasks let you visualize cards along the Trello timeline in the rectangular form in the chosen scale: days, weeks, months, quarter, years. The length of each card represents its duration and lets you know how long the task will take.
Owner: a team member or members responsible for the task.
Progress bar: progress bar allows you to see how much has been already done and how much work is left to be done.
Milestones: the task which doesn't have a duration, just a due date, and indicates the deadline.
Dependencies: one of the key components represented as lines or arrows linking two tasks together to show that one task can't be started or completed without another.
Color-code: color-code helps you identify different types of tasks. In most cases, the same labels used in Trello are utilized on the chart as well.
Filters: sometimes your chart might seem overwhelming and this is a good moment for filters that let you see only things important for you at the moment.
Speaking of features, we've done a really good job and tested out the most popular Gantt chart power-ups. Now we know everything about their features, what they have in common and what differences lay between them. So, without further ado, we're happy to share our insights with you!
Planyway is one of the most popular Trello power-ups for project managers. The app's main mission is to bring all-level visibility across your projects and let you manage work without losing a second.
Planyway Gantt chart is famous for its flexibility, as, beyond the traditional Gantt, the app allows you to transform it and see it from different angles.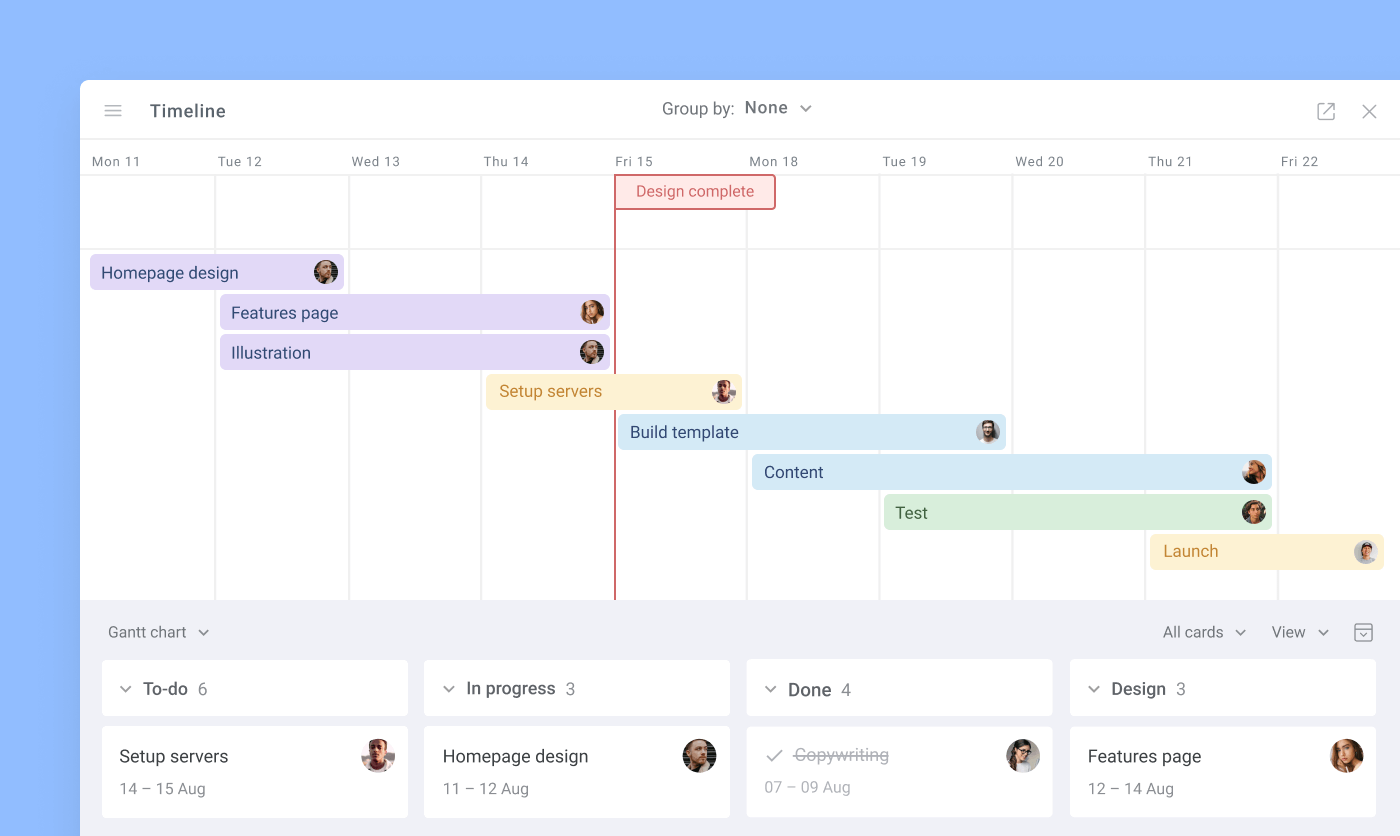 If you want to see what your team is working on now and what's planned for the future - just group the chart by members. It will save you hours when managing resources and help you plan out new activities more effectively, especially considering that time tracking functionality which is also available in this tool. Planyway also supports Trello labels and lists enabling you to group the chart by them as well and build mighty project roadmaps.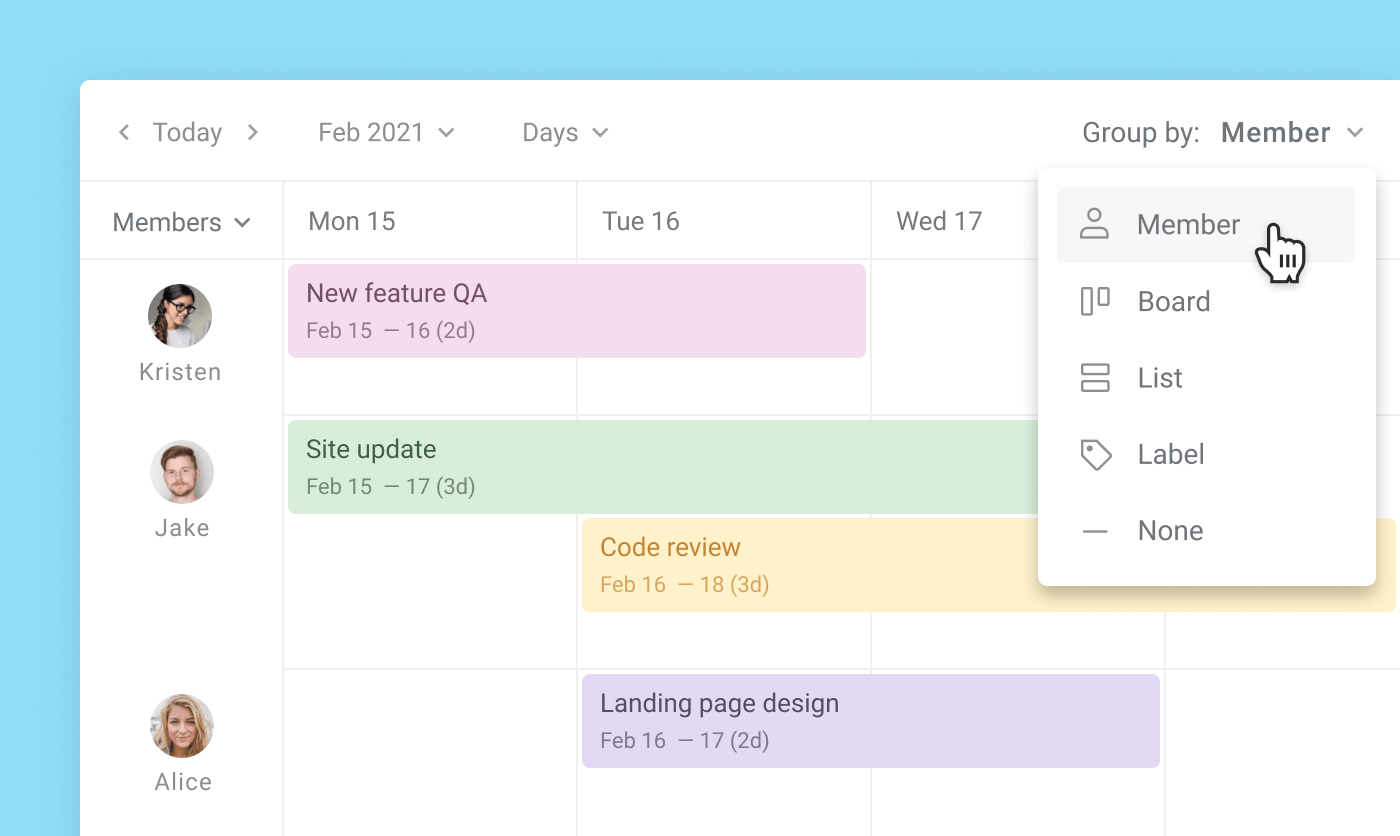 Interested whether it's possible to have a single Gantt for several boards to form sort of a project portfolio? It is! No matter what view you work with, you can connect other boards to see tasks from multiple boards on one view. But what's more, you can get an overview of multiple projects grouped by project lanes.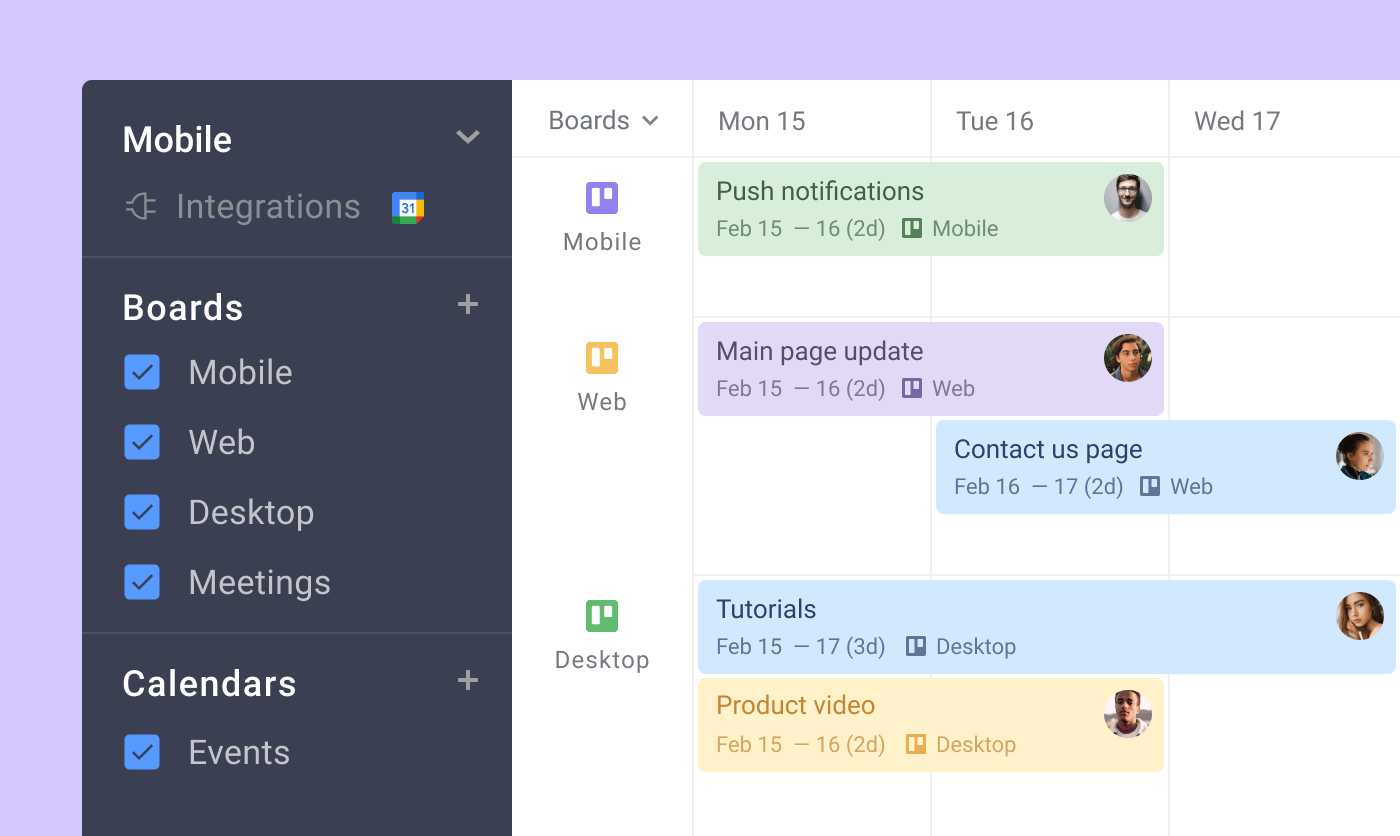 Well, but how do cards appear on Planyway? Actually, there're three ways. You can either keep creating them on the board and put dates inside Trello cards, drag cards from Trello to Planyway, so they get scheduled based on where you drop them, or simply create tasks right on Planyway. No worries, they will be synced with Trello straight away as well as all further changes.
Sound like a lot? Wait, the coolest part is ahead.
Apart from visualizing Trello cards, you can do the same with the checklist items by setting dates in the card dialogue, so that they become a kind of replacement for subtasks and bring the hierarchy to your planning.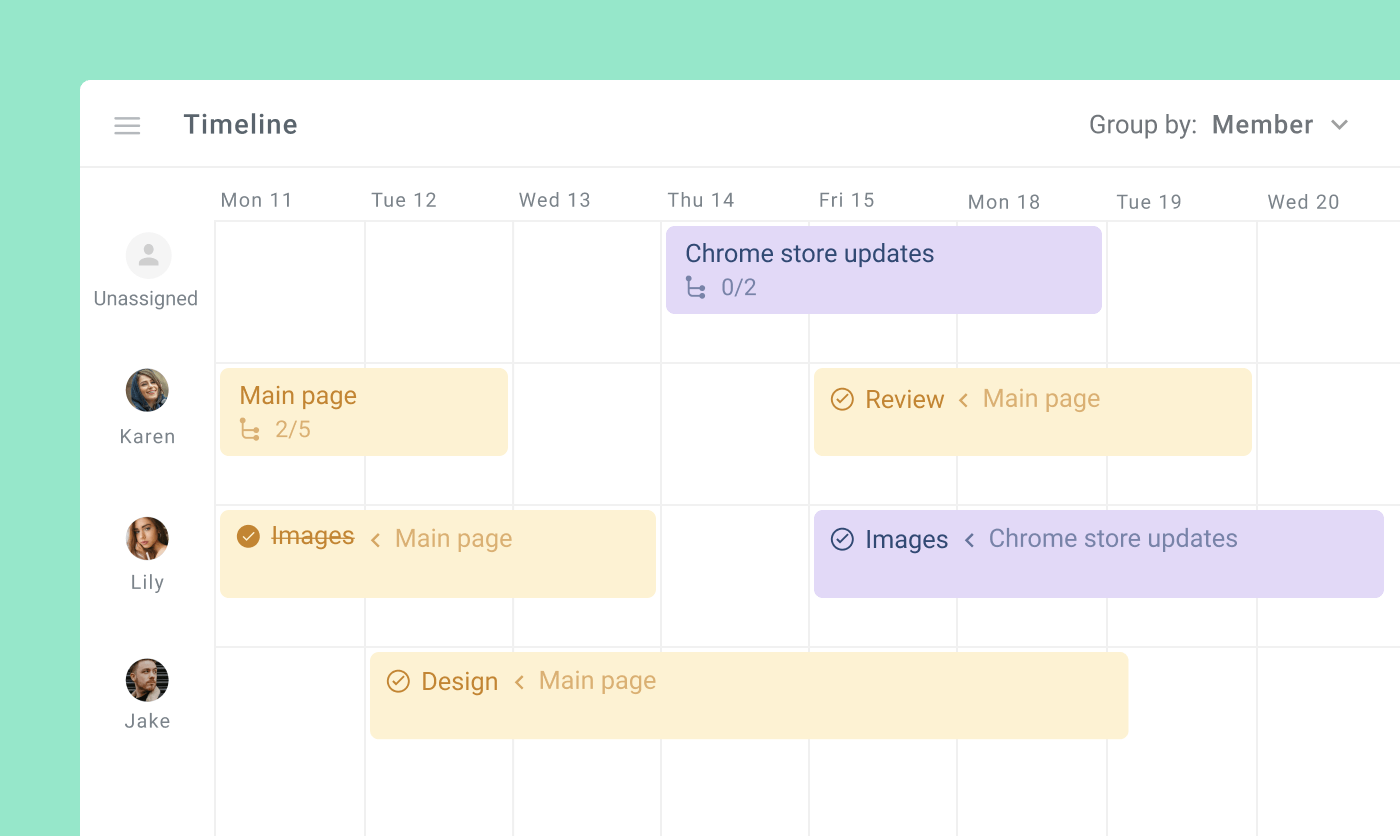 We build the Gannt chart mainly to make sure we're delivering work on time and reaching our goals, innit? Planyway lets you transform regular cards into milestones in a click so that they have a stand-out appearance. This way, everyone will see how soon the deadline is coming and how much work is left to do.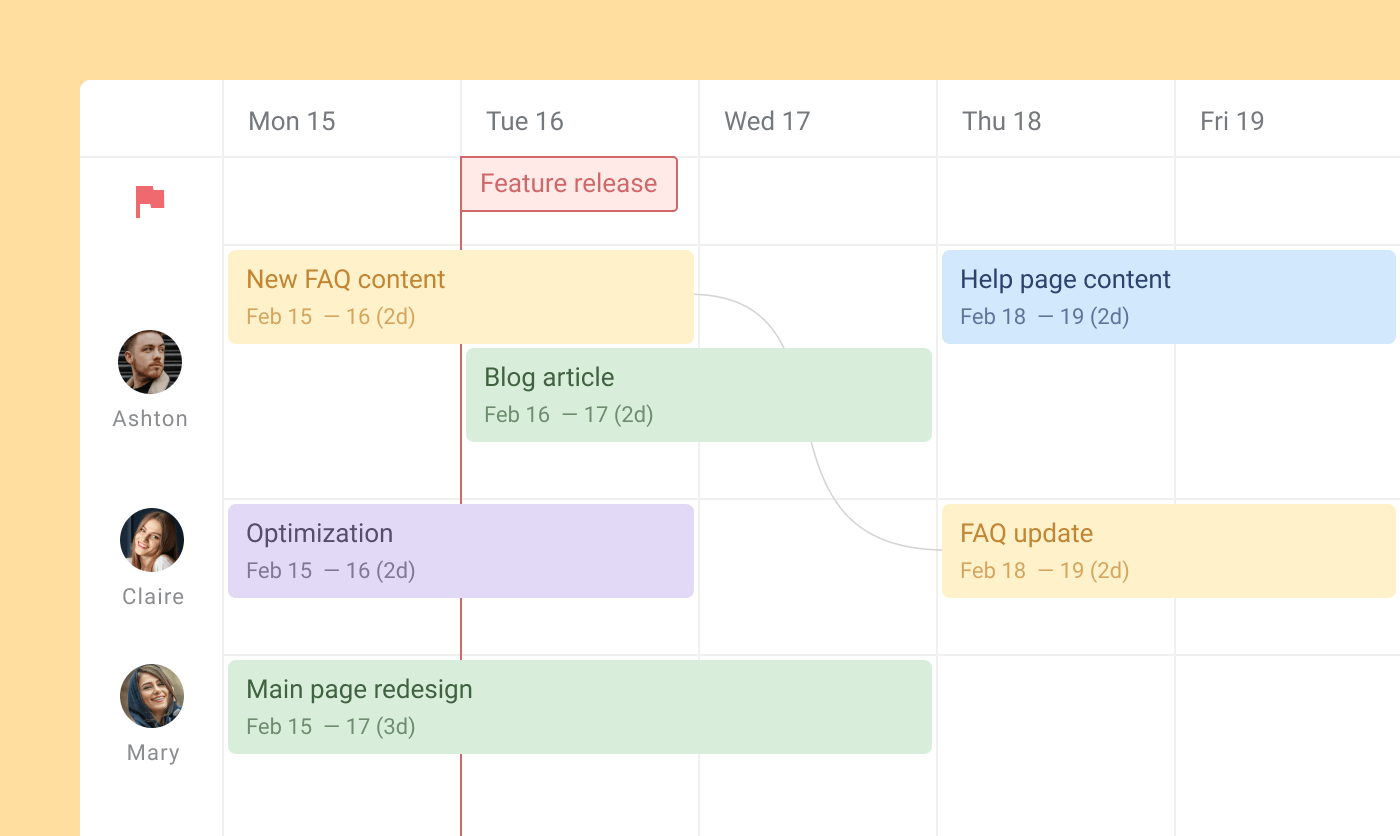 Dependencies is another key part of the Gantt chart and it's supported in Planyway too. Yet they can't be automatically moved when the dependent card is rescheduled, it still allows you to link cards visually, so it makes it easier for you to move the following cards manually using multi-select.
Apart from adding Planyway as a power-up, you could set it up as a Google Chrome extension, MS Teams add-on, or just sync your Trello boards and keep planning projects in the standalone web app.
TeamGantt is another solution that will work well if you're looking for a more traditional Gantt chart. When you just set up, you are suggested to choose whether you'd like to sync all existing and newly created cards from your board to TeamGantt automatically or do it manually for each card. This might be a perk in case you don't want all cards with due dates to show up on the chart.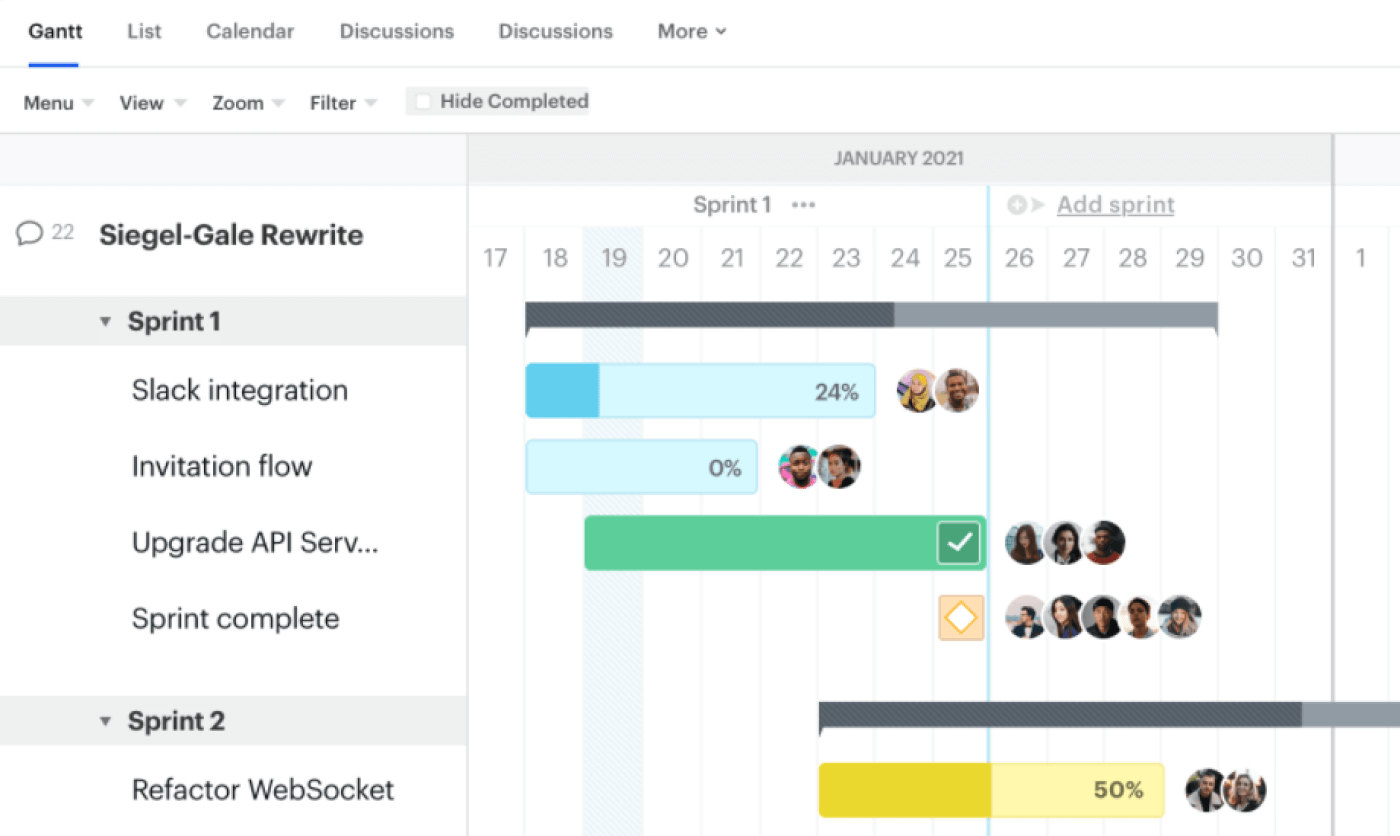 When the TeamGantt is open, you see the chart where you can schedule tasks, assign them to people and update your progress. Seeing your progress is another benefit of this app. It doesn't update automatically, but you can input the % of completion and it will be reflected in the task progress bar straight away.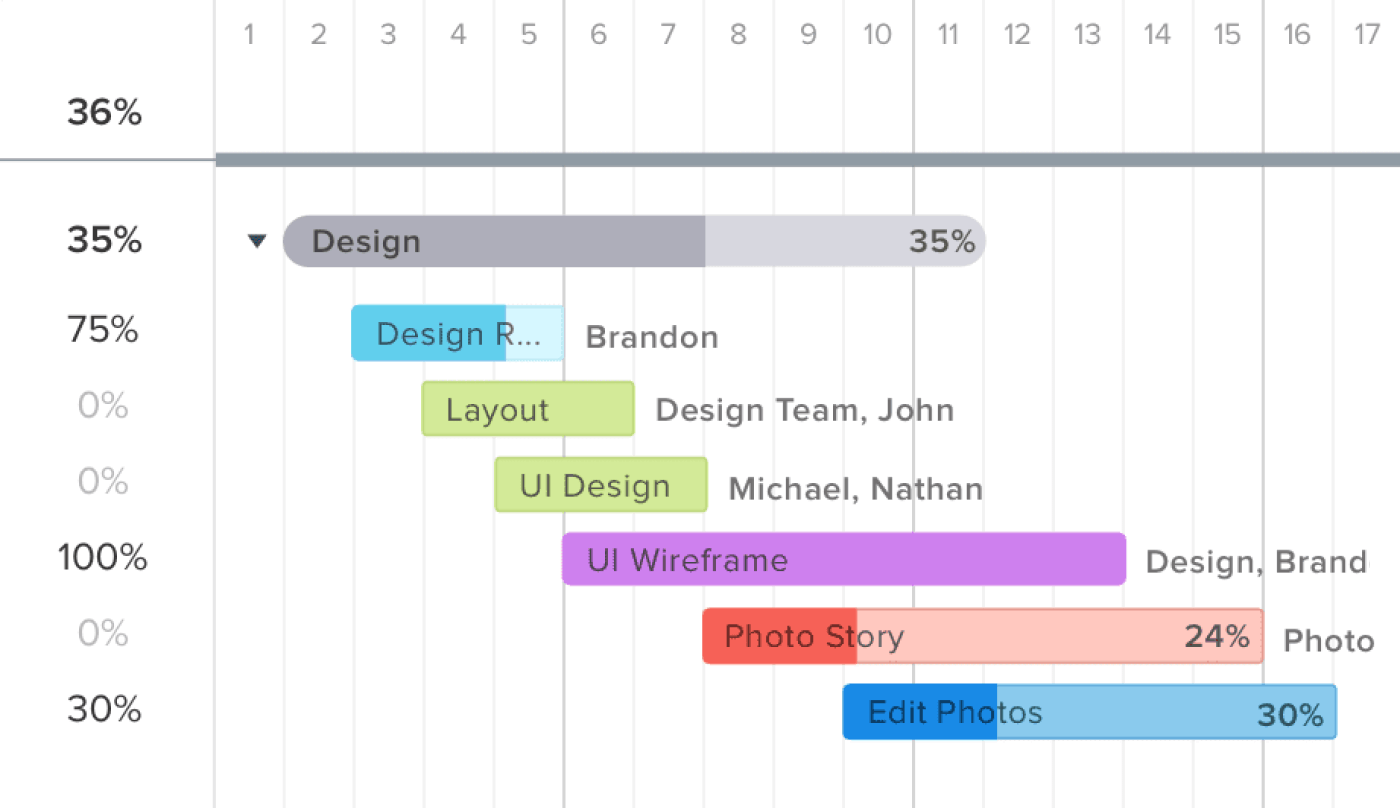 TeamGantt lets you set dependencies between tasks simply by drawing lines right on the chart. And the good news, if one card is rescheduled, the dependent one will be moved automatically as well.
Unfortunately, TeamGantt doesn't let you visualize work on different levels by creating subtasks, it only keeps checklist items inside the card. But, any time you can check them out by opening a card on the chart.
The app may visualize cards from multiple boards on a single chart to help you identify possible conflicts and get a better overview across boards. It allows you to build the hierarchy from boards to lists and then cards.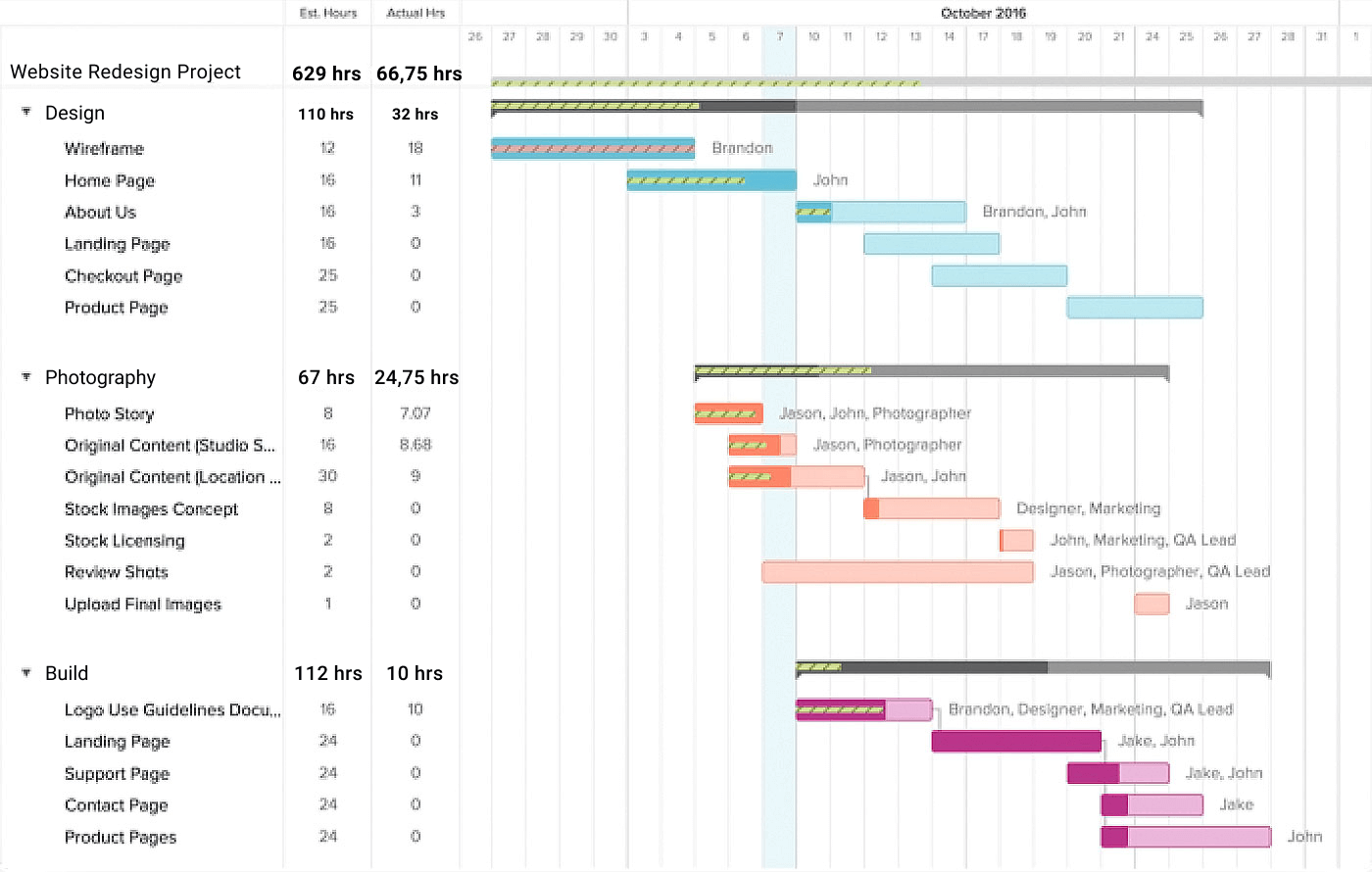 Visually Placker and TeamGantt look alike, referring us back to the classical Gantt view. It covers the same features like dependencies, task progress, multi-board view. etc. But the biggest difference between its previous competitor is the ability to visualize checklist items, adding another layer of hierarchy to the task structure.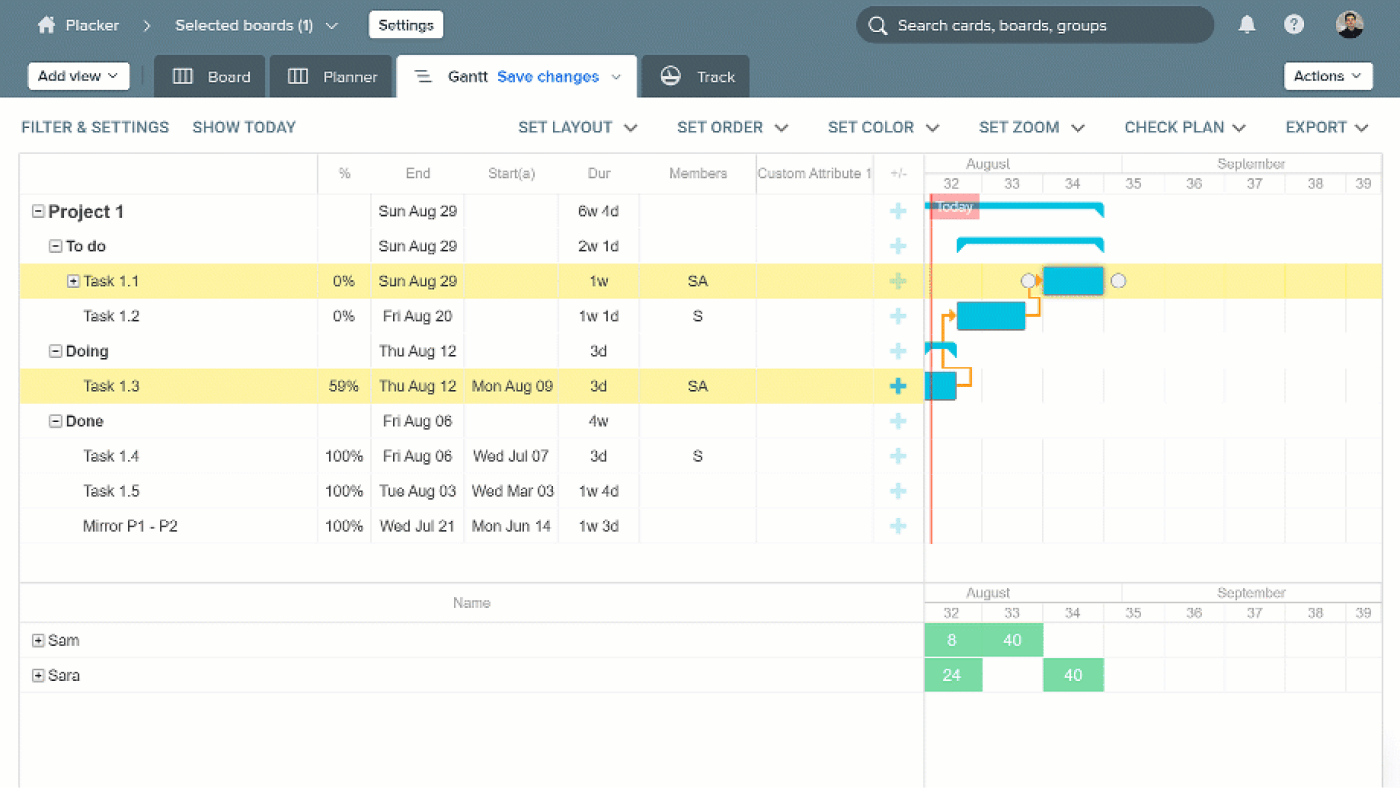 Another big thing is listings. This feature lets you view the chart listed by members, labels, and milestones.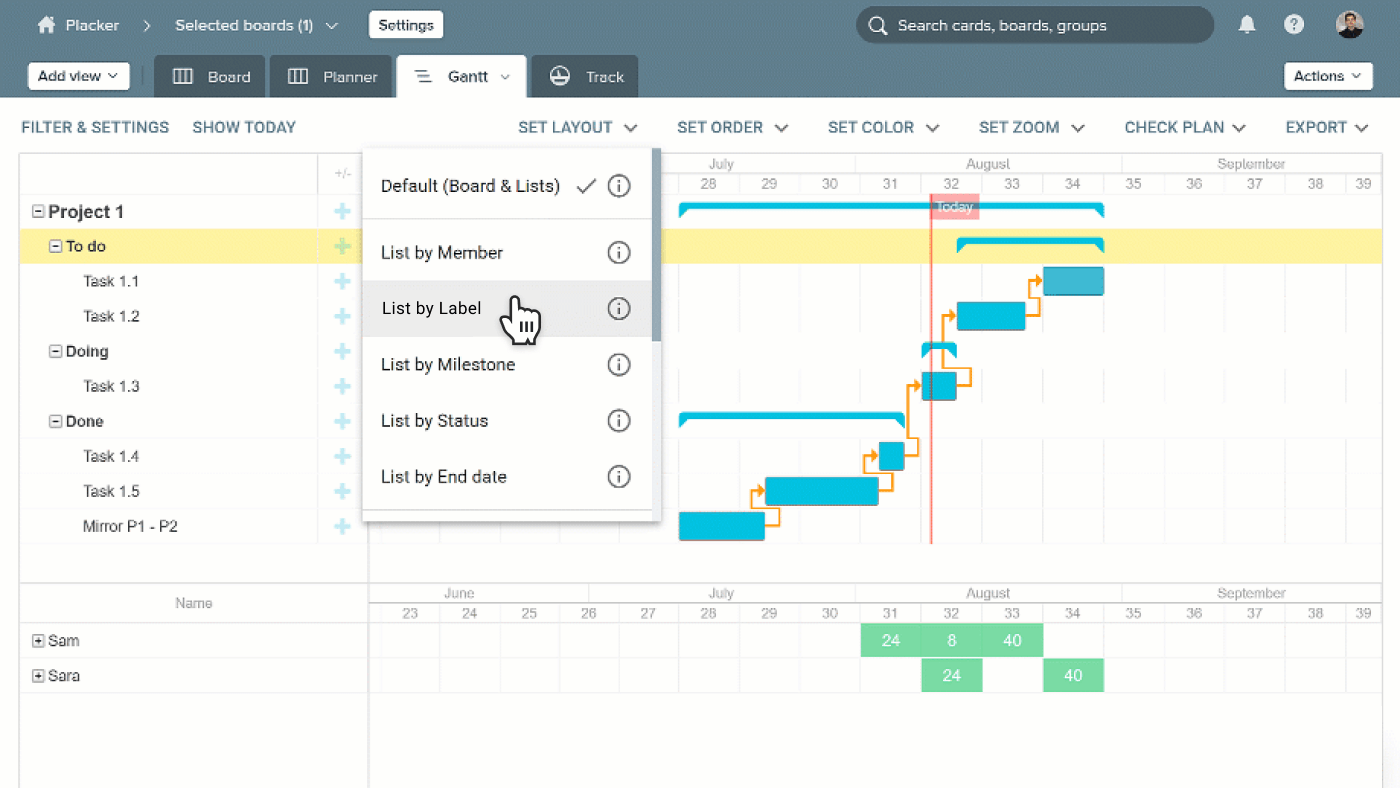 Big Picture started as a Jira add-on and then conquered Trello as well. It dilutes the dullness of the traditional Gantt by adding more colors, so the app looks more appealing and user-friendly. Internally, it's still an oldie but goodie supporting timeline scale, dependencies, milestones, multi-board view, etc.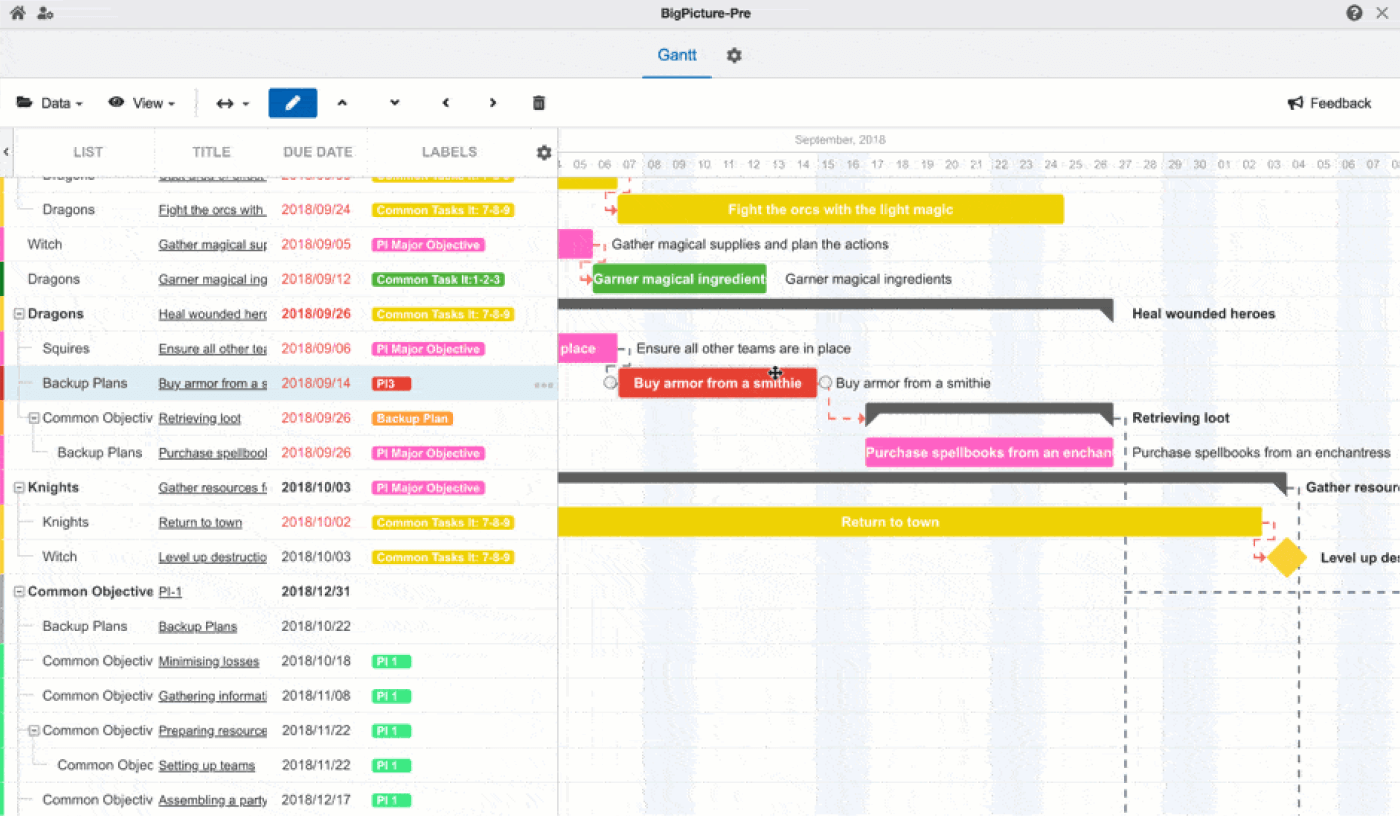 BigPicture is capable of sorting and grouping Trello cards by list, due date, title, labels, members, and status to make sure that the appropriate perspective is selected. All selected tasks can be easily collapsed or expanded in your task structure to see different levels of information.
Dependencies in BigPicture have the setting Task mode, where you can choose if you'd like tasks to be automatically recalculated or not based on the dependency link used. Another option which is Lock mode can prevent users from moving cards on the chart at all, so you make sure your planning won't be accidentally modified.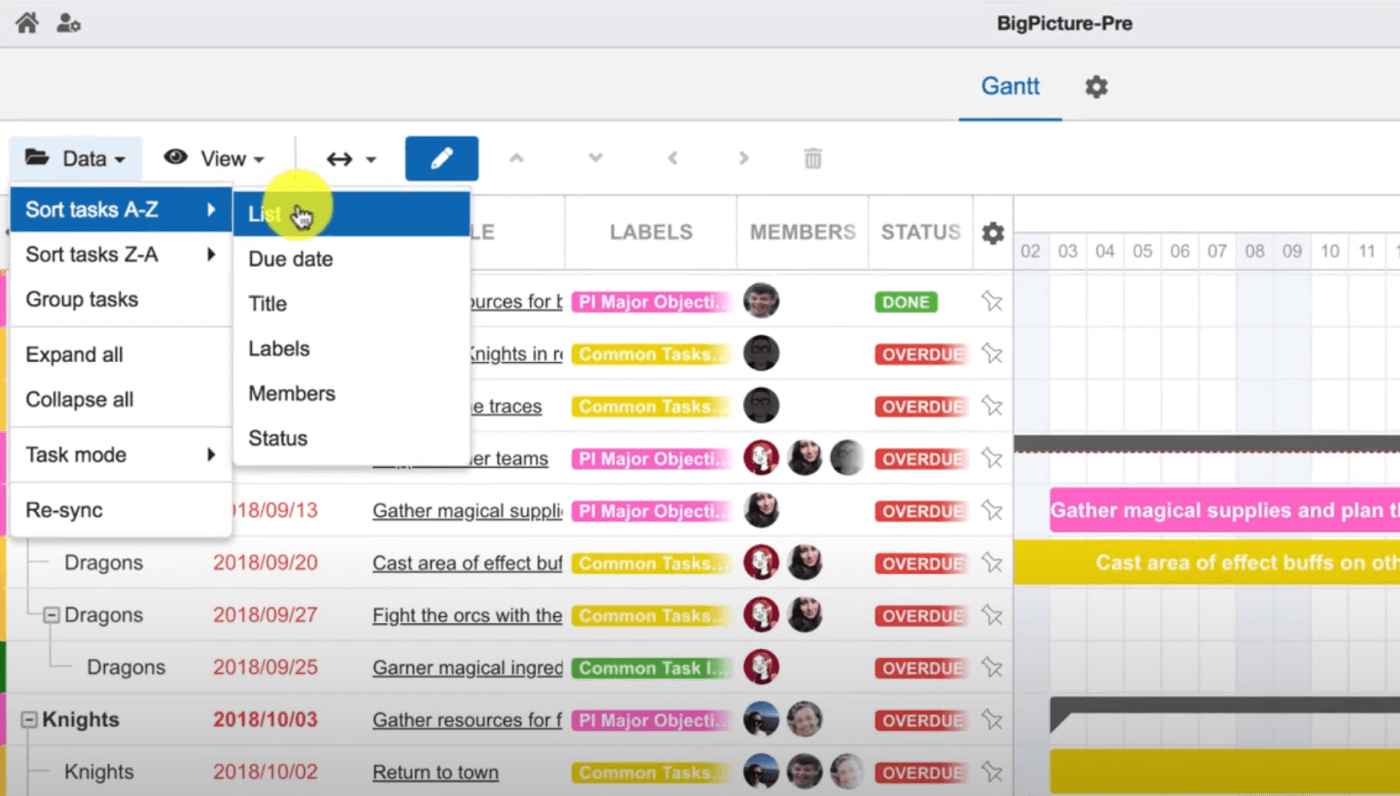 BigPicture allows you to build a critical path which is the longest sequence of tasks between the start of a project and its completion, that determines the project duration. The app highlights tasks on the critical path with a red color.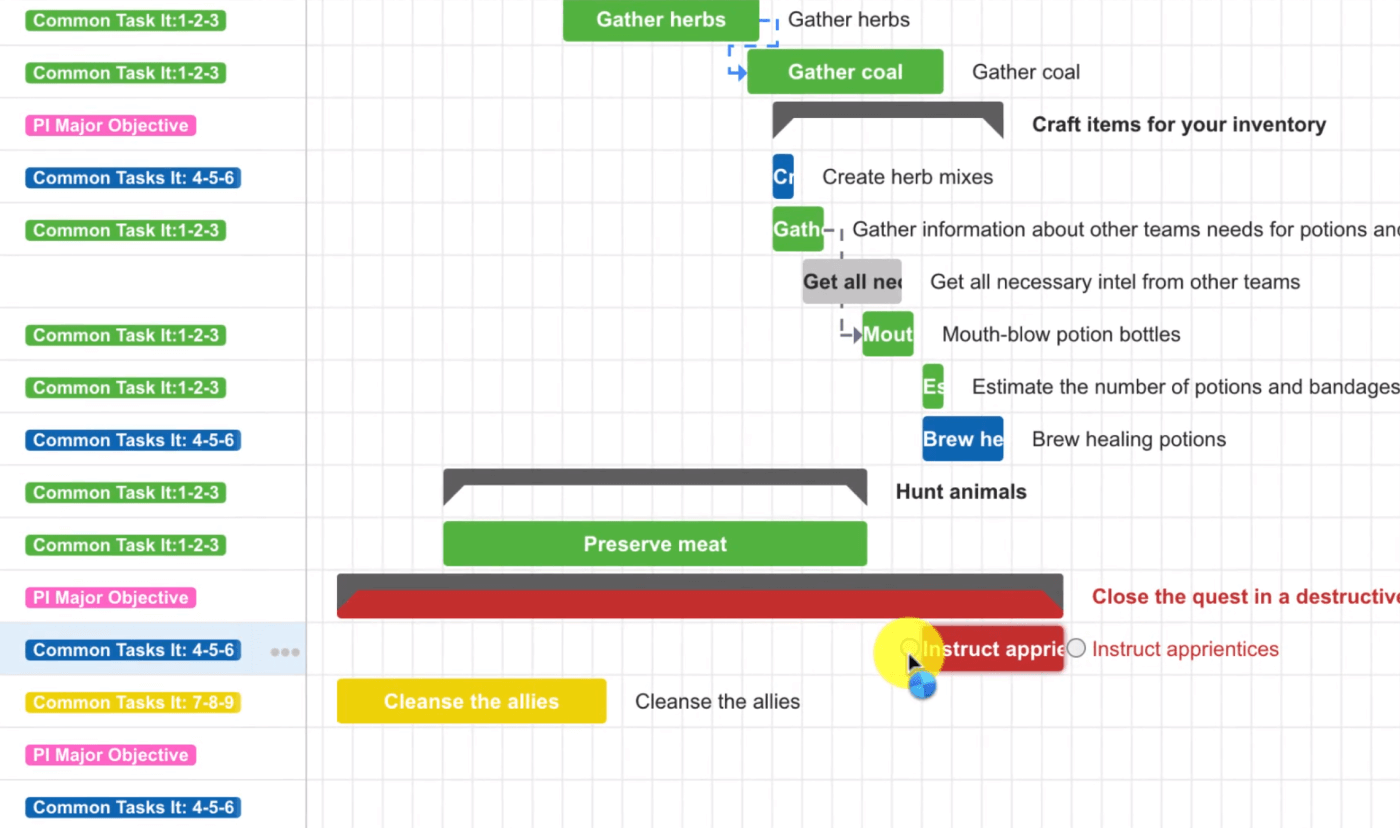 Another cool thing that differentiates it from the other apps is smart labeling. This feature lets you add the issue key and summary information next to the taskbar.
Elegantt's interface is the closest one to Trello which makes you believe you're not switching anywhere. In terms of features, it also covers all the Gantt chart basics, including a progress bar, milestones, scales, dependencies, etc.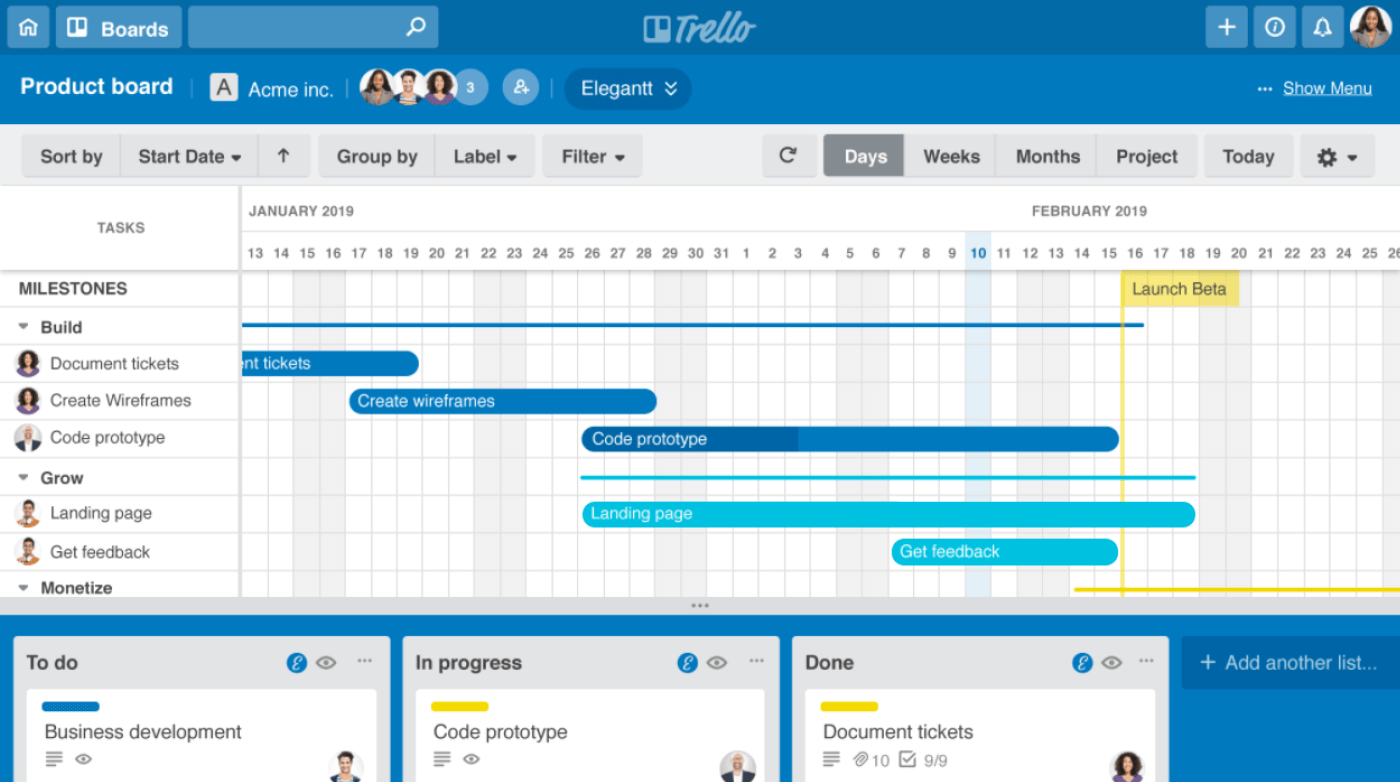 The big advantage of Elegantt, as well as Planyway, they both let you sync Trello boards with Google Calendar, iCal, or Outlook to see events from other calendars in Trello and vice versa.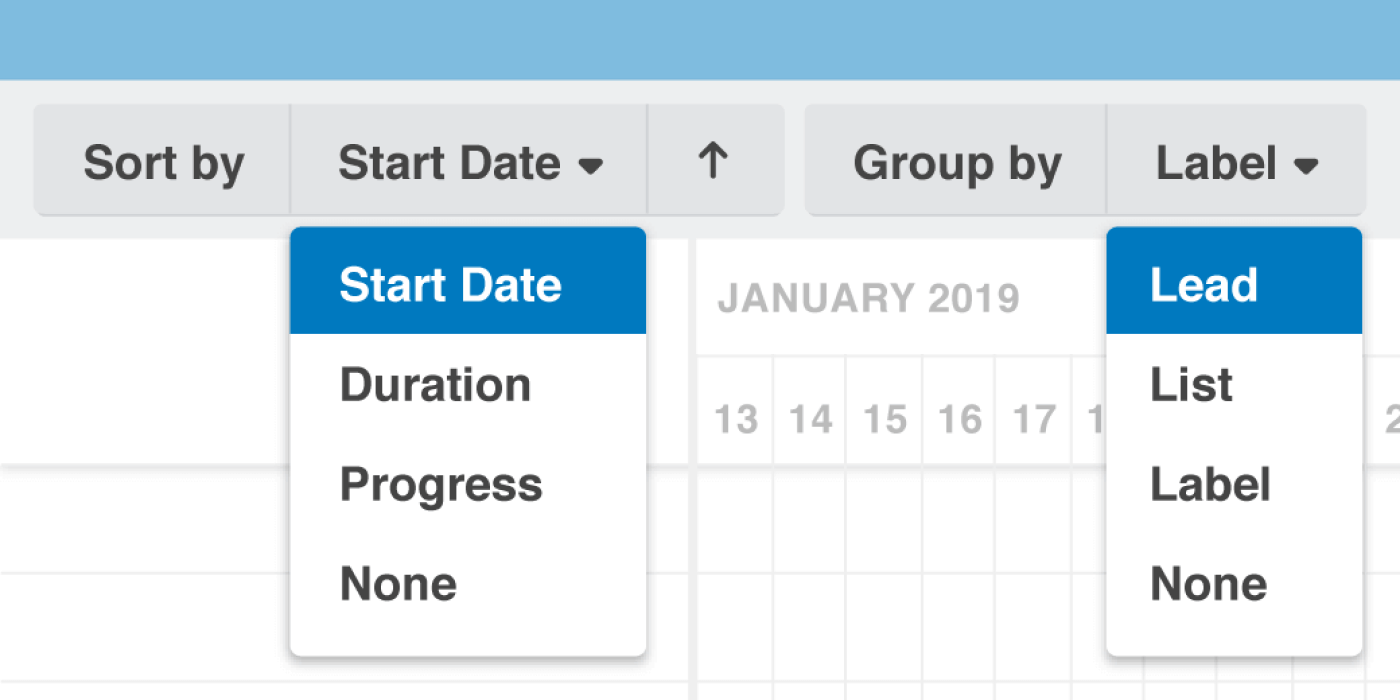 Elegantt allows you to group cards by lead, list, or label and sort them by date, duration, and progress to customize the view the way you need. Another kicking idea is selective visibility meaning you can hide unnecessary cards or columns to see only things you need.
Airfocus is well-known for its top-class prioritization approach. When you just set up, you're offered to choose a prioritization template which is super helpful for beginners. Then, you can choose the board you'd like to proceed with, indicate what tasks exactly need prioritization, and rate them. The beauty of it is that each team member can take part in rating the items, so it becomes a collaborative process and allows you to prioritize tasks involving all stakeholders.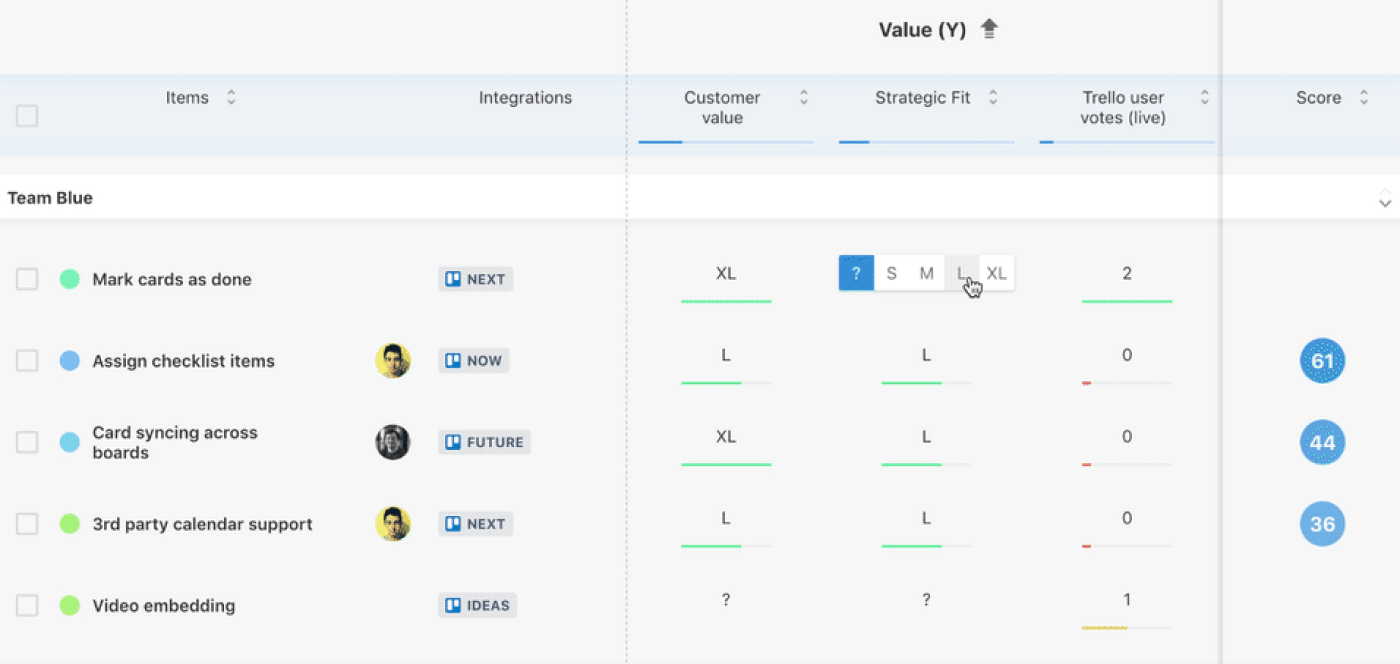 The priority score will be visible inside Trello cards as well as in the power-up. So, you could prioritize lists on the board based on this score, move to Airfocus's chart view, or open the Gantt roadmap. From here, you may decide what to do, what not to do, update card status, and pull together a revised project timeline.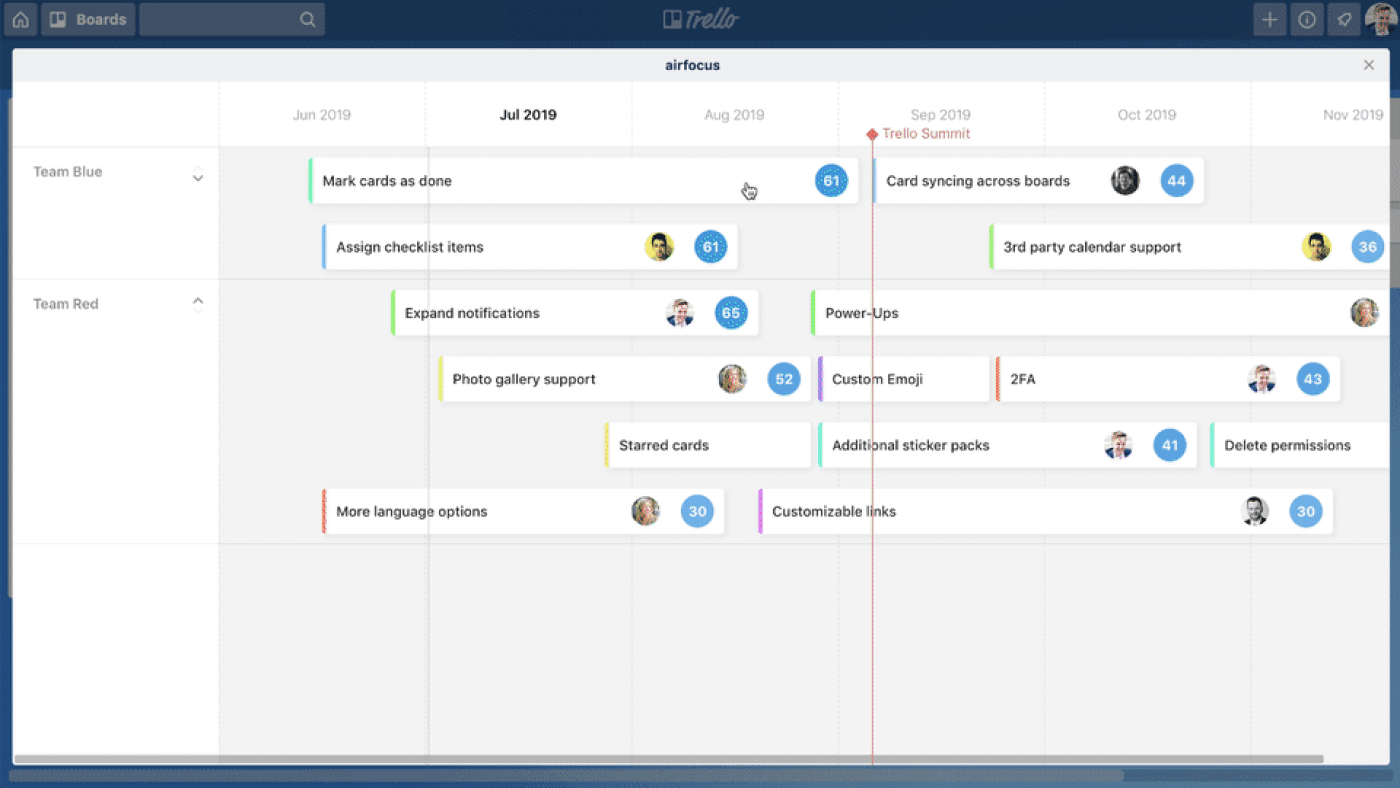 In terms of interface, Ganttify resembles Excel sheets. It supports basic Gantt chart features: simple drag and drop, stretching and shrinking cards, dependencies with the automatic update, etc. We'd like to complement their scales, as compared to competitors, you could plan with great precision. It's possible to zoom the chart from the yearly view to months, weeks, days, hours, and even minutes!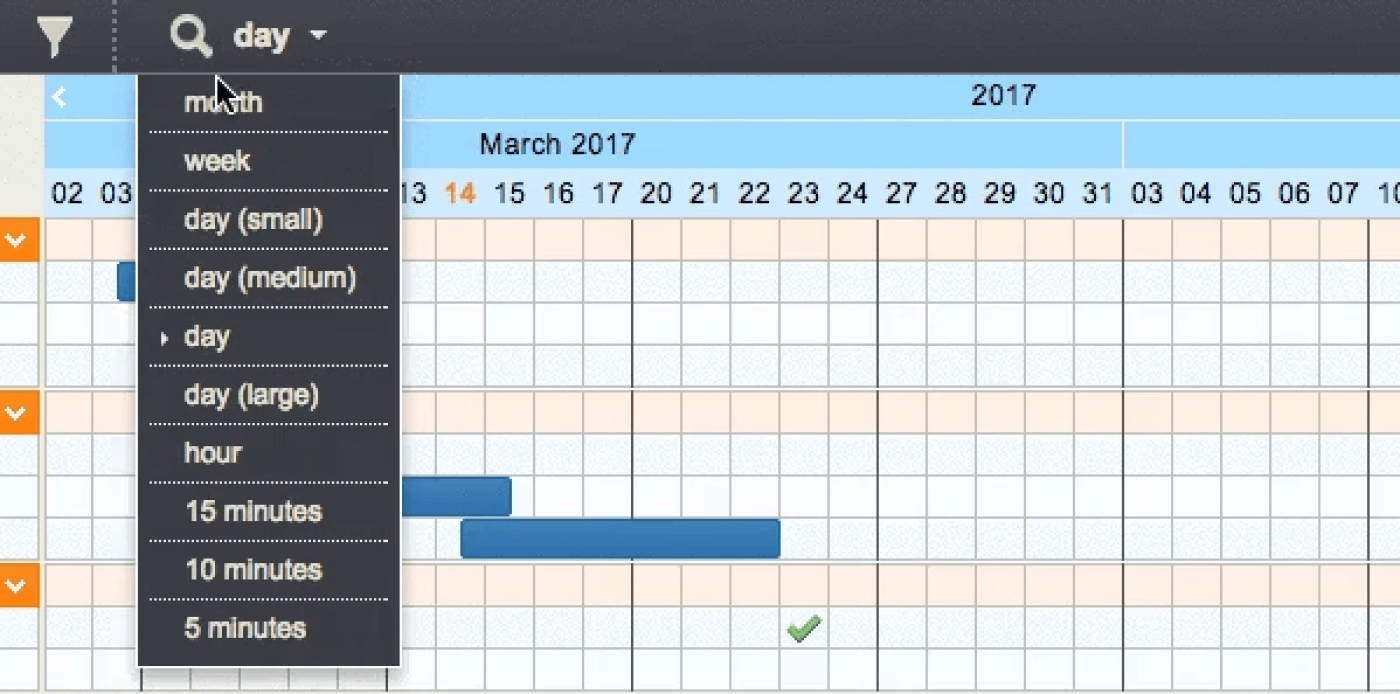 Final thoughts
Gantt charts are the most popular way to go for many projects, especially project planning and execution, and as you see, it's really simple to create your own without leaving your old buddy Trello.
There is a huge range of different power-ups granting you both traditional Gantt or the polished versions allowing you more freedom and flexibility. So, just get started with the one that matches your feature expectation, and surely, you'll become pretty much a Gantt chart wizard soon!