Jira time tracking, reporting process and workflow management may seem uncertain from the first sight. In practice, a user goes through three major steps while tracking working time with Atlassian software: time entries, approvals process, reporting system. In this guide, we will clarify the basics of time tracking and reporting in Jira.
No matter what project we're working on we always set up deadlines. Even though sometimes they are not strict and serve rather like reference points, we still need them to keep the team motivated and stimulated to work harder and faster. We estimate how long a task will take depending on its complexity and resource availability, then schedule delivery dates.
All of it helps us plan the whole project, manage workload and make up clients' expectations. Despite its value which is hard to disagree with, this process is incomplete until we infuse another important instrument of any project manager — time tracking.
What is time tracking?
Time tracking refers to the way of recording working hours that can be used for various purposes: charging clients, hourly payment to employees, estimation adjustment, performance analysis, etc. Typically, time tracking breaks into three components: time entries, approvals, reports.
Time entries: time entries are created as part of the daily routine by team members which record start and end work time including breaks. They keep information about what exactly the person is working on and how long.
Approvals: approvals are an essential part of the time tracking process used to make sure of the accuracy of created work logs. In general, a manager reviews team's timesheets for a certain period to verify if they are correct and further calculates the total hours worked.
Reports: reporting serves for submitting approved and verified hours to payroll. It's the main source of information for analyzing work done and team efficiency.
Time tracking data can be used to analyze projects at different stages from the individual level that allows you to see the personal efforts of each team member to the team level where you see the total time spent by a team to accomplish all of their delegated tasks within a project as well as the whole-project level — the time it takes to complete an entire project across teams.
Why is time tracking important?
If you just get started with time tracking, you may be surprised to find out how many people think of it as the lifeblood of their business. The reason — time tracking relates to the most important business areas. It doesn't only help you charge clients but becomes a sort of X-ray vision for your projects.
It allows you to clearly see if you earn money on the work you do or burn through cash. It also lets you make sure that things are on track to hit the budgets and deadlines, and if your team is working at a healthy rate. Here are seven main things that time tracking can help you with:
Bill clients
In case you bill clients on an hourly basis, time tracking is the only possible solution to charge them according to actual time efforts. No one wants to underestimate how long it takes to accomplish a task and as a result sell yourself short. At the same time, it's dangerous to overcharge clients as it may end up with spoiled relationships. Jira provides a great option to automatically pull billable time into invoices that significantly saves your time and helps to avoid the headache.
Keep projects profitable
Even if you don't charge by hours, any project is still composed of a certain number of hours represented by a certain cost based on how much you pay your employees. So, if you want to stay profitable, you have to control that the price you charge your clients is greater than it costs to you. And the only way to figure it out? Right, time tracking.
Adjust estimations
In general, a lot of work we do repeats. And although it might be hard to estimate the task right from the first attempt, if you keep timelogging you can always rely on it when you do similar work later and make your estimations more accurate. Time tracking will play the role of the orienting point for you in the future project and help you not to repeat the same mistakes.
Get insights into teamwork
Time tracking opens a window into how much time your team is working and what exactly they spend their time on. Having a look at the records, you'll get it straight away if individuals or even entire teams go over capacity or underwork or if they spend too much time or less than you expected. This powerful insight will help you identify the problems quickly, troubleshoot before it's too late, and keep your team motivated and productive.
Keep work documented
Keeping a record of time efforts might be quite handy itself. Sometimes clients ask why something took too long than it was expected as they want to ensure the time they're paying for is being put to good use. Any time tracking tool will let you generate a report at any moment and provide your client with all the details. Another case is working as a government contractor where providing a detailed report is essential.
How to set up time tracking in Jira?
You may have heard that Jira already has the time tracking function by default. However, the biggest part of Jira users still prefers using Jira timing add-ons instead. It happens mainly because Jira native time tracking is not so developed and lacks lots of features the marketplace solutions are happy to provide.
Anyway, when you just get started it's right to check what you can do with the default Jira first. Here's a quick guide on how to set it up.
If time tracking is disabled, you may enable it following these steps:
Open Settings
Choose Issues - Issue Features - Time Tracking
Click Activate to enable time tracking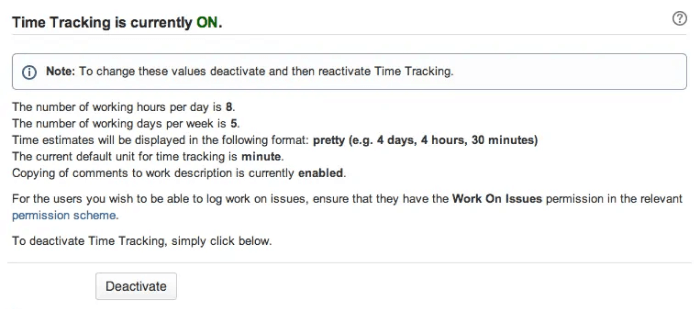 Tip: Don't forget that you have to be an admin to make these changes.
After this step, you'll get the time tracking field inside Jira issues where you can record time. If you'd like to change the time tracking setting, you need to disable the feature before you make changes and then enable it back again. You can choose the values or formats for:
Hours per day
Days per week
Time format
Default unit (minutes/hours/days/weeks)
Copy comment to the work description
You may also give different Work On Issues permissions to your teammates related to time tracking that they may change:
Work on issues: ability to create a worklog on an issue
Delete all worklogs: ability to delete any worklogs
Delete own worklogs: ability to delete worklogs created by them
Edit all worklogs: ability to edit any worklogs
Edit own worklogs: ability to edit worklogs created by them
As an addition to the time tracking, it also lets you make a Jira time tracking report. They collect information about expected time, actually spent hours, and show how much time is left. To create a report:
Go to Reports
Choose Forecast & management, then Time Tracking Report
Select the fix version that you want a report on and choose how you want the issues to be sorted.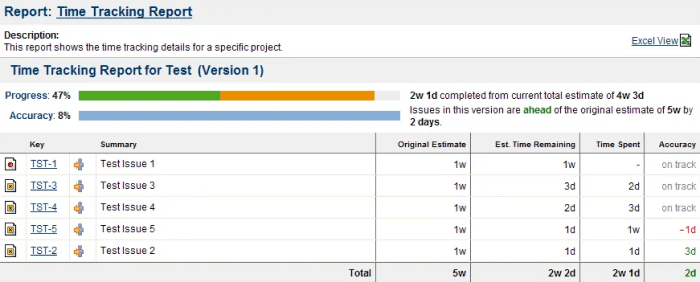 Top 13 Jira time tracking add-ons for 2023
With a great range of Jira time tracking apps, you may feel lost on the market. Though, there are 3 main points to evaluate the quality of Jira add-on: app rating, number of installations, testimonials. The other factors, like app design, logo, functionality is rather subjective. You may also check frequently asked questions about popular apps, but you'll need to test your tracker for your projects yourself before signing up for a monthly/yearly business plan.
One of the benefits of using such a system as Jira is that even if you're missing some extra feature it's not a problem at all. You can easily extend the default platform functionality with handy time tracking applications and get visual timesheets, detailed reports, and so much more. We've made a list of the top-rated time tracking apps for Jira you might want to give a try and are happy to share it with you.
Planyway calendar is the simplest plugin for tracking Jira issues and projects. With Planyway, you get a free 14-days trial to try the timeline, project roadmap, project timelines to test how it all works with your epics.
Planyway
Planyway is mostly known as a resource planning and a project roadmap tool but pretty recently the team rolled out a great update that refines the current functionality and makes it even more broad-based — time tracking. So, if you're looking for an all-in-one project management solution — it's definitely a win.
Planyway offers two-time tracking views — list and calendar to record time efforts visually. You can easily log the time you spend manually or automatically using the timer and leave comments to let others know more details about the work you do. Just with a click, you can choose what time entries to see: your own, all of your teammates, or certain members.
All data can be exported to a CSV or Excel file so you could make reports for your customers or leadership or use it for further analysis. Planyway supports the Estimation field from Jira and lets you see tracked time vs estimation for each issue right on the timeline.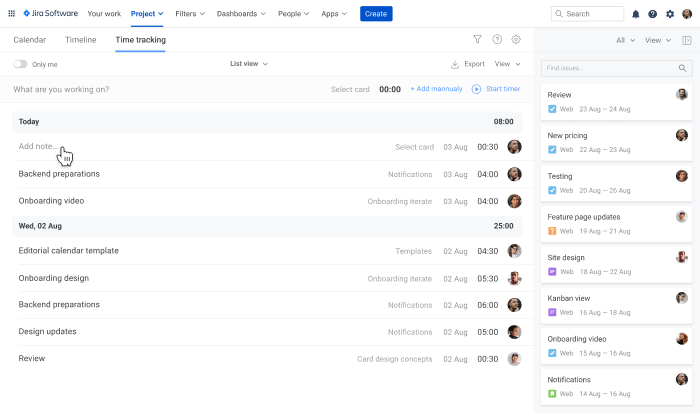 Key features:
Calendar view
List view
Timer
Filters
Export to Excel and CSV
Price: Starts at USD10 per 10 users per month
Timetracker
Timetracker is a fast solution for daily time tracking able to make powerful reports and analyze your team's work. It provides two types of reporting: worklog and timesheet. Worklog reporting allows you to create reports based on projects, filters, users, or groups and view every worklog related to users. Timesheet reporting lets you easily group worklogs by projects, issues, and users and drill down to the details. Timetracker also has the option of building charts like a Pie or a Bar chart as one more way to analyze data from the bird's eye view.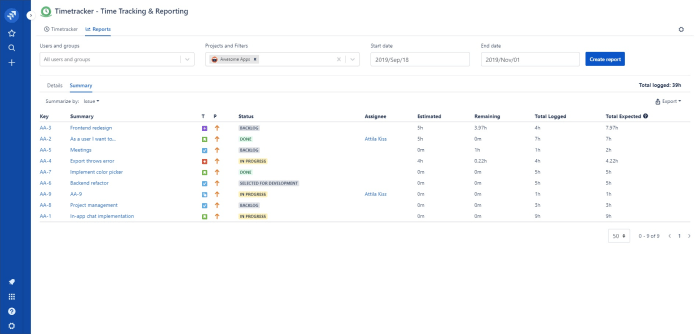 Key features:
Timesheet view
Simple or detailed worklog mode
Custom reports
Filters
Price: Free for teams up to 10 users, paid plan starts at USD 0.4 per user monthly
Time Tracker for Jira
Time Tracker simply links to Jira issues and adds an additional functional window where time can be logged at any moment just by clicking the "Start" button. The app lets you create time reports using filtering by issues, worklogs, projects, etc., and grouping by projects and users. Received data can be exported in PDF, XLS/XLSX, CSV. Each user can customize the app depending on personal preferences and easily adjust it to a certain workflow.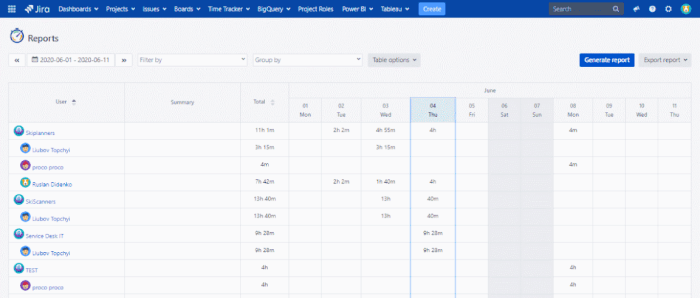 Key features:
Personal customization
Timer
Filters
Export to PDF, XLS/XLSX, and CSV
Price: Available only as a Data Center and Server versions. Data Center pricing starts at USD 150 per year up to 50 users
Tempo Timesheet
Tempo Timesheet is one of the most popular time tracking solutions for Jira. Apart from the basic features, it opens a whole new level of advanced possibilities. For example, Tempo is able to integrate with your external calendars like Google, Outlook, etc. It gets these events into Tempo and allows you to track time even there. Plus, there is a possibility to set up Tempo the way it starts tracking time automatically once you open certain pages in your browser.
Tempo reports can be customized but templates are also available. All-time records made by team members are sent to be approved by the manager first and only then get into final reports. It's important to say that Tempo makes you create roles for your teammates, so you get one more way to track data. And what's more, if you need to log work away from the desk, there is no problem at all, as you can just make use of the Tempo mobile app.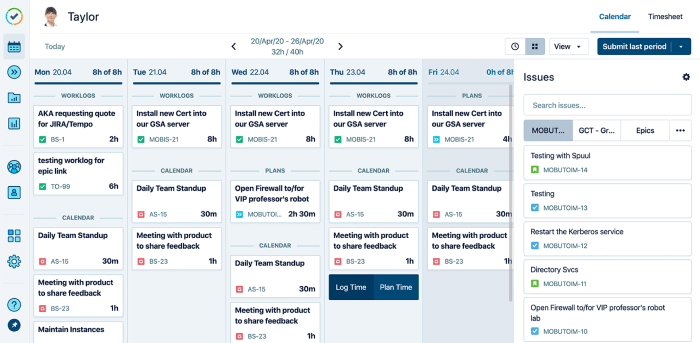 Key features:
Approvals
Integration with external calendars
Report templates
Mobile app
Price: Starts at USD 10 per user monthly
Timescale
Timescale focuses on its ability to use time tracking information for client billing and accounting. It enables team members to quickly record hours they work, check them as billable or non-billable, and even track absences. In the same way as in Tempo you get a chance to review and approve team's timesheets. Then, reports are built right in the app and can be easily exported in PDF, CSV,or Excel format for further processing.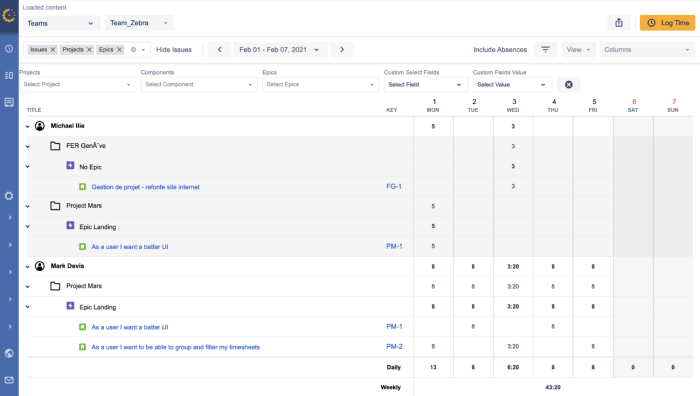 Key features:
Billable and non-billable hours
Approvals
Table and List views
Filters
Export to CSV and PDF
Price: Free for teams up to 10 users, paid plan starts at USD 0.9 per user monthly
Timesheet tracking for Jira
The app is famous for its visual reports built as pie charts which are made with various custom filters such as users, projects, filters, and more. First, you filter your Jira timesheet, then based on the received data build pie charts or tables to get a quick look at your team worklogs or project duration. You may customize fields to focus on groups, users, or projects you need. And surely, all data from both the general table and detailed table can be exported into the CSV format.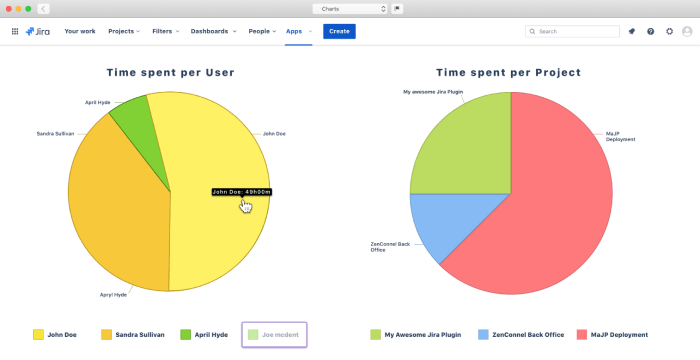 Key features:
Pie chart and Table view
Filters
Export to CSV
Price: Free
Worklogs
Worklogs has an intuitive interface allowing you to filter time records within any chosen time range for different projects. By grouping hours in many ways, you can get various reports providing you with insights into all project parts. The reports are visible in-app or can be downloaded as an Excel file.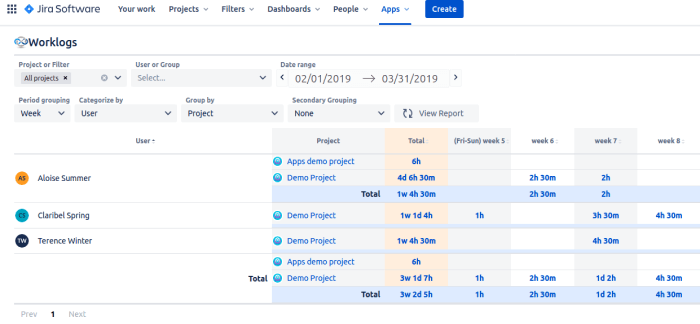 Key features:
Grouping & categorizing data
Filters
Access permissions
Export to Excel
Price: Starts at USD 2.5 per user monthly
ActivityTimeline
Activity timeline is another combination of multiple tools. In this case — resource planning and time tracking. It means you can see work plans for the whole team and then compare them with real efforts. Even though the app might seem complicated at first, it's a good solution for both internal teams and remote contractors, as it gives them a personal calendar where they can see what is planned, easily track their time, and request vacations and days off.
You'll also find handy templates for composing reports like Get Planned vs Actual, Resource Utilization, Skill Availability, and others which can make reporting super quick and easy.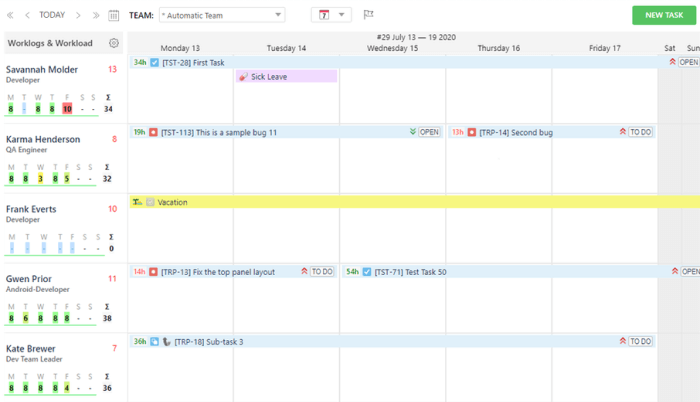 Key features:
Vacations, days off, sick leave, etc.
Report templates
Personal workspaces
Export to Excel
Price: Starts at USD 10 per user monthly
Clockify
Clockify is a famous standalone solution which also has a version for Jira for better integration. The beauty of Clockify for Jira — it has a free tier and you can get it at no extra cost. The Jira version is pretty basic but at no cost, it's a win-win deal anyway. If you need more features, you can switch to the paid tier of the standalone Clockify easily as your Jira data is integrated already.
The app allows you to track time manually and with a timer as well as categorize time by projects, tass, tags. etc. Then, it just combines all data into a single report, so you can check who worked on what and keep track of all current activities. Clockify data can be exported as a PDF, CSV, and Excel file, or via API.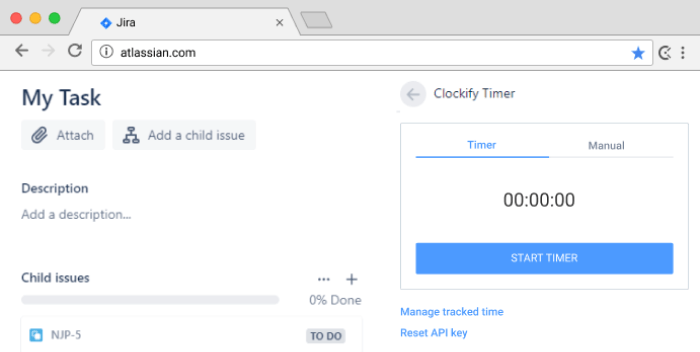 Key features:
Timer and manual tracking
Basic reports
Seemless integration with standalone Clockify
Price: Free
Harvest
As well as Clockify, Harvest is an independent app that made a Jira version for better integration. It's also a free solution allowing you to start and stop timers from an issue, and see how much time was tracked. That's it what you can do with it in Jira but all data you collect simultaneously gets into the Harvest standalone app where you can proceed with further analysis.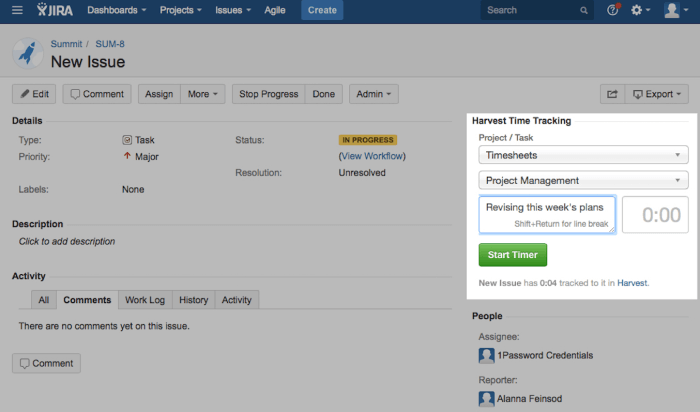 Key features:
Track time from Jira issues
Time entry notes
Integration with Harvest
Price: Free
Chronos
One more app supporting the integration with Jira is Chronos. It automatically syncs your Jira issues and creates native Jira worklogs. Worklogs can be created manually or with a Jira timer and then filtered by users or issues to make reports. Based on them you may calculate salaries, view screenshots, and activity levels.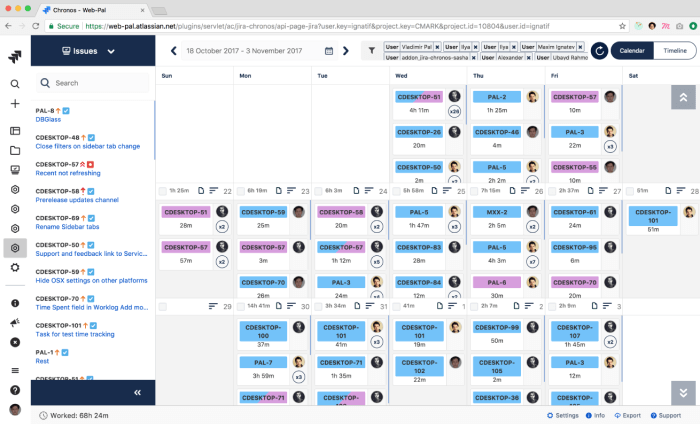 Key features:
Automatic and manual worklogs
Screenshots
Activity-levels
Idle periods
Export to CSV
Price: Starts at USD 10 per user monthly
TogglTrack
Once you set up the integration between Jira and Toggl, you get a chance to log time from anywhere: Jira issues, Toggle desktop app or the mobile app. Then you get all this data in a single place that can be transformed into reports with one click. What's more, you could adjust the remaining estimate right from the timer, use the pomodoro timer and try out the idle detection.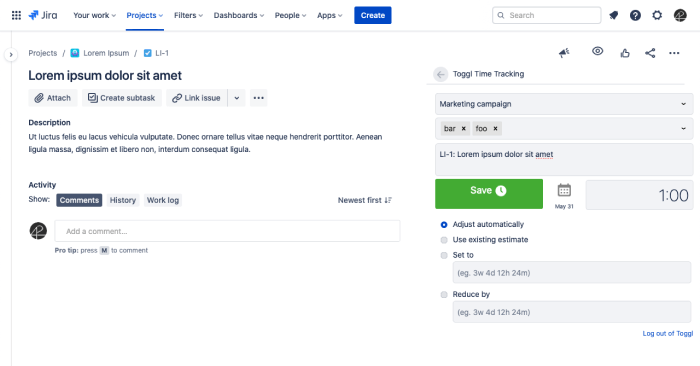 Key features:
Time stored in Toggl synced with Jira
Searchable dropdowns
Pomodoro timer
Idle detection
Price: Free
Epic Time Tracking
This app adds the Epic Time Tracking panel in the issue view to keep track of all time logged on an epic's child issues. By clicking on one of the labels like "Logged on epic" you can open an overview of the child issues on the epic. In this overview, you may find the issue key, summary, type, status, logged hours, original and remaining estimates.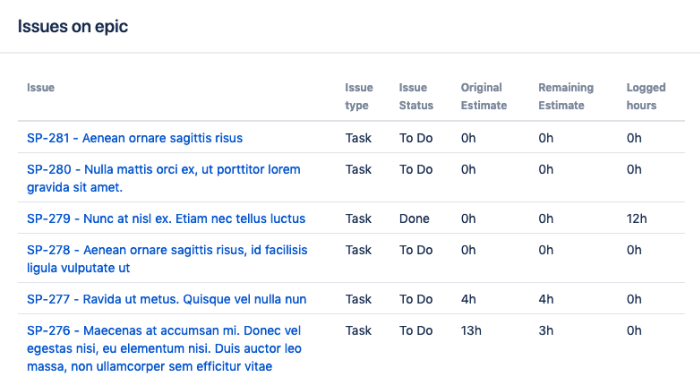 Key features:
Original and remaining estimates
Automatic estimations
Tracking across multiple issues
Price: Starts at USD 10 per user monthly
Jira time tracking report
Jira report is a super high request among users worldwide according to Ahrefs data. About 2.5k times jira reporting keywords are searched monthly. And imagine that you can also type in Google's search bar: jira report, jira reporting dashboard, report jira, create jira report and so on and so forth.
Let's make a quick overview on how to build a report in Jira with Planyway. In order to create a detailed report of your working hours in Jira, you need to use tab 'Reports'. There you can filter out the tracked time by project and by user, also you can set the date range to check reported hours for a specific period of time.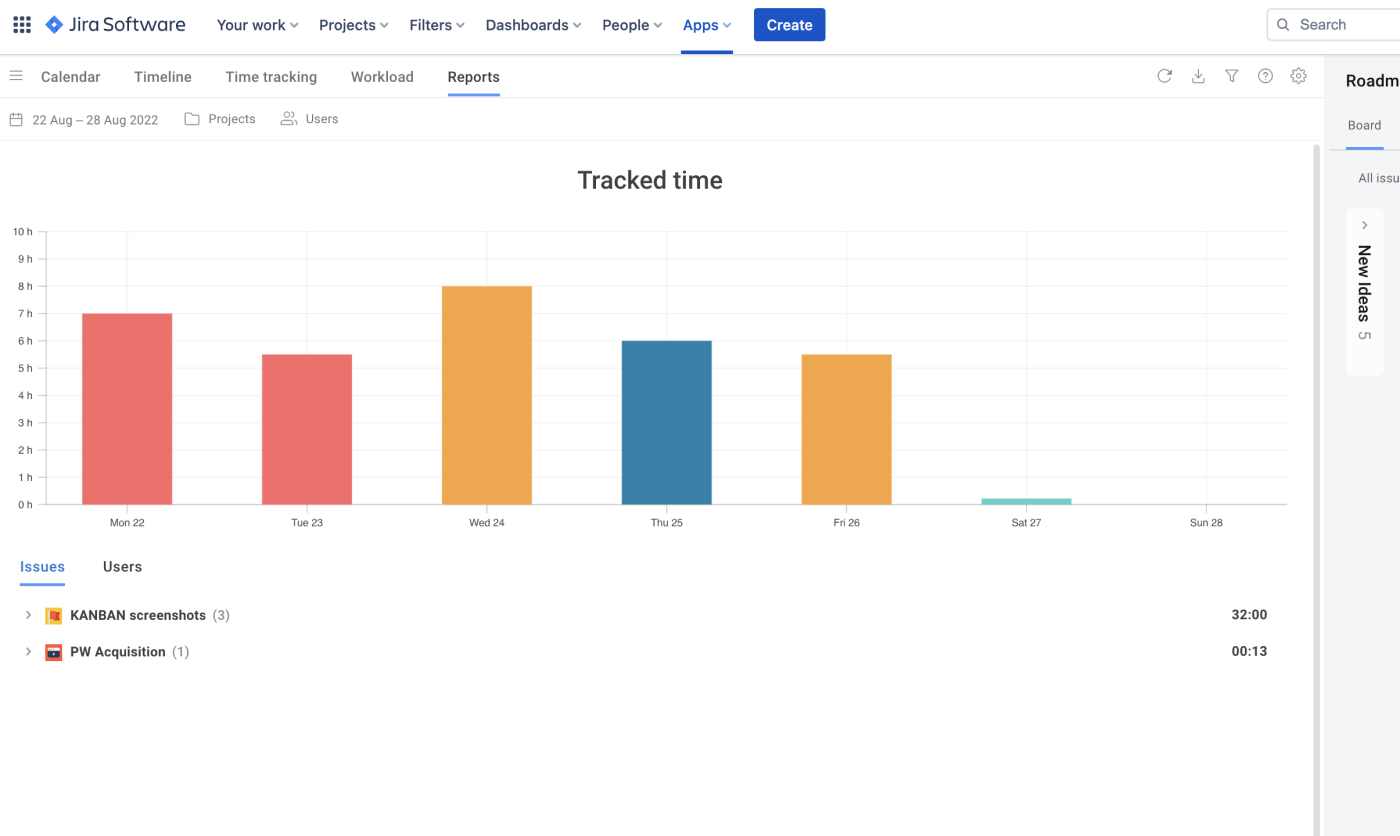 Wrap Up
Suggested Jira time tracking tools will give you a way more transparency into how your team is spending their work time and will tell you if someone is getting bogged down. It will also give you a hand with resource allocation by allowing you to make better estimates of how long tasks will take in the future. So, make a list of things you expect from the time tracking and choose the one that fits better to get started.