In this article, we're going to take a close look at what Jira resource planning is, figure out why it's important, and learn how to manage your resources with the Jira solution.
Jira is an incredible tool. It gives you everything you need to manage projects of different sizes, industries, and complexity. But what always stands behind any project? It's people. No project is accomplished without a team, that's why when being a project manager it's highly important to pay much attention to how you manage your human resources so that you can organize the workflow in the most effective way and get better results delivered on time.
Love the view below? Then, let's dive in and see how you can plan resources the same way!
What is resource planning?
Resource planning can be simply defined as the process of resource allocation in order to complete tasks with maximum efficiency. It lets project managers distribute tasks in the most optimized way and keep track of performance when work starts. In other words, it's the planning process aimed at making the best use of resources depending on their capacity and availability.
In general, by resources, we can mean people or non-human stuff like materials, infrastructure, money, etc. In this article, we will primarily focus on people but all the main principles can be applied to resources of all types.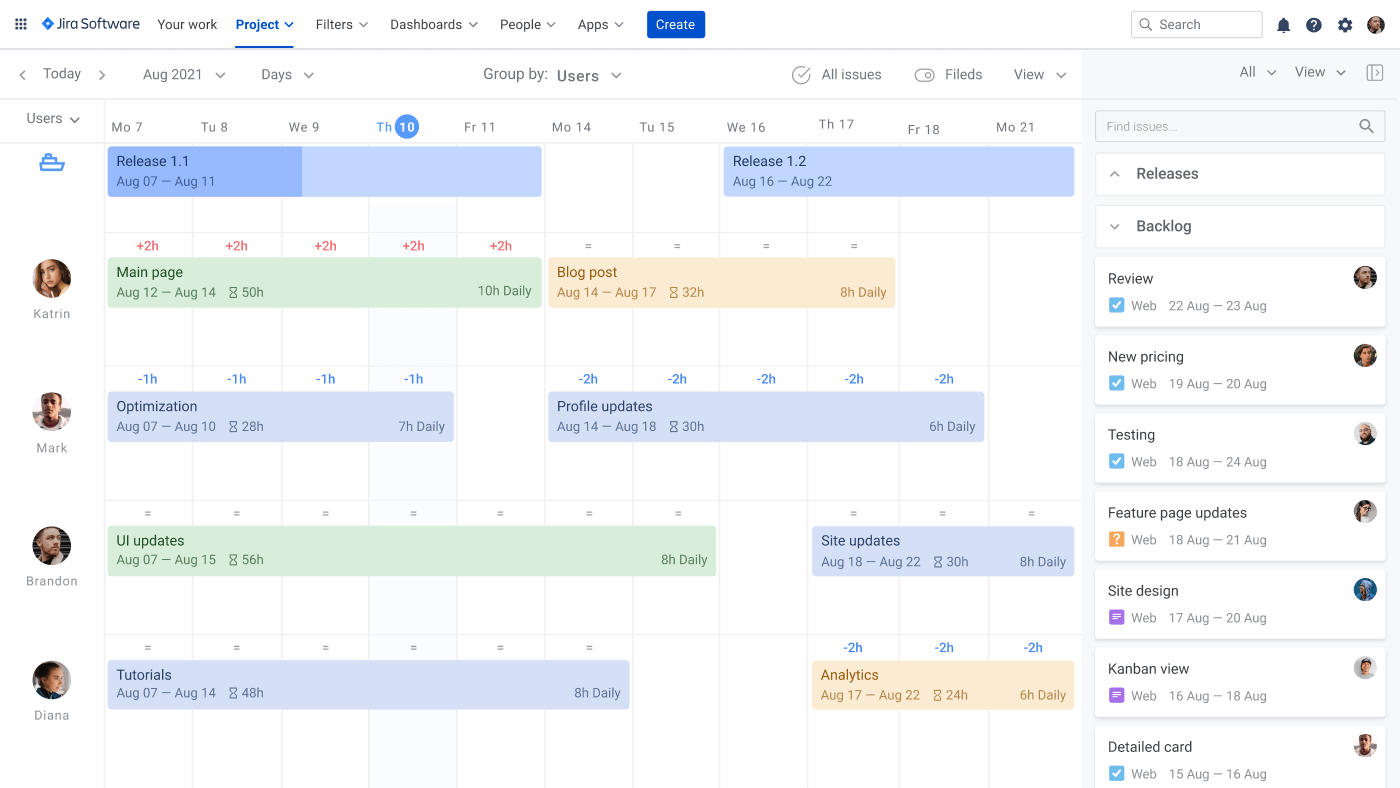 3 stages of resource planning
No matter what tool is used to roll out the resource planning process, there is always the same 3-step scenario required to get started:
Stage 1: Define project scope and access resources
You have to understand your project scope and what resources are available for you from the get-go. List all tasks that need to be done, think of what skills and experience are required to complete each of them, and cross-reference your plan of work against available resources.
Stage 2: Allocate resources
After the project scope is set up and the resources available are clear, it's the right moment to allocate resources to tasks and schedule work to do on the project roadmap.
Stage 3: Monitor resources
There is one more important stage you shouldn't miss as resource management in Jira is not just about allocation and scheduling. The biggest part of this process is constant monitoring and assessment of how you're progressing in order to make sure that everything goes by plan.
How to plan resources in Jira
Initially, Jira was designed as an issue tracker rather than as a resource planning tool, so you won't find Jira resource management features out of the box. But it doesn't mean that it's an unavailable option for Jira users.
Atlassian marketplace is full of powerful Jira planning plugins that will let you broaden its functionality and customize Jira according to your preferences. We've made research investigating different Jira plugins for resource management and are happy to share the list of the best of them below:
Planyway is the tool specially created to provide help with managing resources in Jira and became popular due to its simplicity. While Jira allows you to manage issues only in the board view, Planyway is able to visualize issues on the timeline to see the whole project planned ahead split by responsible members. With Planyway you can:
Visualize workload
The only way to have a clear understanding of available resources is to view them and their workload together on one page. Planyway does this job perfectly.
Moreover, it lets you have a split-screen between the timeline and a Jira board which makes you see your planned scope of work and simply drag issues to the timeline view in order to assign issues based on the resource availability you see there.
Once the issue is estimated, you'll see workload indicators on the top of issues. They will help you distribute work based on the daily capacity chosen in the Jira settings so you can make sure no one is overloaded and easily spot underloaded team members.
Besides the resource planning for projects which is made so easy now, you can also make use of the tool throughout the whole project for monitoring how the work is progressing and stages pass from one to another. In case any problems show up, you will identify them from first sight and can prevent the trouble upfront.
Manage issues across projects
When you manage multiple projects, resource planning with Jira becomes even harder as you don't see the full team workload across projects and have to switch between tabs all the time. With Planyway you can connect projects you need and see all issues on a single page.
Another perk is the ability to switch project boards without closing the Planyway timeline, so you can plan the workload for multiple projects all in the same tab.
Track time you spend
In order to understand whether you're meeting your time estimations or not and analyze how productive your team is, there is a handy time tracking feature. Planyway grants you a separate time tracking mode to record time spent on tasks in the calendar or list view. All you need to do is just choose the issue you're referring to and set the time.
You can record time manually or make use of the automatic timer. If needed, you can leave notes to explain what exactly you did. A manager can view all time entries created during a specific period or filter them by team members.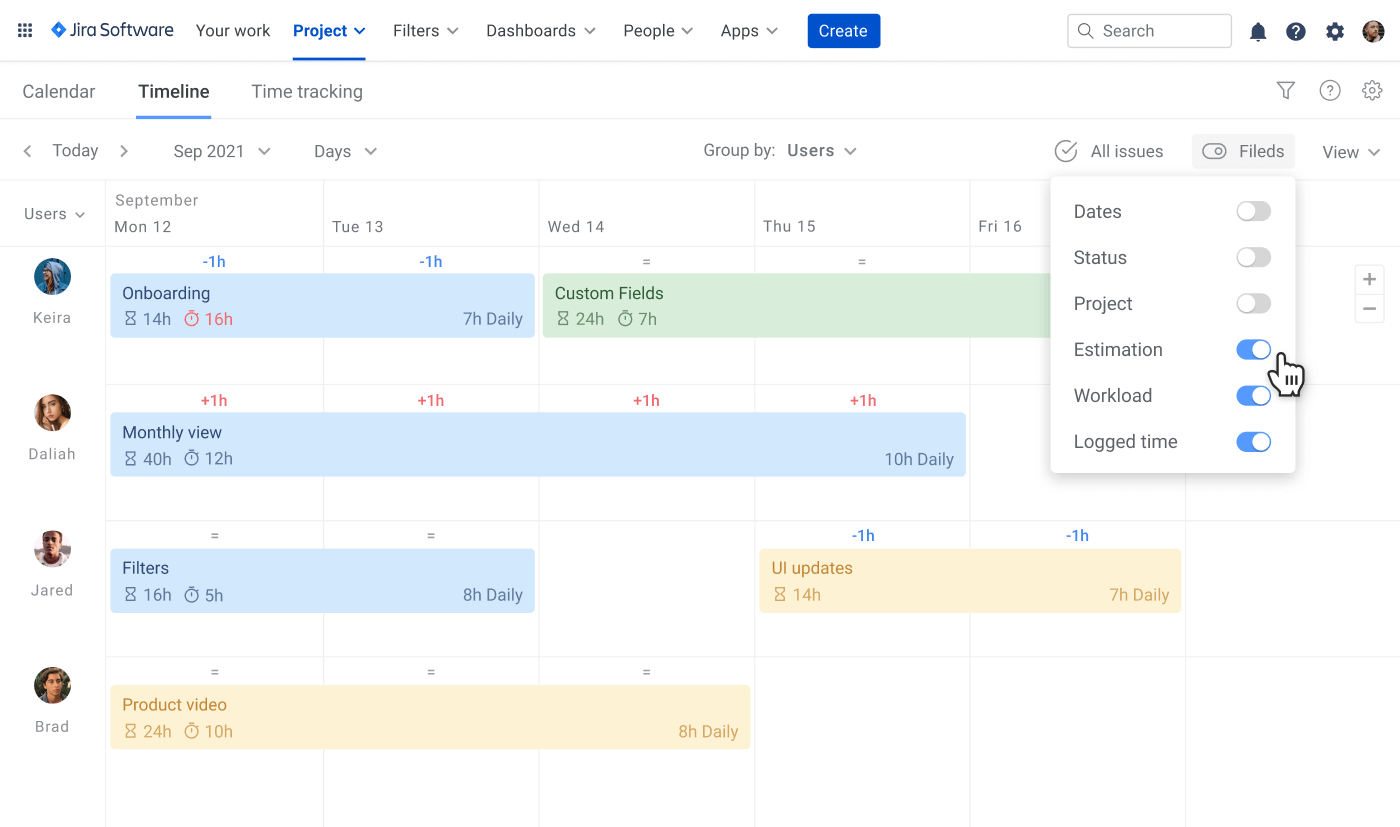 It's also possible to view the estimated time vs. the actual one right on the timeline view. In case you exceed the estimation, the issue will be highlighted.
Build mighty reports
Planyway collects time tracking data into powerful reports that help you see tracked time broken down by user, issue or project, and have a chance to analyze how well your team is doing or easily calculate efforts to bill clients.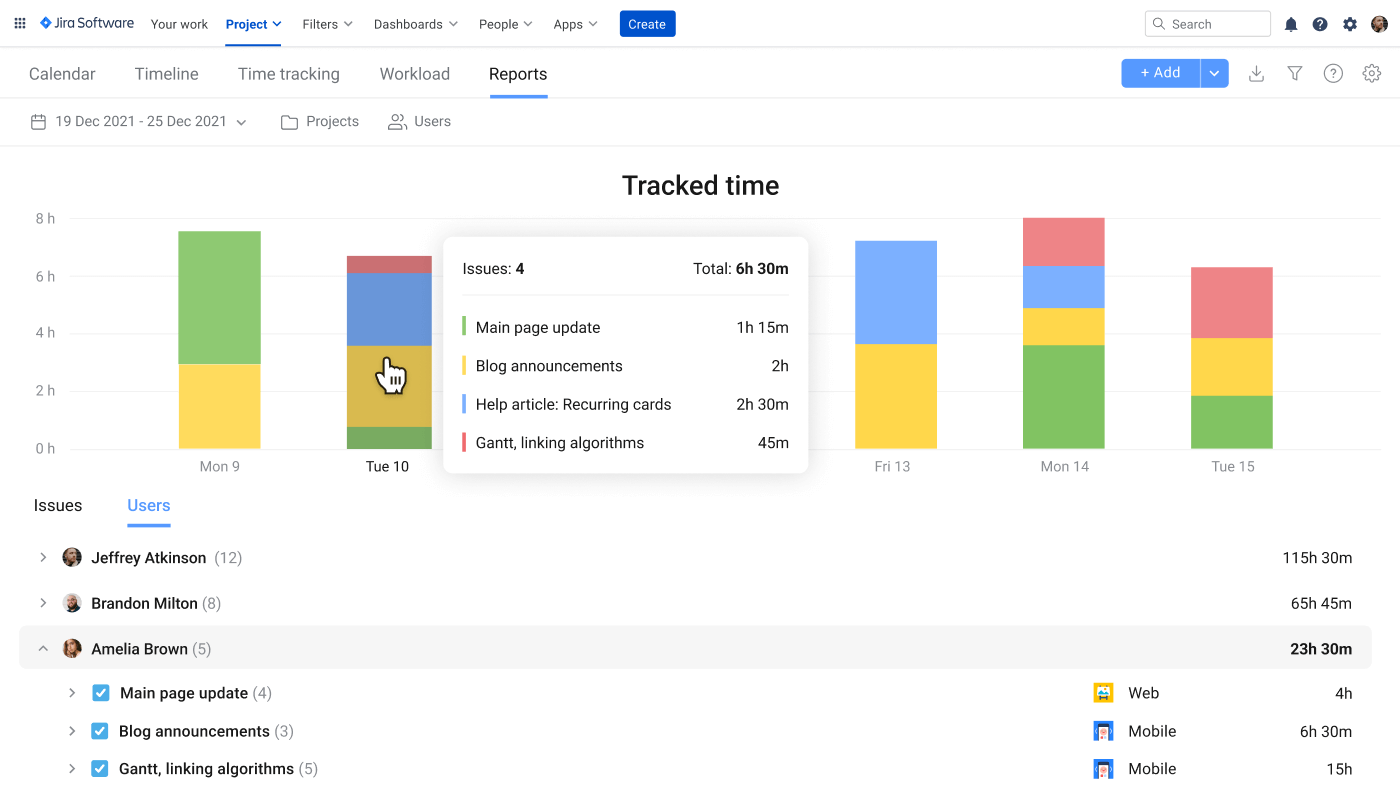 Prioritize work
It often happens that one teammate can be assigned to several tasks and even projects at a time. In this situation, you have to take priorities into account when planning a project, and inform teammates about what work items have to be done first.
Planyway offers two ways of visual prioritization: you can either just reorder cards on the timeline or make use of the priority labels.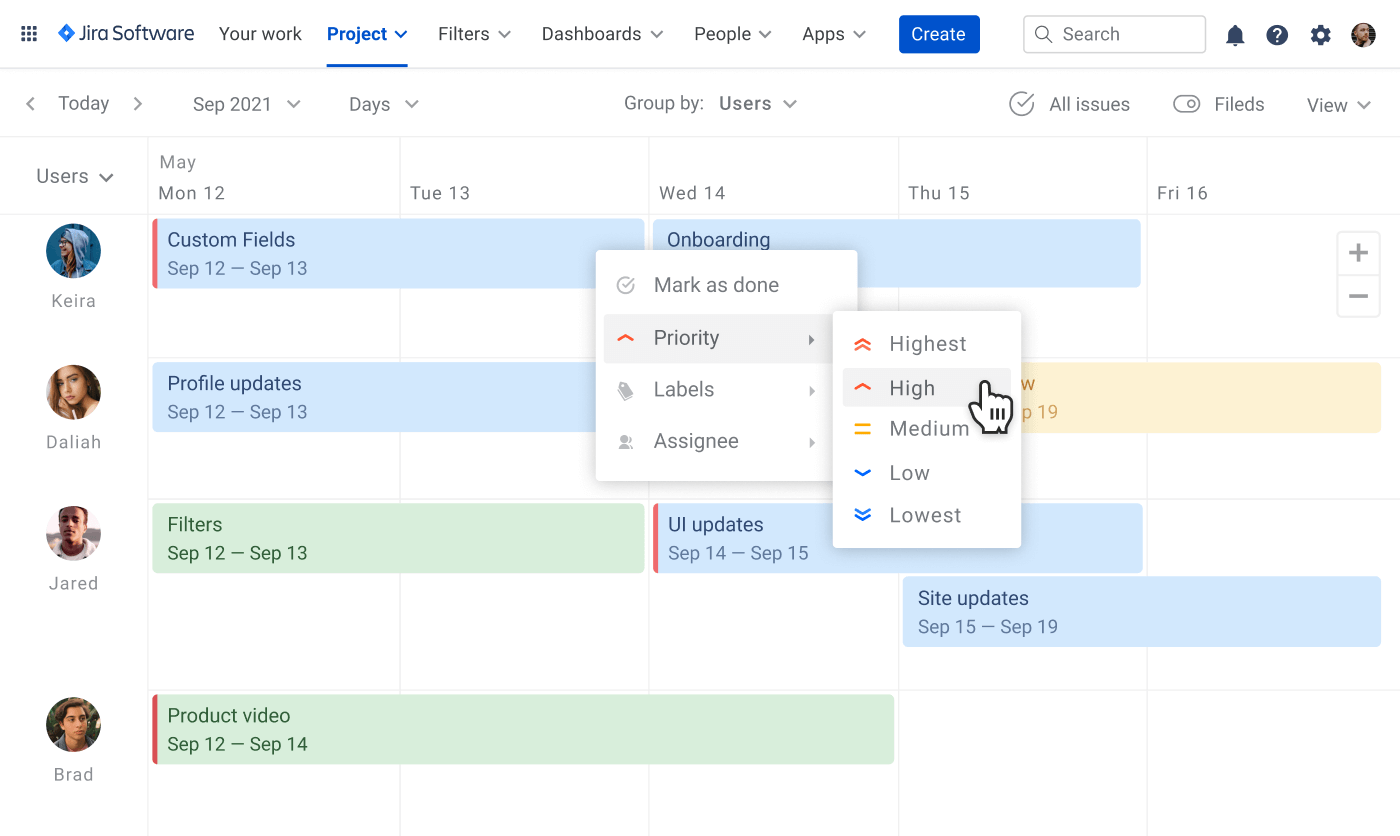 ✔️ Join 500,000+ Planyway users to manage projects with ease!
Tempo Planner is another resources planner made up for resource management. Apart from planning the workload with Jira issues, this resource planning tool also makes it possible to set up capacity for each teammate, assign different roles, plan vacations and manage not just individuals but teams. Plus, there is a super powerful integration with Out of Office Assistant for planning time-off.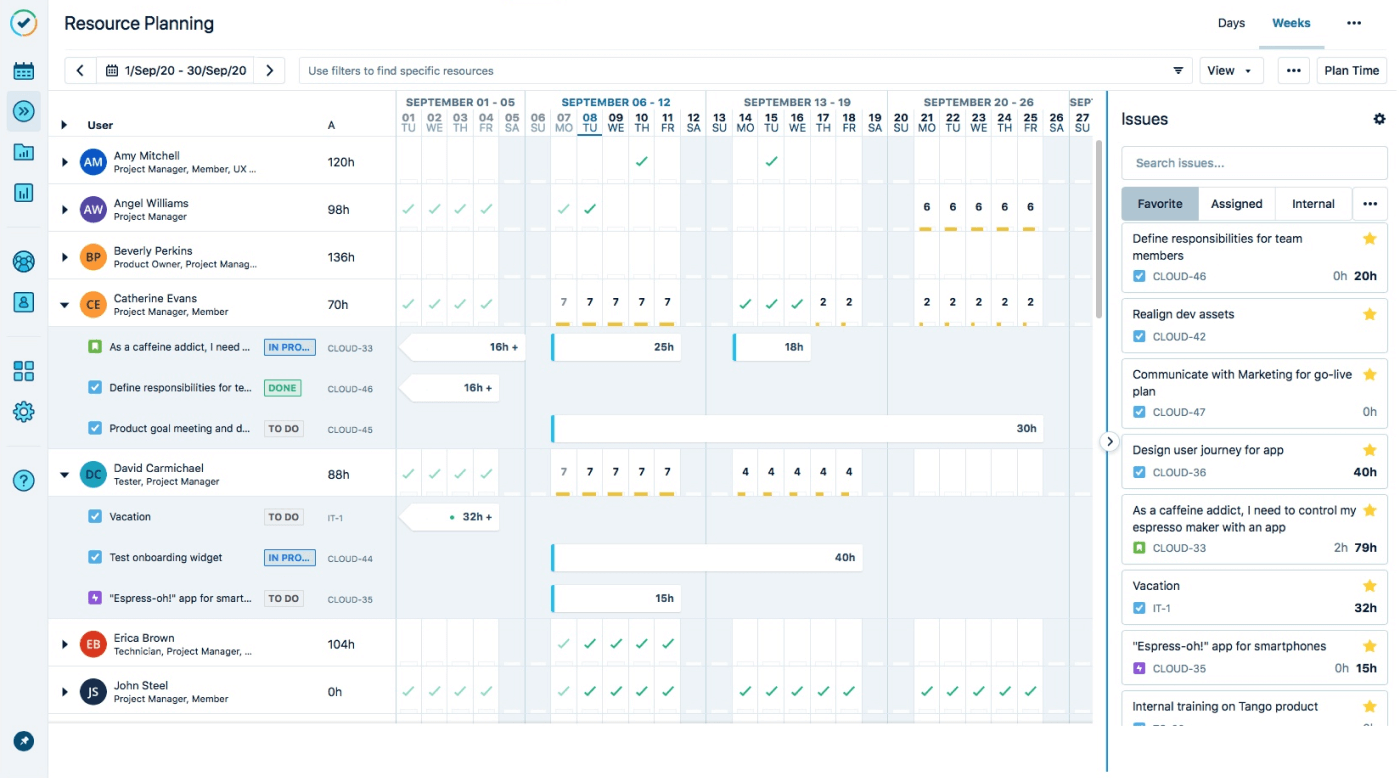 Tempo has another solution for time tracking — Tempo Timesheet which makes a perfect match with the Tempo Planner allowing you to combine planning and Jira resource allocation. With Tempo you also can:
Add roles and workload schemes
Instead of just having all team members with the Member role, you may infuse the other positions such as Developer, Project Manager, Designer, etc. Some roles are already existing but you can easily create any role you wish from scratch. Roles will help you set the default capacity, working hours, etc. for different positions.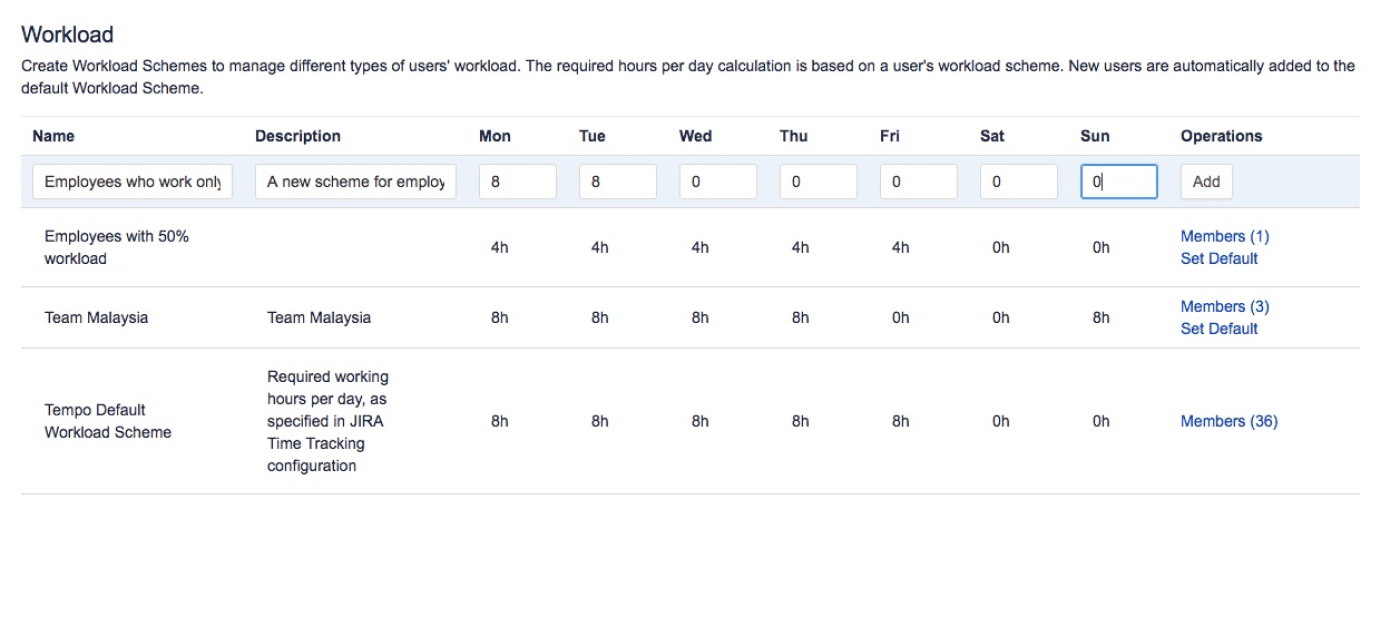 Create teams
Tempo lets you unite Jira users that work together into teams. Each team has a team lead responsible for allocating work to their team members, balancing the workload, and approving plans. At first sight, it's just one more hierarchy level but it makes a manager's job much easier and less time-consuming.
Generate reports
Tempo reports will assist you in gathering the data you need in simple yet informative dashboards. It may include planned, actual time, or their comparison for yourself, other teammates, or even teams and departments. Filters applied will show only what you want to see and help you export required data in a click.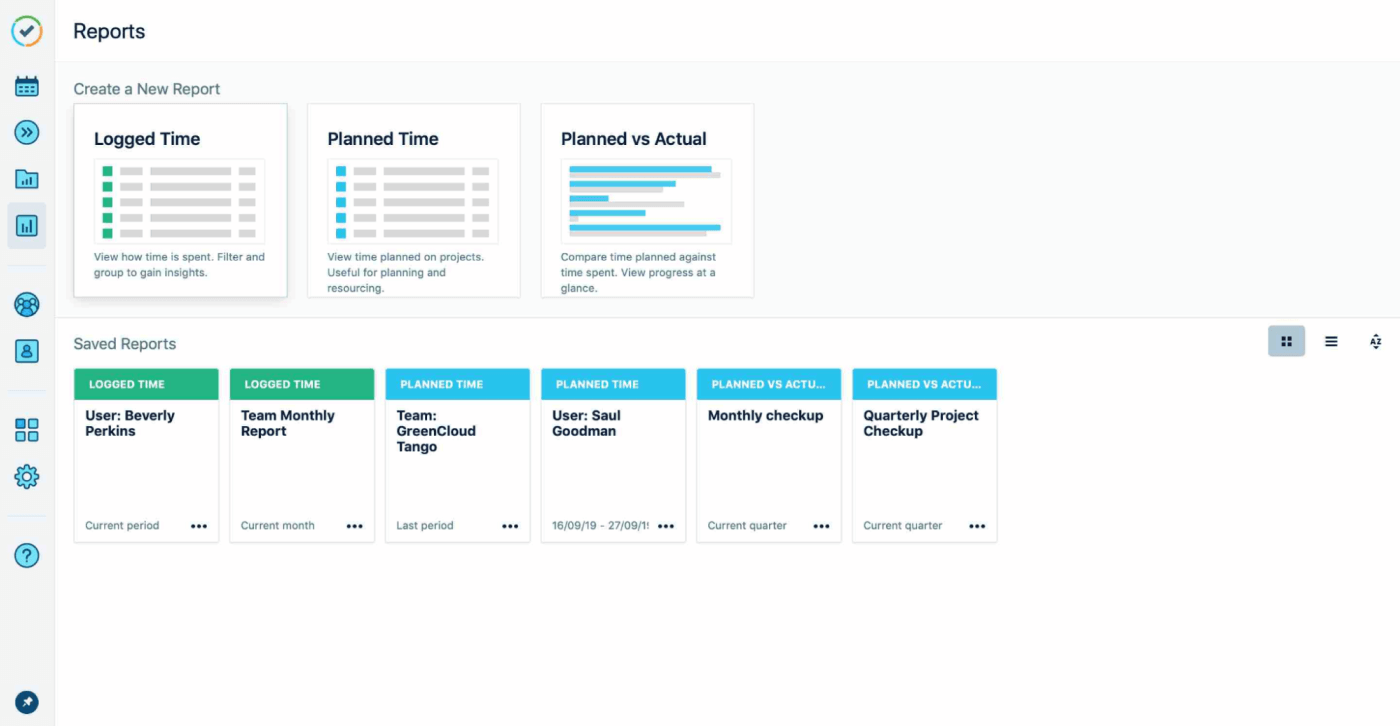 BigGantt is one of the tools for resource planning primarily created for building Gantt Charts based on Jira boards. But thankfully the BigGantt developers made it possible to get Jira capacity planning there as well. With BigGantt you can:
See capacity along with the Gantt plan
BigGantt visualizes the hierarchy of Jira issues with customized informative columns, the Gantt chart, and the capacity schedule altogether for smarter resource planning management. This is a really nice option, as when you schedule issues for teammates you can always check the person's capacity at the same place and make the right decision.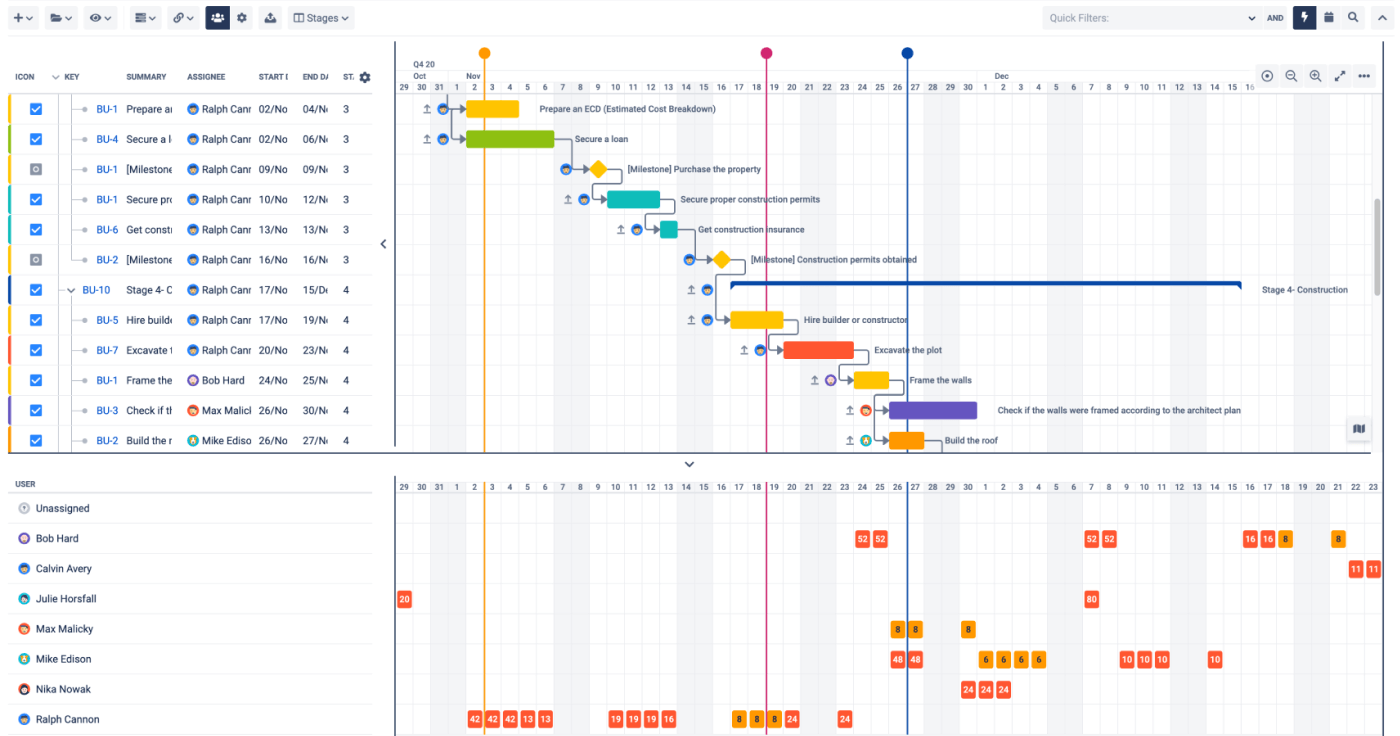 Get colorful indicators
It's much easier to identify colors than numbers, right? This is exactly why BigGantt uses color indicators to show how busy a person is: red stands for overbooking, orange - shows 75-100% of total capacity and green - when it's less than 75%.
Check the progress bar
As soon as BigGantt includes the time tracking feature, there is also the possibility to view the progress bar along with other columns. This way you can see how much time is already spent from the estimated time.
The Activity timeline plugin will help you visualize resource planning project management to easily see who is doing what and when on one screen and keep an eye on all tasks currently in progress. With Activity timeline you can:
Display workload and availability
Workload indicator serves to show total hours allocated to team members based on the remaining estimate of scheduled Jira issues while availability indicator shows hours that are still available.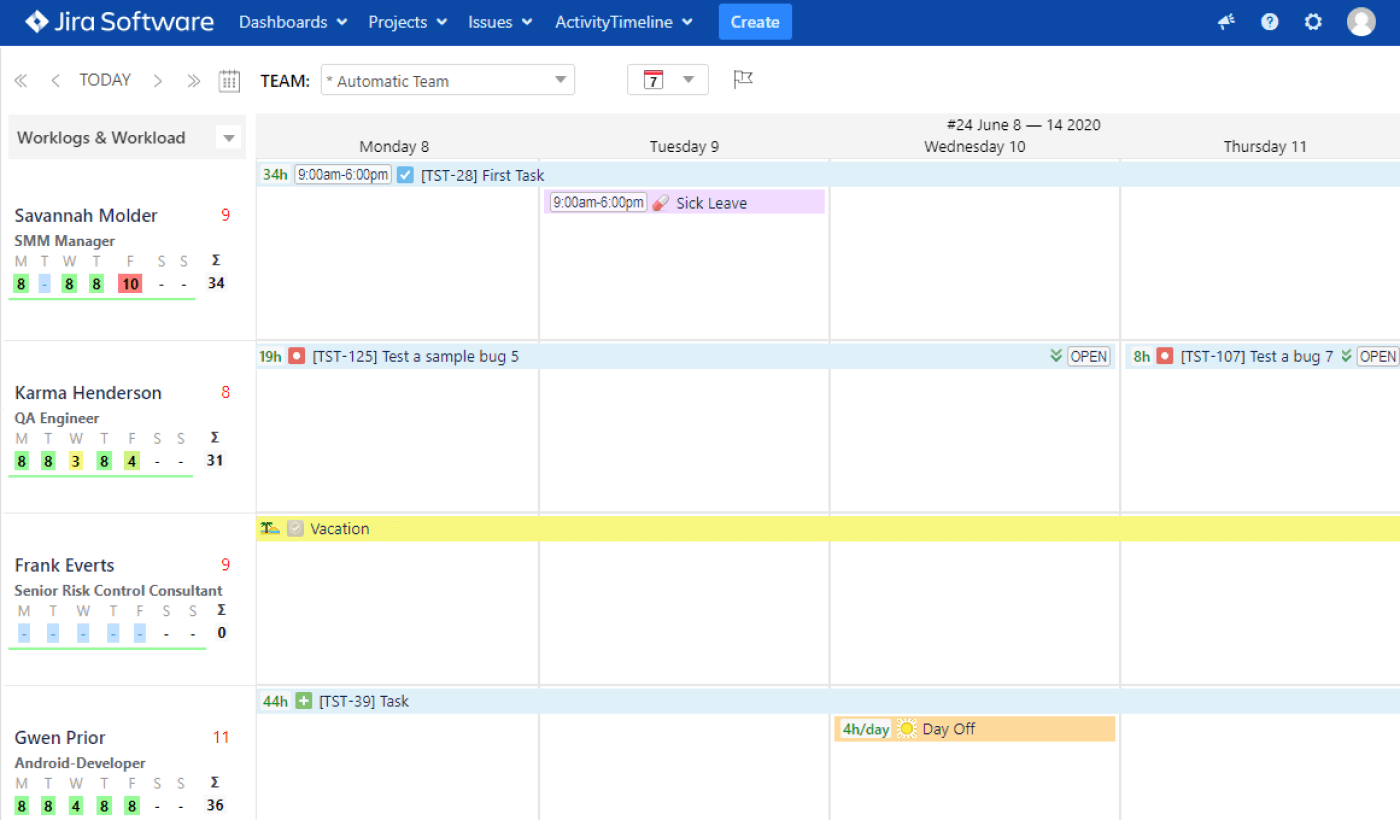 Use colors to indicate workload
As well as BigGantt, Activity Timeline makes use of colors to indicate different workloads but with more variations from nothing scheduled to underloaded, slightly loaded, overloaded, and days off.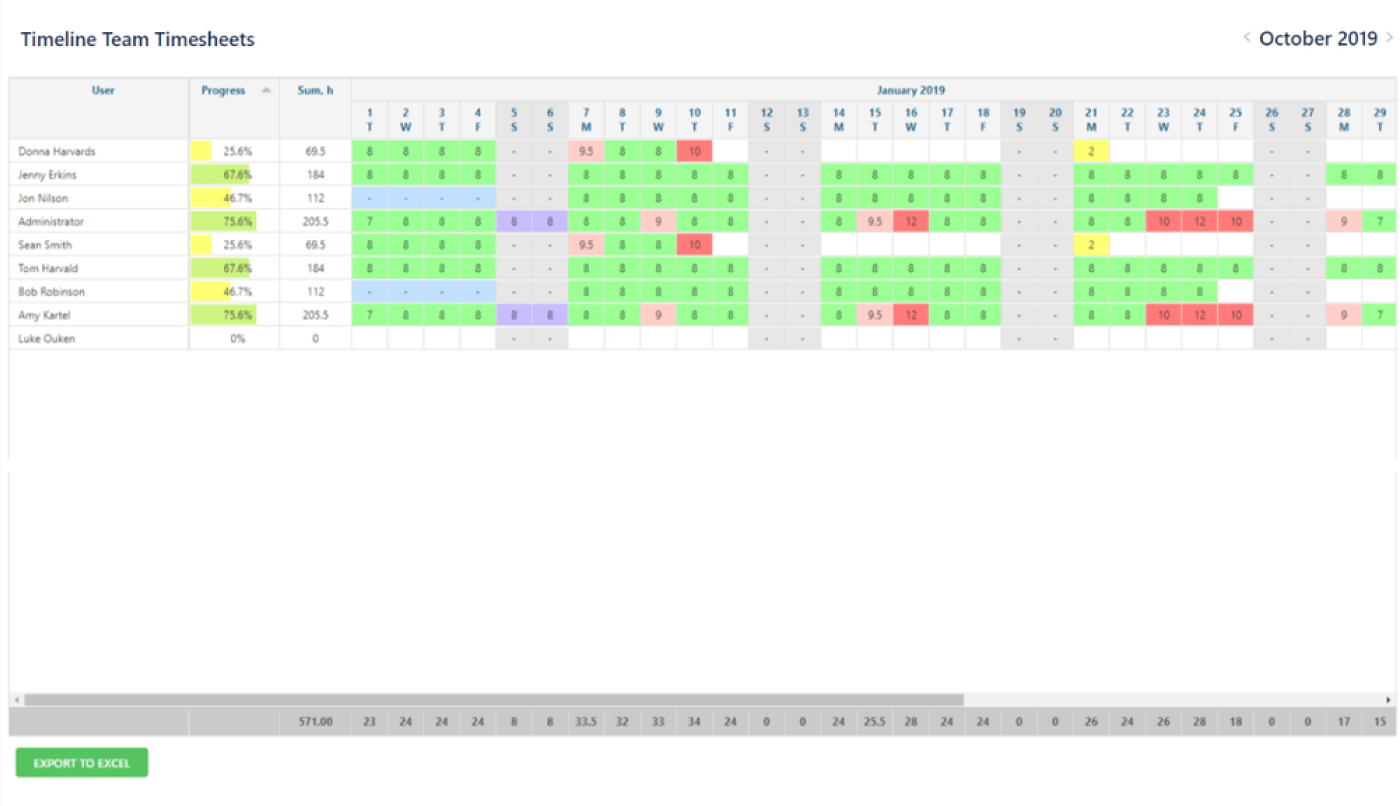 Build various reports
The beauty of the Activity timeline is the variety of reports you get there. There you'll find three types of reports: planning reports, timesheets, and tracking reports. All of them can help you analyze your workflow from different angles.
Team Board is a tool for resource planning to provide you with an inclusive picture of the team members, their tasks along with logged and scheduled time. The app includes the possibility to manage resources across projects as well as make time records. With Team Board you can:
Group resources
The plugin allows you to group individuals into teams, departments, roles, or other formats that suit your workflow. So, the resource timeline can be divided by team members or by groups you create.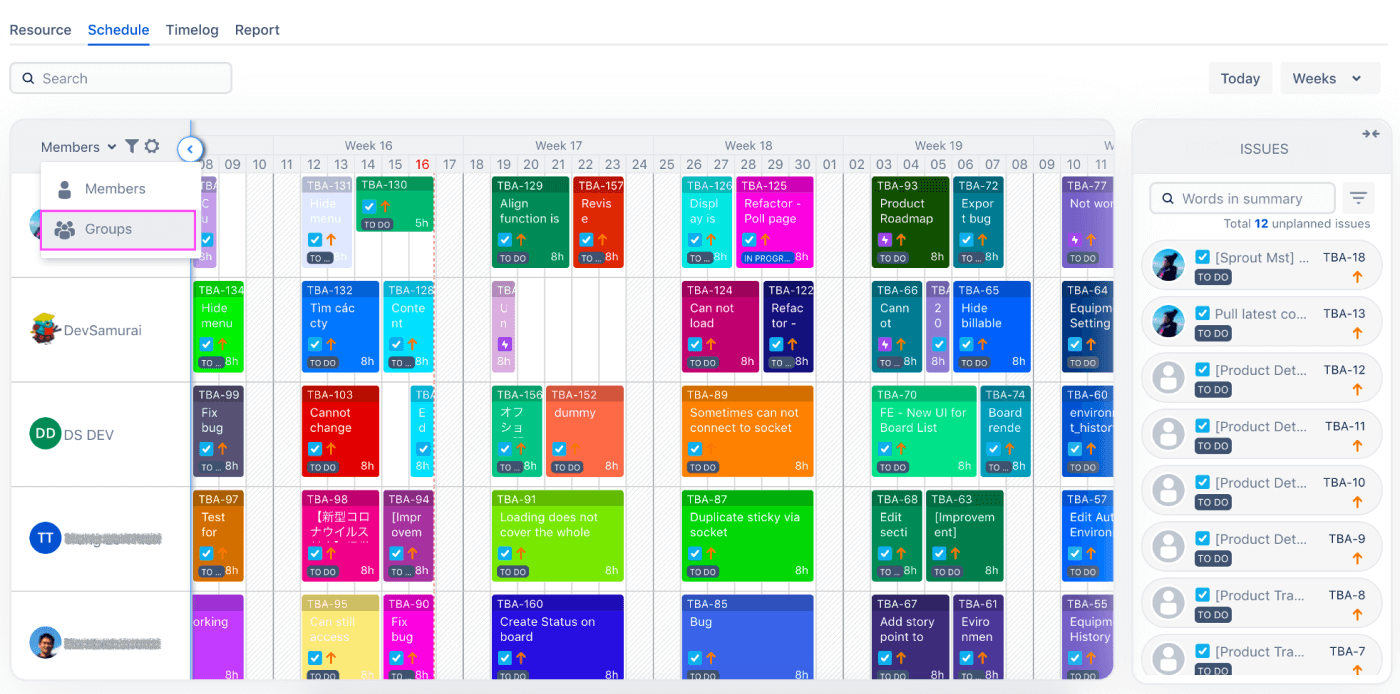 Combine scheduled work and capacity
TeamBoard has the option to view planned issues together with daily capacity on a single timeline which is super useful as you get an immediate understanding of how balanced your workload is.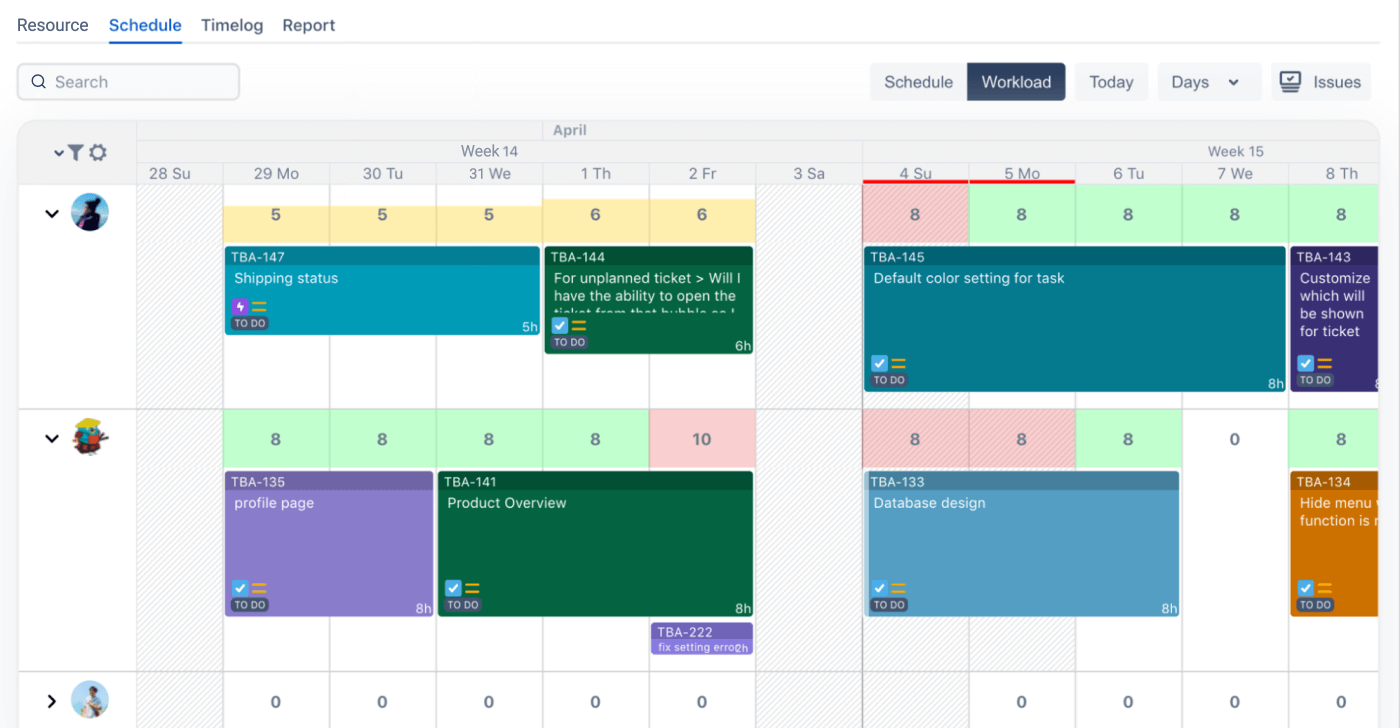 View logged time vs scheduled
As well as its competitors Time Board lets you view the report which is pretty simple but at the same time straightforward. You can see logged time, scheduled time, and logged time vs scheduled time graphs with selected date range.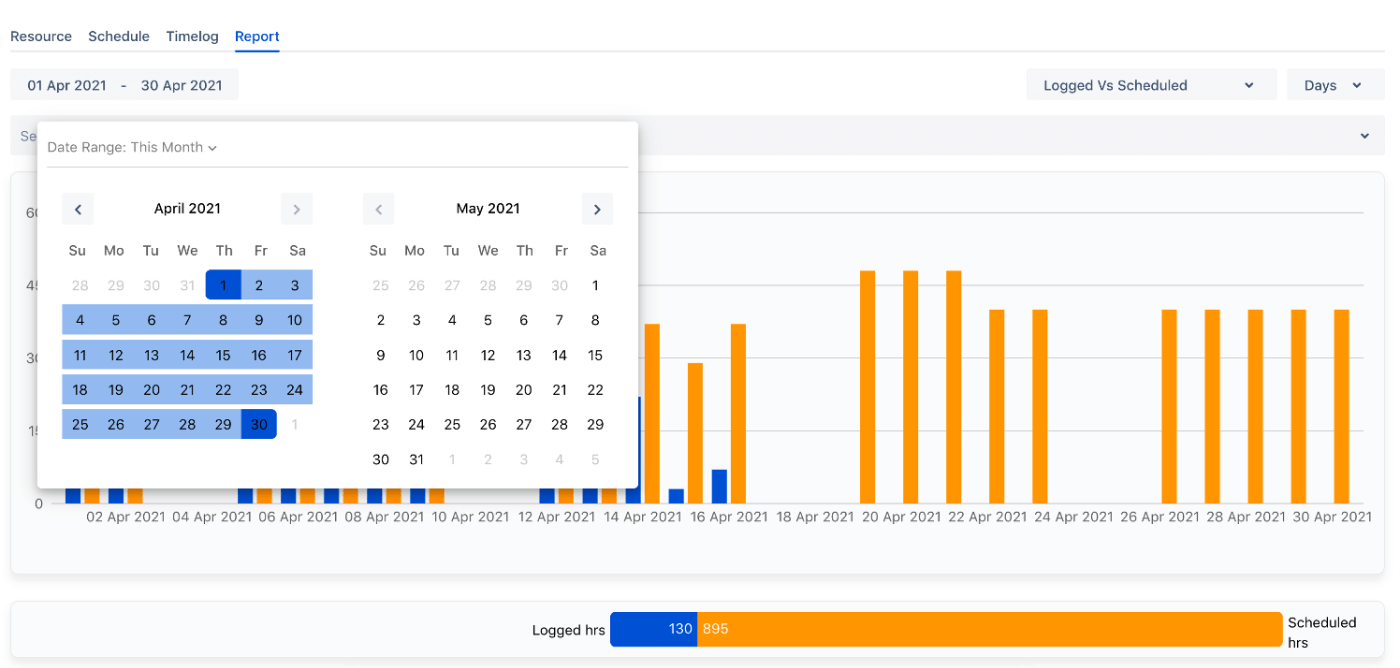 Why is resource planning important?
Wondering why resource planning in project management is supposed to be so crucially important for the whole work process? Let's have a look at its biggest values and you'll get it yourself. Resource planning for project can help you:
Plan the project pipeline
Everyone wants to have more projects in the pipeline but not having enough resources for them can become a huge problem that causes missed deadlines and negatively impacts the work quality. A good resource planning for project management will help you predict all resources needed for the upcoming projects, so you can say for sure whether you're ready to take another project or not.
Forecast the resource excess and shortfall
In case you have too many resources unused, you will end up wasting time and money. On the other hand, if you have a lack of resources, you'll probably miss deadlines and therefore dissatisfy your stakeholders or even might not be able to complete the project at all. So, whether you have an excess or a shortfall of resources with project resource planning you can easily identify it and implement the right treatment to bridge the capacity and demand gap.
Minimize costs
A resource plan will help you optimize the usage of your resources and make sure that resource allocation was done properly based on skills and availability. And the more effectively you utilize your resources, the less cost you pay, right?
Deliver project on time and within budget
A resource plan will give you a hand in monitoring project performance by analyzing estimated vs. actual time spent. This way, you can keep your finger on the pulse and make fast changes to prevent troubles and hit deadlines.
Prevent burnout
If certain team members are in high demand, there is a big risk of excessive workload overwhelming your team. It leads to stress, even burndown, and eventually impacts team productivity and how well they do their work not to mention offboarding. So, if you want to keep your team happy and make your project successful, you absolutely need to pay more attention to how work is distributed among team members.
Get it all documented
In the situation when something goes wrong, you have all your project resources planning history safe and sound in a single place that you can analyze to see what went wrong to prevent the same mistakes in the future.
To sum up
If you want your project to be successful, pay attention to the way you manage your team and coordinate the work process. If you over-resource your project, you'll waste time and money. But if you under-resource, you'll end up with a bunch of burned-out team members and a failed project.
Careful resource planning in Jira will help you find that perfect balance. Get started with one of the resources planning tools described above and be ready for big changes!