If you're looking to add more visualization to your Jira workflow, a timeline is the perfect tool for the job. Project planning with Jira timeline helps your team easily spot the timing, duration, and dependencies between issues to see how long tasks take to complete and when they will be delivered.
Jira has no built-in timeline feature by default. So, let's dive into more detail and see how to implement and use the timeline in the Jira environment. In this article, we will also clarify why you need a timeline and tell you how to create a Jira timeline view in just a few simple steps with Jira extensions.
What is a Jira timeline?
A project timeline is the visualization of your project breakdown from the very beginning to the competition covering all tasks and milestones, with assigned deadlines. The timeline view lets you keep track of due dates and coordinate work so that you deliver the project on time.
Here are the main reasons why timeline is so helpful for project management:
✅ All teammates get access to the clear project overview
✅ Project steps become visible
✅ You schedule project from the start to an end
✅ Each task has a visible due date
✅ Tasks are allocated to team members
✅ It can be shared with external stakeholders
✅ Updates happen in real time
Jira timeline vs Roadmap
Many project managers routinely confuse these two terms, a timeline and a roadmap. Although these terms complement each other, let's see the difference.
A project roadmap is a high-level overview of a project that outlines the overall goals, objectives, and milestones that need to be achieved to complete the project. It typically provides a strategic view of the project, with a focus on long-term goals and outcomes. A project roadmap is used to communicate the project's vision and direction to stakeholders and team members, helping to align everyone's efforts towards a common goal.
On the other hand, a project timeline is a detailed view of a project that shows the specific tasks, activities, and milestones that need to be completed to achieve the project goals. It provides a more granular view of the project, with a focus on short-term goals and deadlines. A project timeline is used to plan and schedule project activities, track progress, and ensure that the project is completed on time and on budget.
In project management, it is used to say that a roadmap is about intentions and plans for the project's realization, while a timeline is about your actual actions scheduled to reach the project's completion.
Project timeline vs Agile timeline
There is also a common term, agile timeline, that is known as valuable for large projects with several participants and a variety of dependent issues.
A project timeline and an agile timeline are two different approaches to managing the time and resources required to complete a project.
A project timeline is a traditional approach to project management that involves creating a detailed plan that outlines all the tasks, milestones, and deadlines required to complete the project. The timeline is typically created at the beginning of the project and is updated as the project progresses. The project timeline is usually a linear schedule that outlines the start and end dates for each task, as well as the dependencies between tasks.
On the other hand, an agile timeline is a more flexible approach to project management that is commonly used in software development projects. Instead of creating a detailed plan at the beginning of the project, the agile timeline is created in shorter increments called sprints. Sprints typically last for one to four weeks and focus on completing a set of prioritized tasks or features. The agile timeline is constantly reviewed and updated during each sprint based on the progress made and the feedback received.
In summary, the main difference between a project timeline and an agile timeline is that a project timeline is a detailed plan that outlines all the tasks and milestones required to complete a project, while an agile timeline is a more flexible and iterative approach that focuses on completing a prioritized set of tasks or features in shorter increments called sprints.
The easiest way to get started and visualize your Jira projects on the timeline is the Planyway app. The tool is super handy for those who want to bring more visibility across projects without excessive complexity, and it can help use the timeline to the max.
With Planyway's intuitive interface and powerful features, you can visualize your project's timeline, track progress, and manage resources more efficiently, ensuring that your project is completed on time and on budget.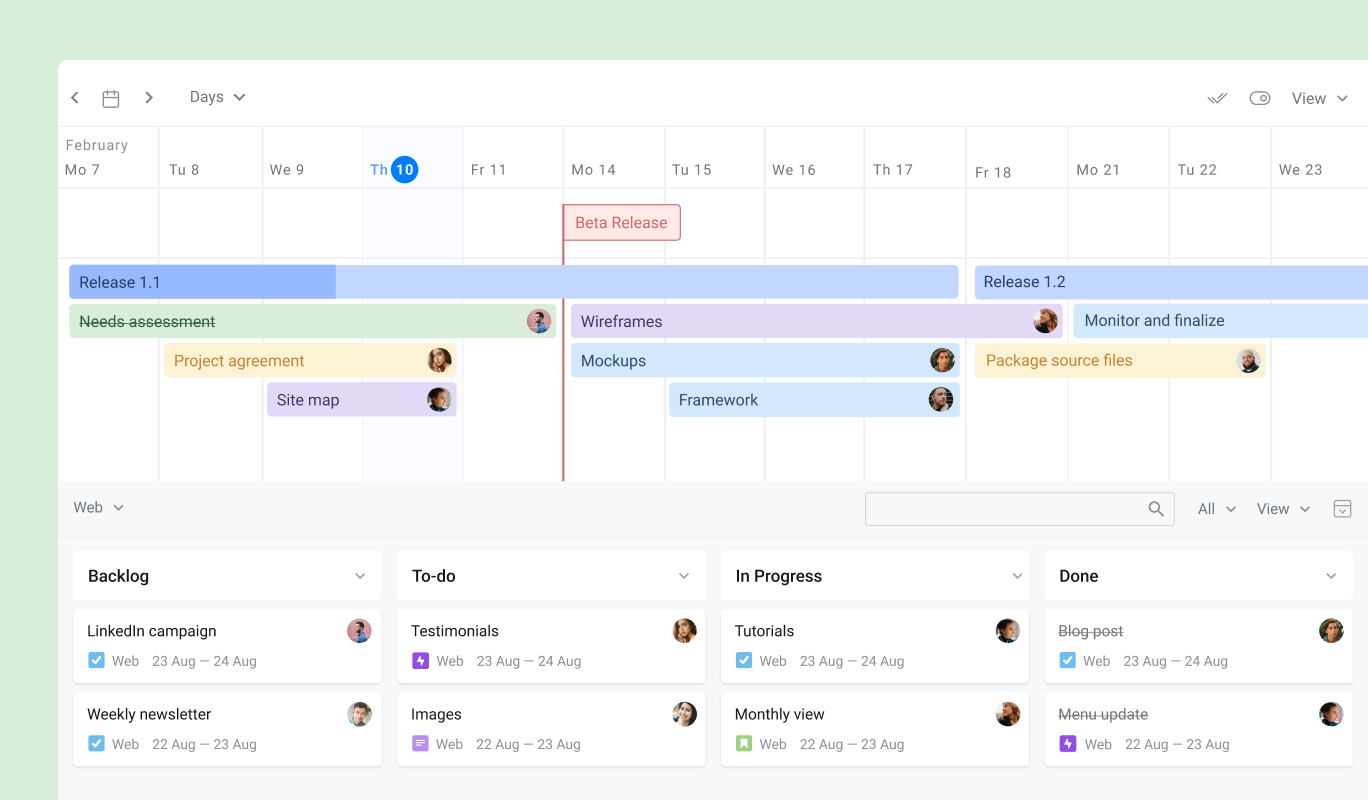 Visualize projects with Jira timeline by Planyway →
Now, let's discover the benefits of Planyway's Jira project timeline, which simplifies project planning while remaining flexible and transparent.
Visualize workflow with 3 types of timeline
Planyway allows you to visualize your workflow from different angles. Instead of just having the basic timeline view, you can also group it by team members for easier resource planning.
Furthermore, you can organize your timeline by Jira epics. By grouping your timeline by epics, you can focus on delivering the most important features first and ensure that they are delivered on time.
And, if you work on multiple projects simultaneously, you can organize them into a project portfolio. A project portfolio aids in monitoring progress and managing current or proposed projects collectively.

Scale your timeline accordingly
Depending on your workflow and issue duration, you may adjust your timeline to a better scale. With Planyway, you can work in the daily, weekly, monthly, quarterly, and annual views.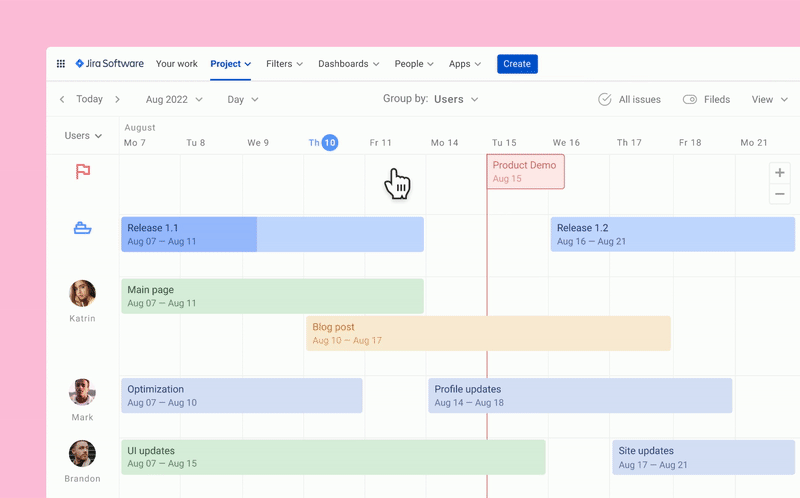 Schedule issues with drag and drop
When the view is set up, it's the right moment to start planning out issues on Jira timeline. Match Planyway start and end dates with the accurate Jira fields. Some issues, that already have dates, will show up on your timeline automatically. Then, you may simply drag issues from your Jira board to the timeline and drop them on the right date to schedule.
With Planyway, you can visualize any type of issue, whereas the majority of competitors' apps are mostly limited to Jira epic level. You can also make planning more efficient with color-coding.
Сolor coding in Jira helps to see and identify the type of issue faster, i.e epics are violet, tasks are blue, bugs are red, etc; that will help to navigate clearly, and better focus on the priority work to be done.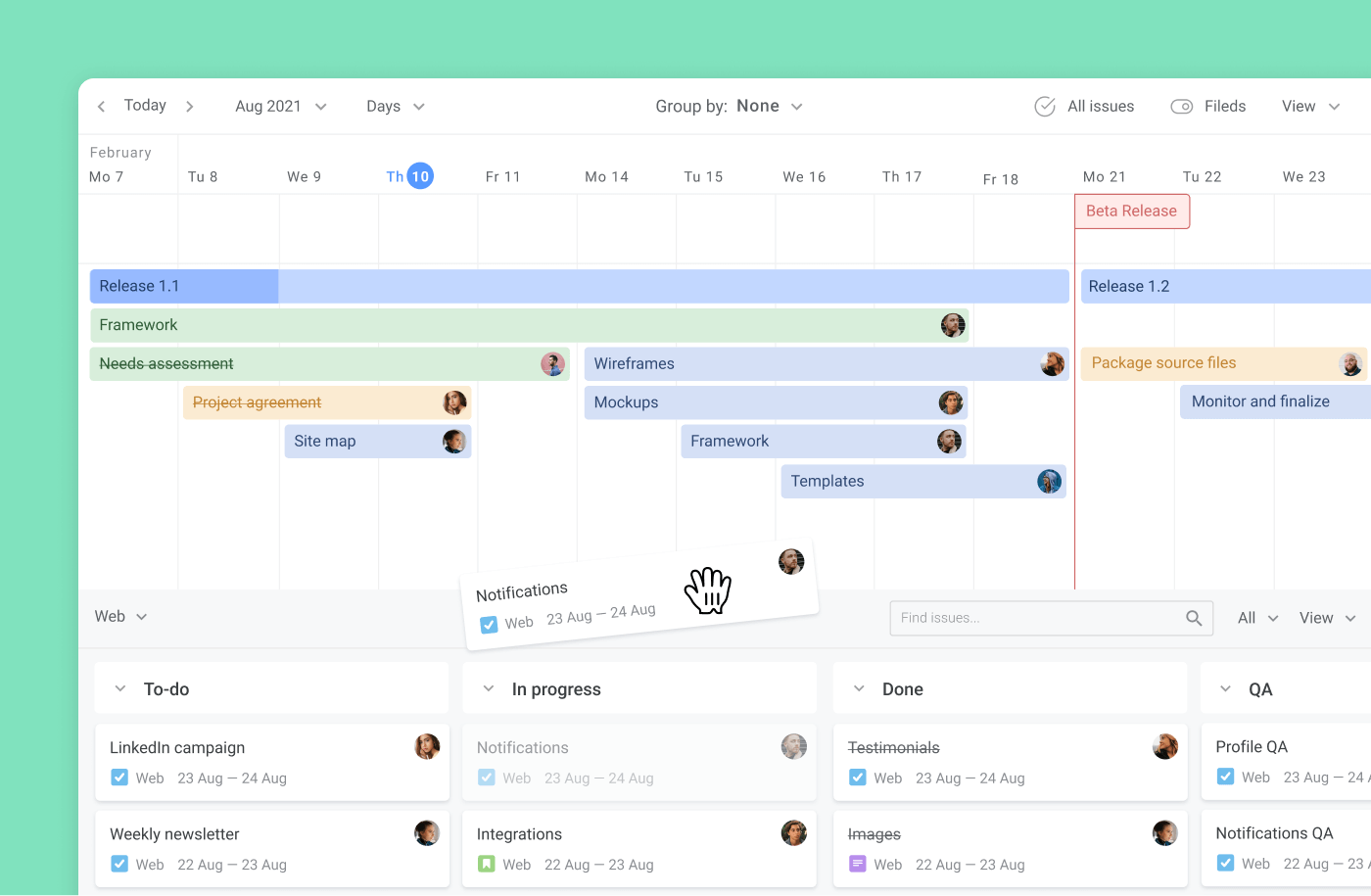 Make subtasks visible
If you need to visualize the hierarchy of tasks, choose to schedule subtasks. This is the killer feature of Planyway timeline, because the majority of alternative plugins show only issues on timeline, while Planyway can visualize your subtasks too. Once you add dates to a subtask, it shows up along with regular Jira issues on the timeline. At any moment, you have a choice to hide them and return to a more high-level planning.
Allocate issues to team members
Task allocation can be done in two ways: inside the Jira issue and through the timeline. Allocate issues inside the card by adding responsible members. Alternatively, as already mentioned, drag issues to the team timeline, so that the issue will be assigned when it is added to someone's lane.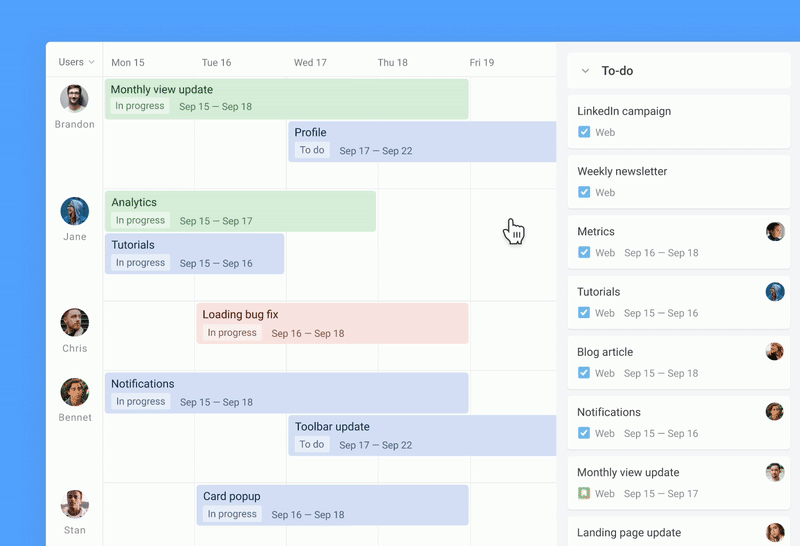 Calculate workload
This way is super handy when you'd like to allocate new work pieces based on the current workload and availability, as you can easily spot potential candidates. The workload mode will also help you balance the workload to make sure no one in the team is overloaded.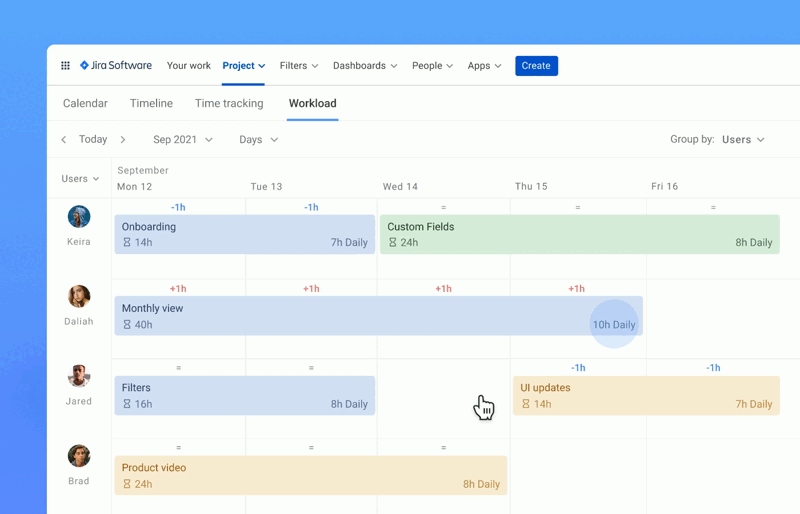 Plan across multiple projects
When your team works on multiple projects, make use of the multi-board view. Connect all the projects you want to keep track of at the same time and see their issues visualized together on one timeline.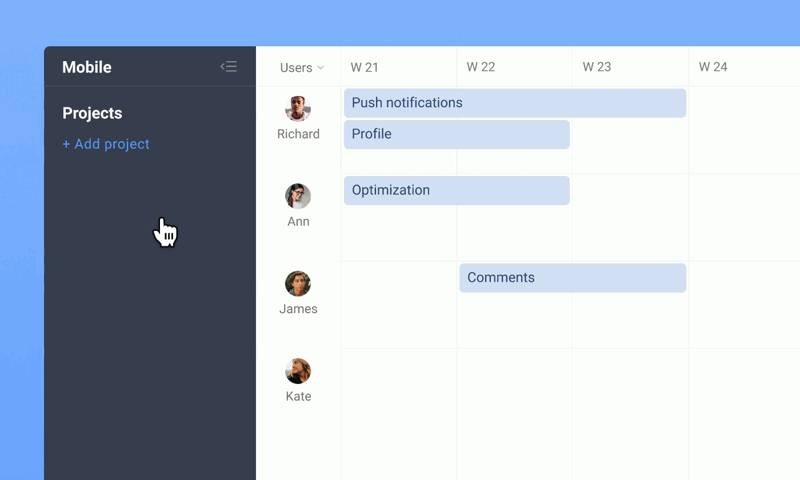 Highlight milestones and releases
There is no project plan without milestones and releases. You can plan out releases along with your Jira issues and see how much work is done already. Milestones play the role of key date trackers that visually remind you of important due dates.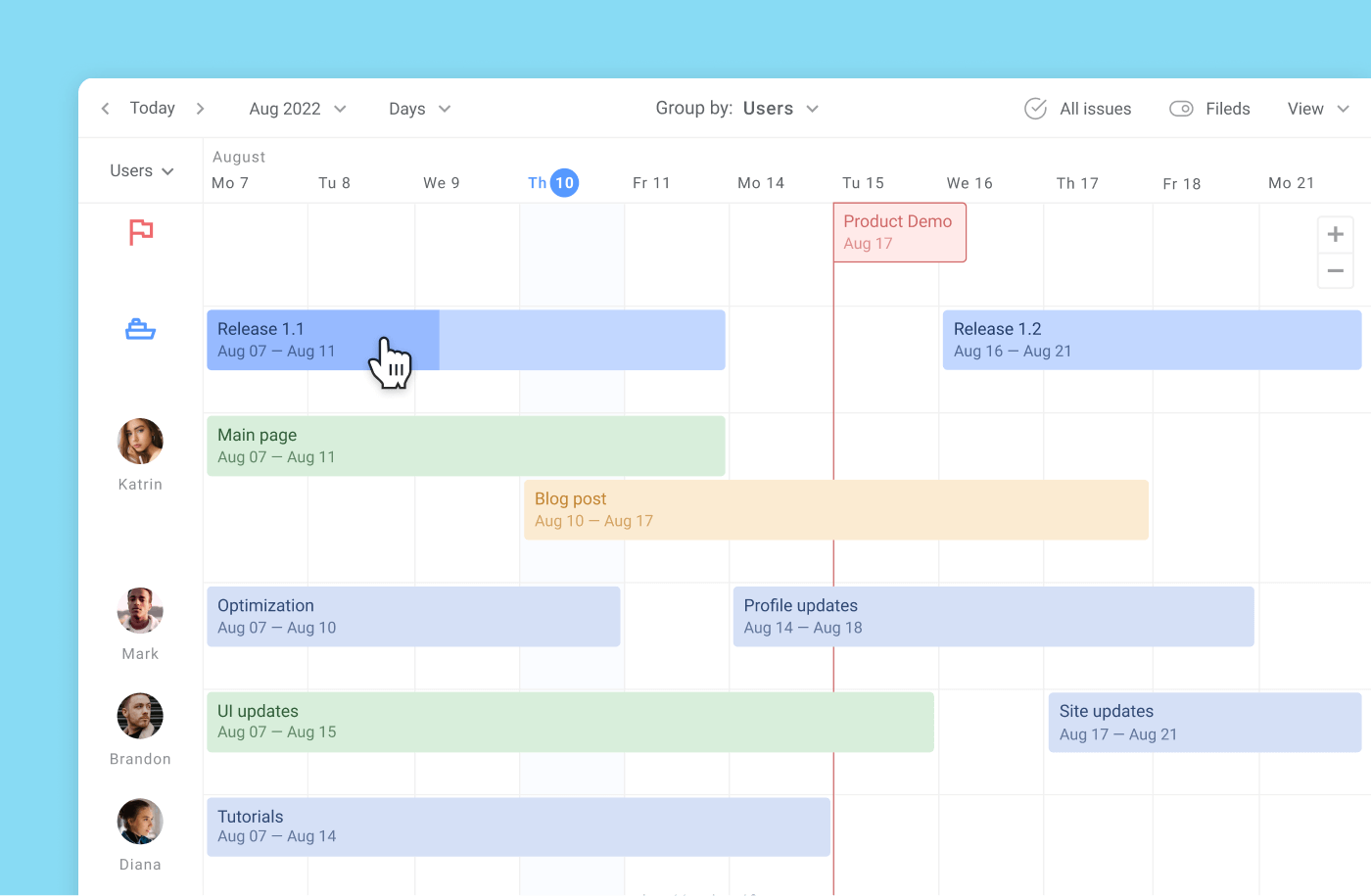 Filter to see what you need
In complex projects, your timeline may appear overwhelming at times, and it may be difficult to find what you need from the first glance. For better navigation, apply filters to see only issues of a certain type, status, or assigned to certain team members.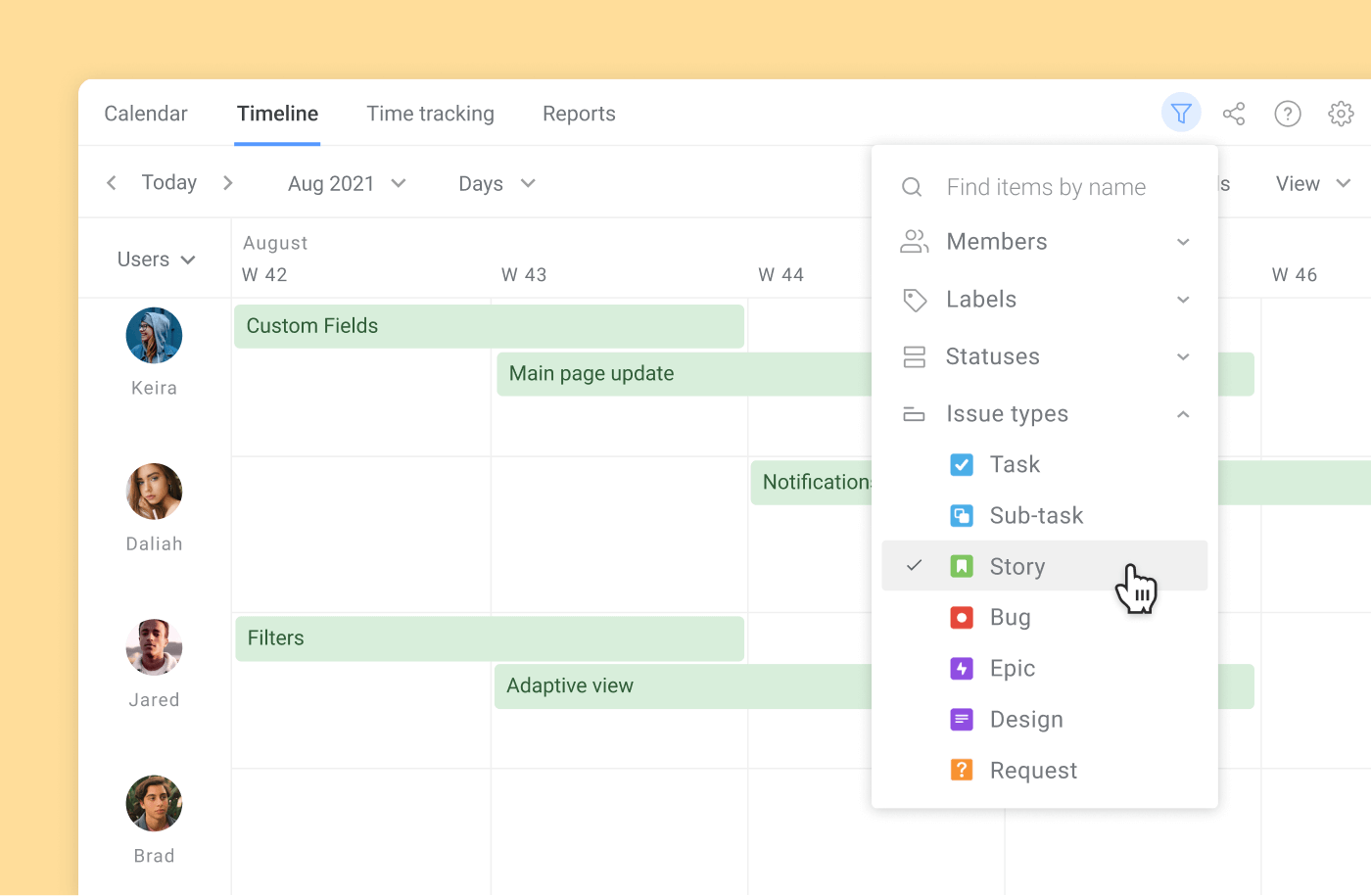 ⭐️ Learn more about how to create a timeline in Jira!
1. Project TimeLine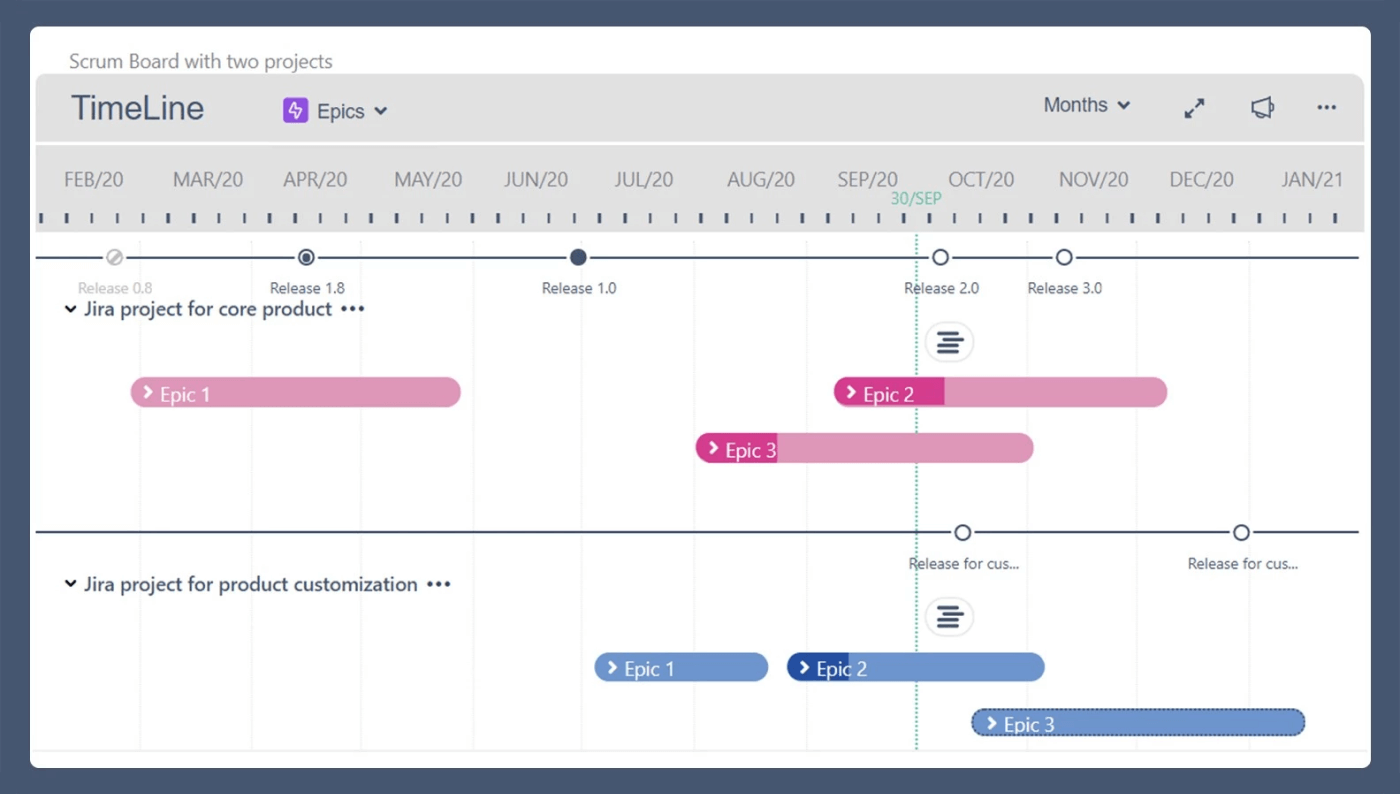 Project TimeLine allows you to keep track of epics on the annual Jira timeline chart along with the scheduled releases. The epics are represented with the progress bar and can be rolled out to see included issues. Project TimeLine also has the forecasting feature to predict completion dates and possible delays.
Price: Starts at $10.00 per user monthly
2. Timeline by Addonrock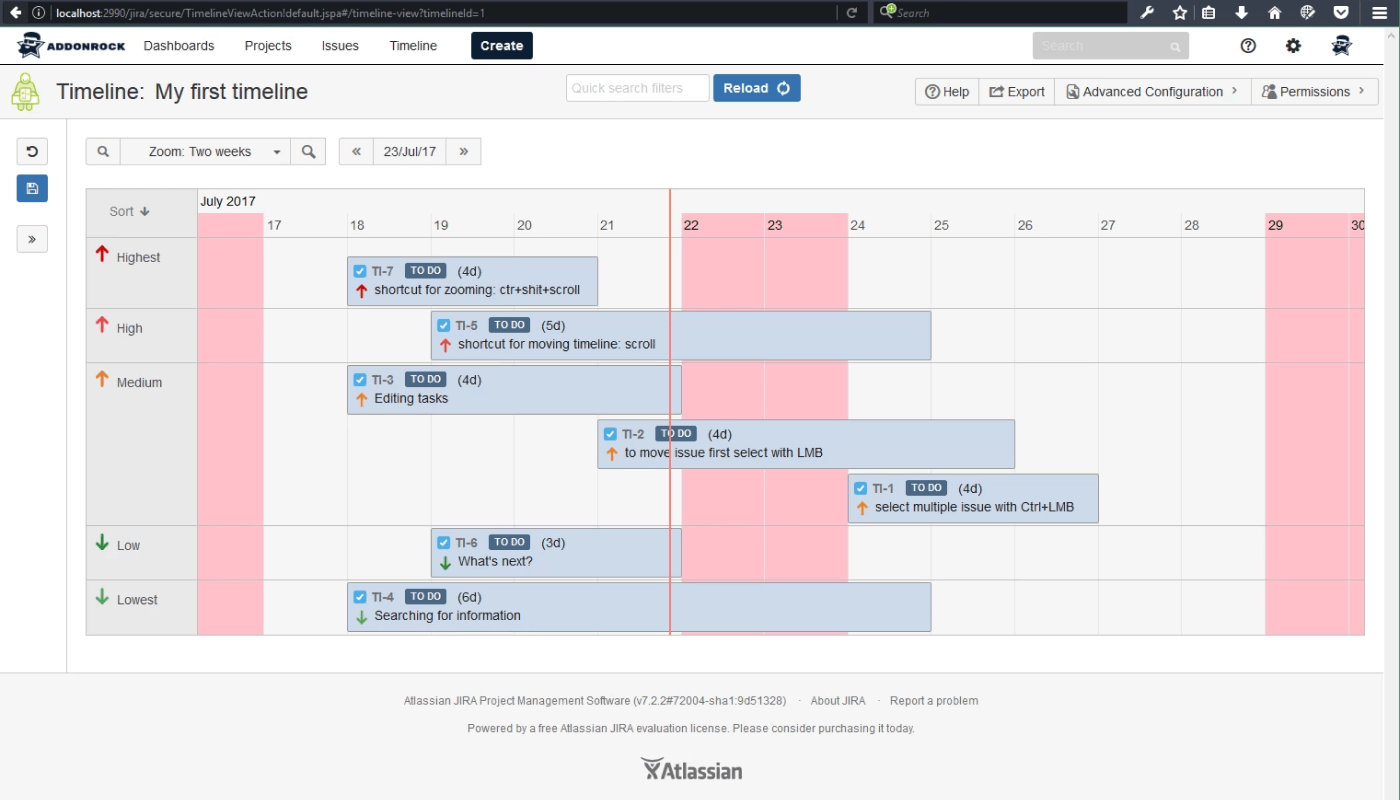 Timeline, with its uncomplicated name, is a Jira add-on from Poland that makes it possible to group your timeline by any Jira field like version, assignee, reporter, epic, etc. This timeline add-on offers a scheduling issues option on a Gantt-like chart. Also, you can sort issues by priority, assign permissions and find issues by name or author.
Price: Available only as a Cloud and Data Center version. Annual pricing begins at $270 for teams of up to 50 users.
3. Timeline for Jira by Doitbetter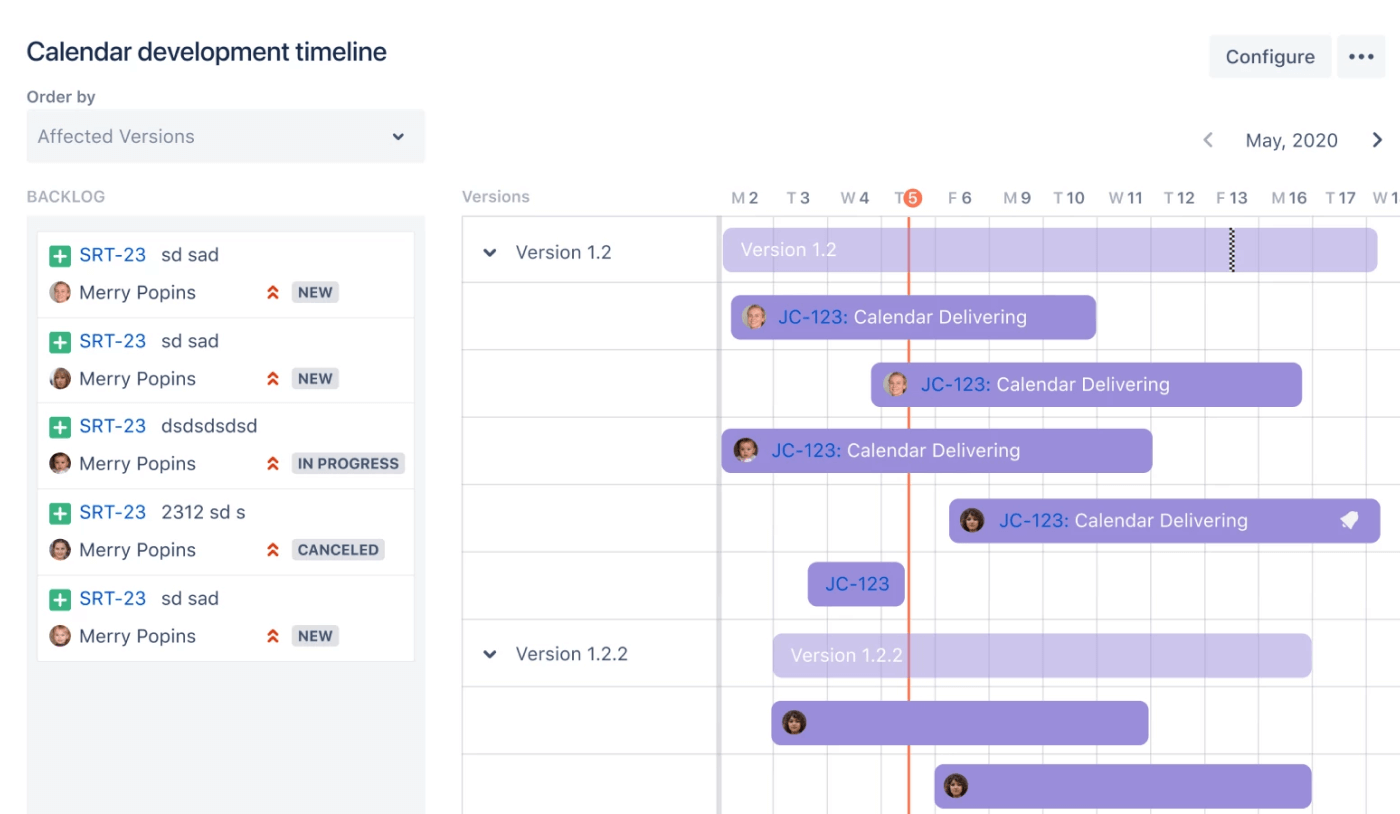 Timeline for Jira is an extension that primarily lets you use the timeline in two ways: ordered by team members or by versions. It has a nice and easy-to-use interface, but unfortunately the app doesn't work with DateTime fields, so you have to use date custom fields which might not be very convenient.
Price: paid plan starts for teams bigger than 10 users from $0.35 per user monthly
4. Activity Timeline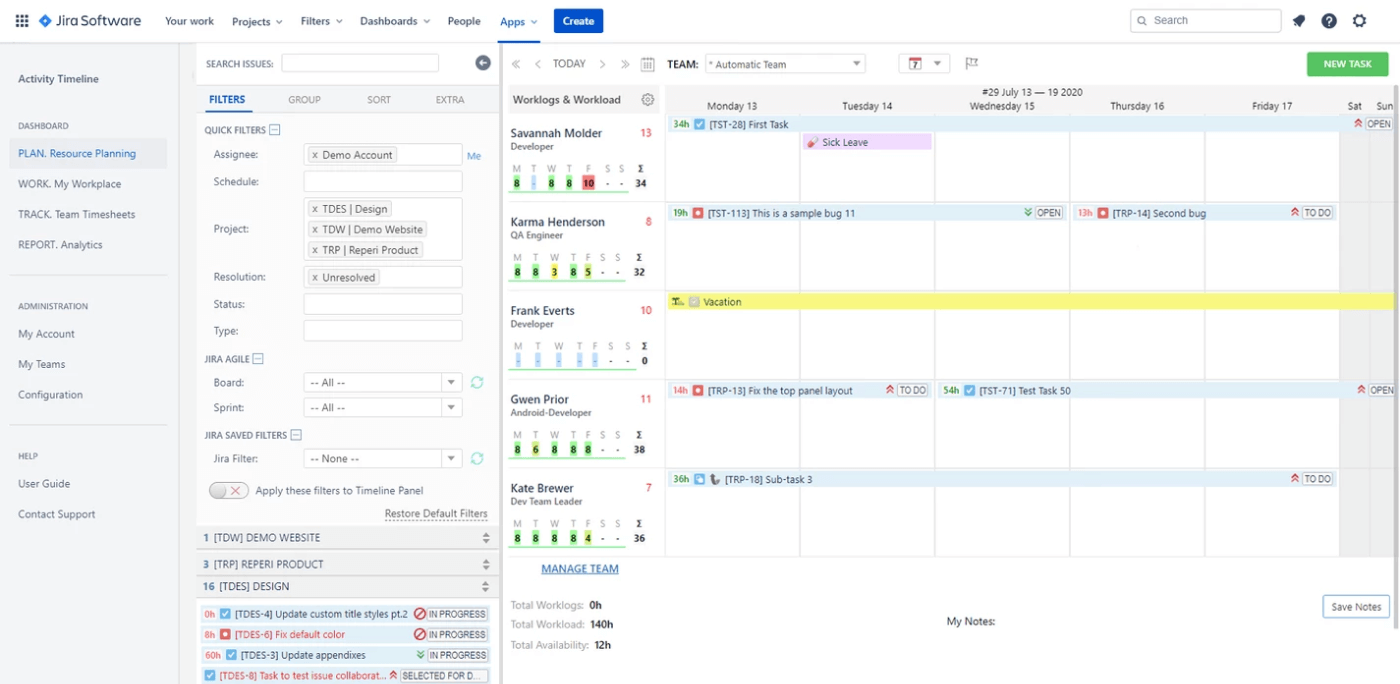 Activity Timeline is mainly focused on the team capacity planning and workforce utilization on the cross-project basis. Here you can get representation of your Jira issues not only by users but by teams as well. Team grouping lets you plan on the high level and becomes a great choice when you need to plan the workflow for multiple teams at a time.
Price: cloud version starts from $2.5 per user monthly
5. Staffing Timeline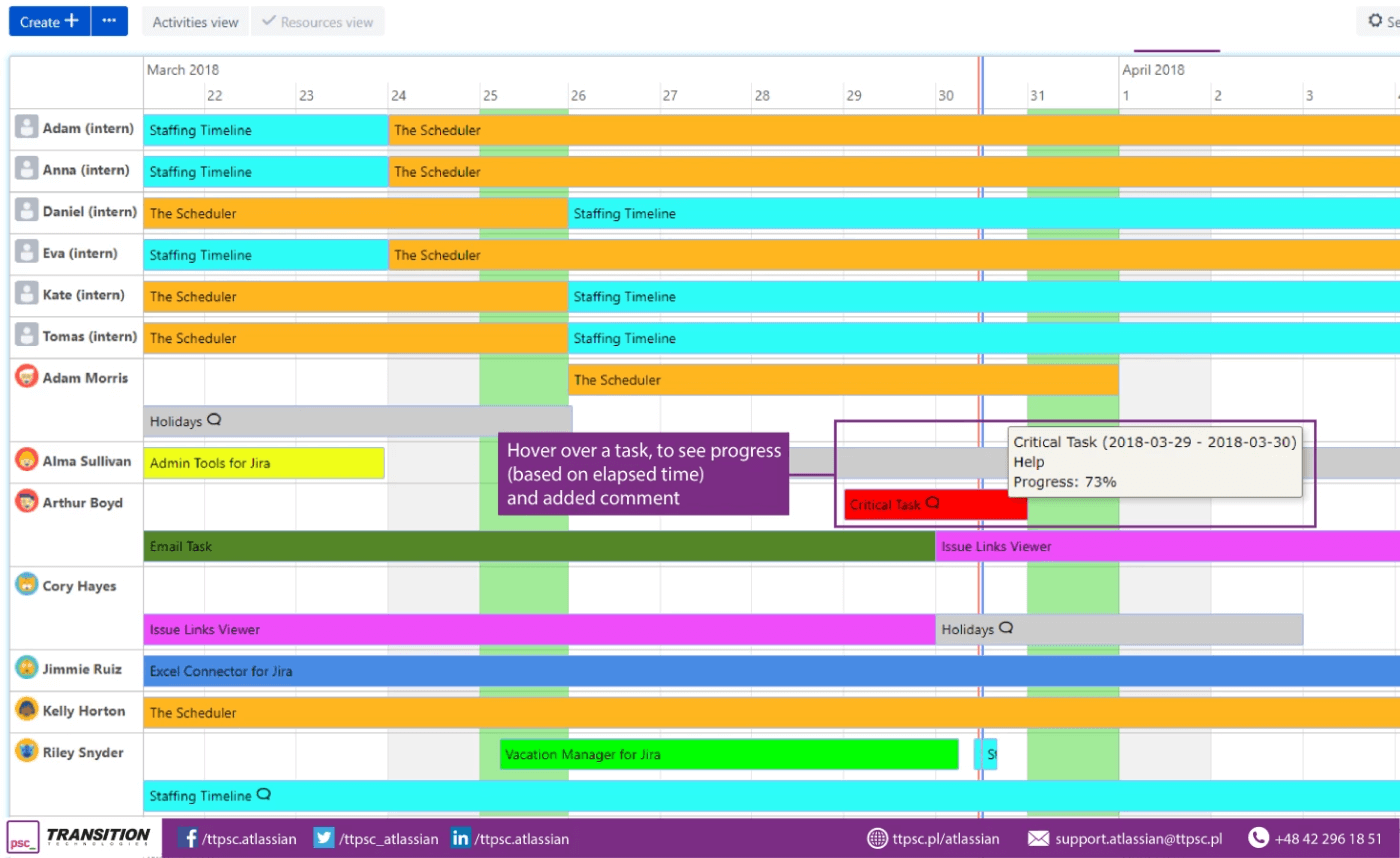 Staffing Timeline is another planning app to keep track of your resources to plan work on projects, vacations, or any other activities. Here you can manage work on a daily and hourly scale, limit the number of working hours, and block holidays and leaves.
Price: Starts at $1.75 per user monthly
Jira timeline for free
Jira roadmap timeline for tasks may be used for free, if your team consists of 1-10 members. Go planning with Planyway – and save precious time and team forces.
Start creating your Jira project timeline now. Make use of our tips on how to get started with adapting your workflow to the visual planning instrument and see that keeping track of projects and teams can be so easy and effective.