Each project manager knows that understanding team capacity is truly challenging. Whenever a new piece of work comes in, you're always faced with the same question: Do we have enough hands to accomplish it?
In this article, we're going to reveal how you can roll out capacity planning with the means of Jira in order to manage resource workload more effectively as well as speed up the decision-making process. Also, we've listed the Top 3 tools for capacity planning to try in 2023.
What is a capacity?
The term can be used in a variety of contexts, including engineering, manufacturing, finance, psychology, team management, and more. Work capacity refers to the ability of an individual, team, or organization to perform a certain amount of work within a given period of time. It can be measured in terms of the amount of work completed per unit time, such as the number of tasks completed per hour or the number of units produced per day.
Factors that can affect work capacity include the skills and abilities of the workers, the resources available (such as tools, equipment, and materials), the efficiency of the work processes, and the level of motivation and engagement of the workers.
What is a capacity planner?
A capacity planner is a professional tool that helps to ensure that an organization's resources are being utilized effectively and efficiently to meet current and future business demands. The capacity planner analyzes data and uses various forecasting techniques to determine how much capacity an organization needs to meet its goals and objectives.
The capacity planners are used by IT departments, operations teams, engineering teams, business stakeholders and many other professionals to determine the optimal amount of resources needed to support business processes and applications. They also evaluate the impact of changes to the organization's infrastructure, such as adding new servers, storage devices, or network components, and assess the impact of changing business demands.
Capacity planning tools help to gather, visualize, and analyze data to set effective resource planning within a team. They also use help to predict future resource needs and identify potential bottlenecks or capacity constraints.
Overall, the capacity planner plays a crucial role in ensuring that an organization has the right resources in place to meet its current and future business needs, and plan team workload rationally.
What's capacity planning?
Capacity planning is the process of determining the optimal capacity required by an organization allowing you to distribute work across teams and projects so that everything is done on time, while keeping the workload well-optimized so no one is overwhelmed or underloaded.
Capacity planning is critical for businesses that experience seasonal fluctuations in demand or are experiencing growth, expansion, or new product launches. It allows organizations to avoid overinvesting or underinvesting in their resources, leading to higher profitability and customer satisfaction.
The capacity planning process can be split into two work streams: capacity and planning. On the capacity stage, you need to understand the maximum amount of work your team can do. Once you have this information, you switch to the planning stage. On the planning stage, you'll prioritize tasks and schedule them for team members, making sure that work is completed by the intended deadline.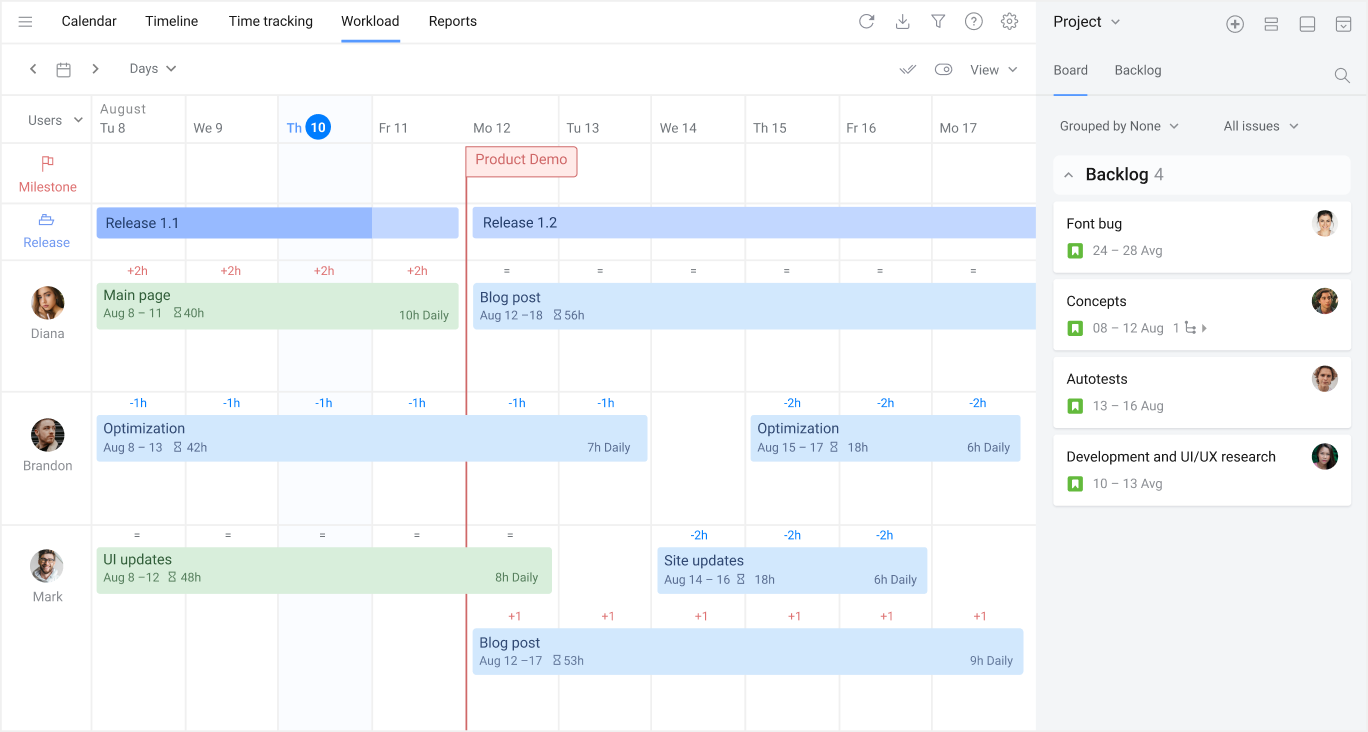 🎓 Try Planyway app for capacity planning in Jira
The advantages of capacity planning
Resource capacity planning in Jira might not seem easy when you start, especially if you're used to enthusiastically saying "yes" to each new request. But, if you get into this habit, it can bring you numerous benefits:
1. Prevent team burnout
When there is a lack of visibility into how much work a team can accomplish, the chances of overburdening are high. Taking steps to get a clear idea of your actual Jira team capacity means that you can prevent this risk.
2. Set realistic deadlines
Underestimating efforts is a common problem, but having details about team availability can help you manage deadline expectations more accurately and closer to reality.
3. Detect skill shortage
Capacity planning doesn't just relate to time, it also relates to skills. It will help you find an easier spot if projects require skills that your team doesn't have.
How to do capacity planning in Jira?
If you're wondering how to plan team capacity within Jira — explore the possibilities of Jira marketplace, set up and test out some of Jira plugins for resource management.
Such capacity planning tools are software applications that help organizations manage their resources effectively by forecasting demand and planning capacity accordingly. Here are some alternative capacity planning tools for Jira workload management worth mentioning in 2023.
Planyway for Jira is a tool that brings more visibility into your Jira workflow: roadmap, multiple-project portfolio, calendar, time tracking, and of course workload view. Start Jira resource capacity planning with Planyway just in 5 steps:
I. Visualize teamwork
To visualize teamwork on a timeline with Planyway for Jira, choose the Timeline tab, and group it by user. Drag and drop existing tasks from the board to the timeline onto the appropriate dates and right lanes to assign issues as well.
If you already have Jira issues with assignees and due dates on your board, they will be visualized on the timeline by default.
No matter what date range you use for planning, you may adjust the timeline to your workflow with Scales.
II. Manage teams across projects
In case your team works across projects, just connect all required projects in the main menu and see all issues assigned to your team members together on a single timeline.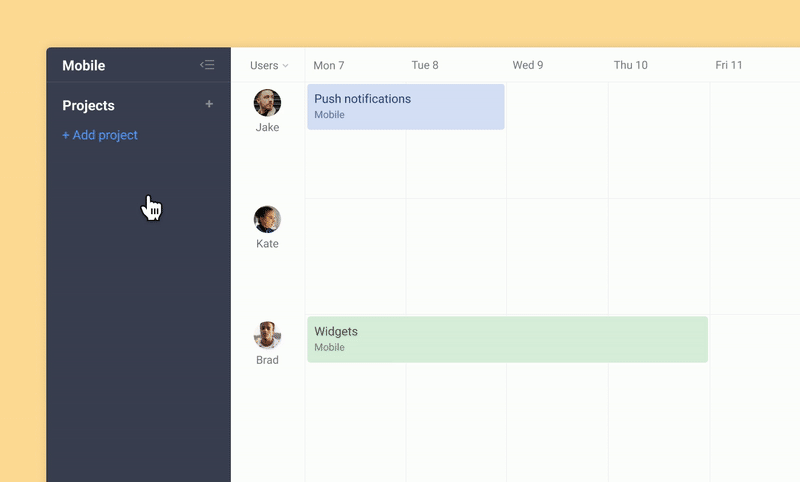 III. Manage workload
Make sure that your Jira issues have the Original estimate field. Fill this field with estimated hours for each Jira issue.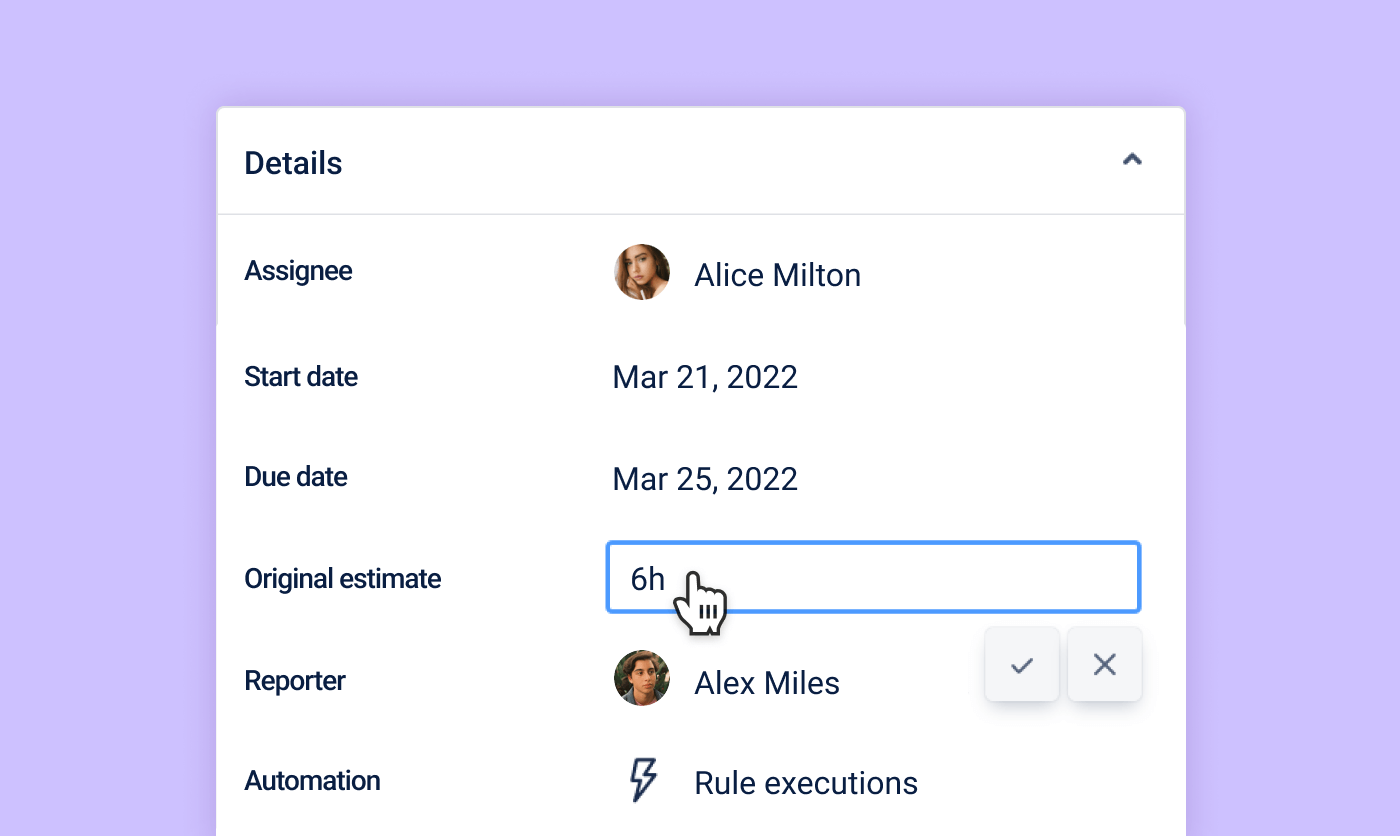 Then, switch to the Workload tab. In this view, you will see the workload indicators on the top. They will help you understand if a person is underloaded or overloaded.
Simply by stretching the card to the right or left, find the optimal Jira workload for everyone. Hours are recalculated based on the daily maximum capacity and estimation added earlier.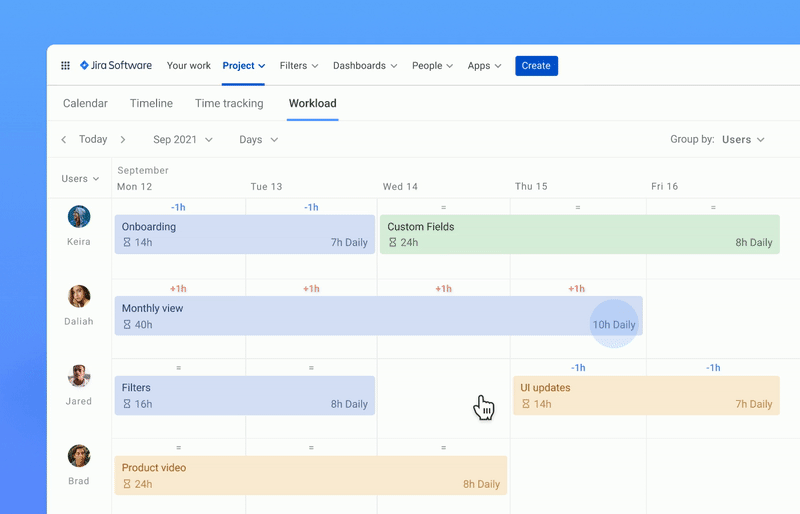 IV. Improve future estimates
Make better task estimates for your future project, start tracking how much effort your team spends on Jira issues. With Planyway, you can keep record of time spent and compare it with your previous estimate to see if they match. This knowledge can be useful when estimating similar work in the future.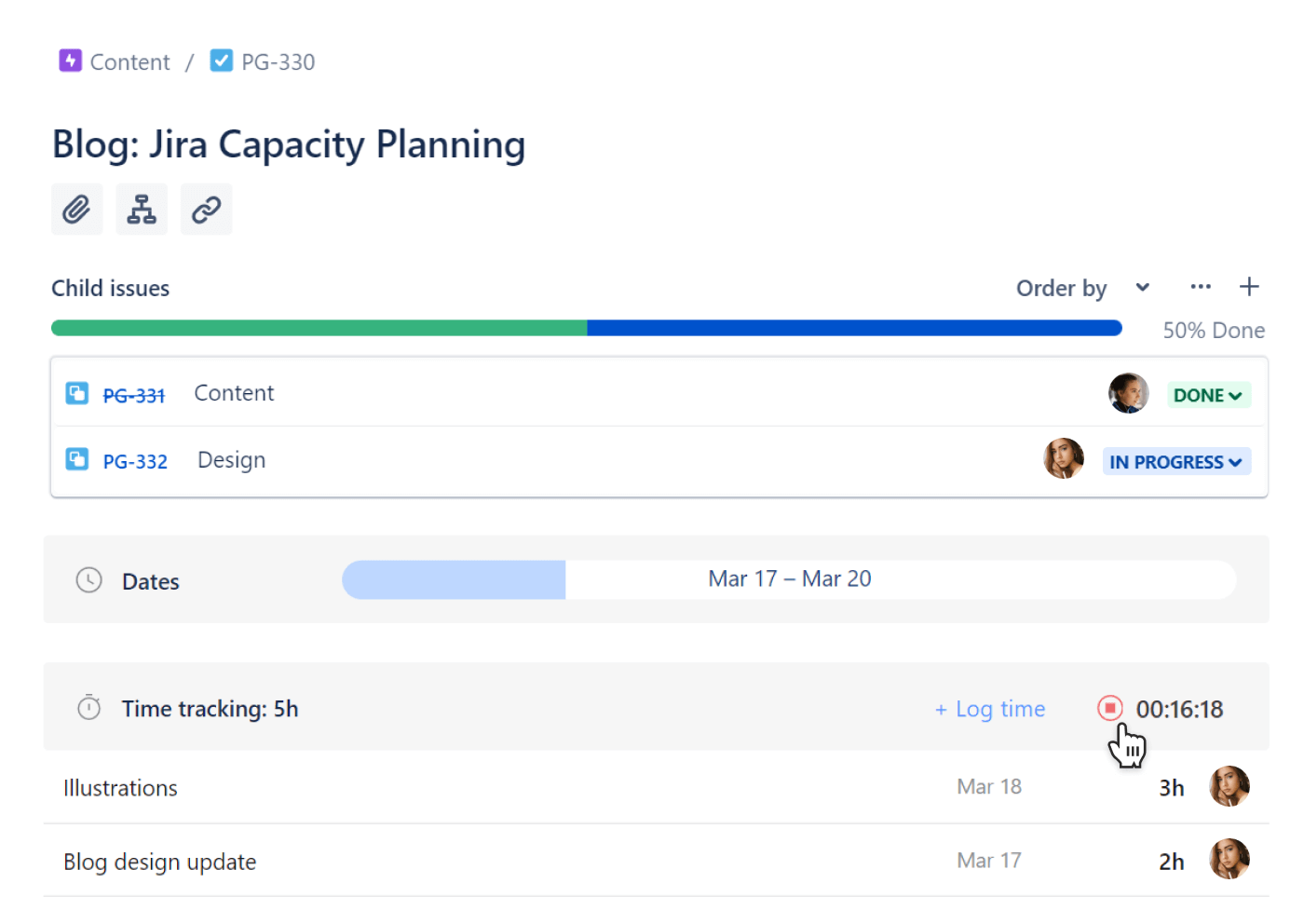 On the issue cover, you may add Estimation and Tracked time fields for notification if you exceed your estimate. Once the tracked time prevails over estimation, it'll be highlighted red.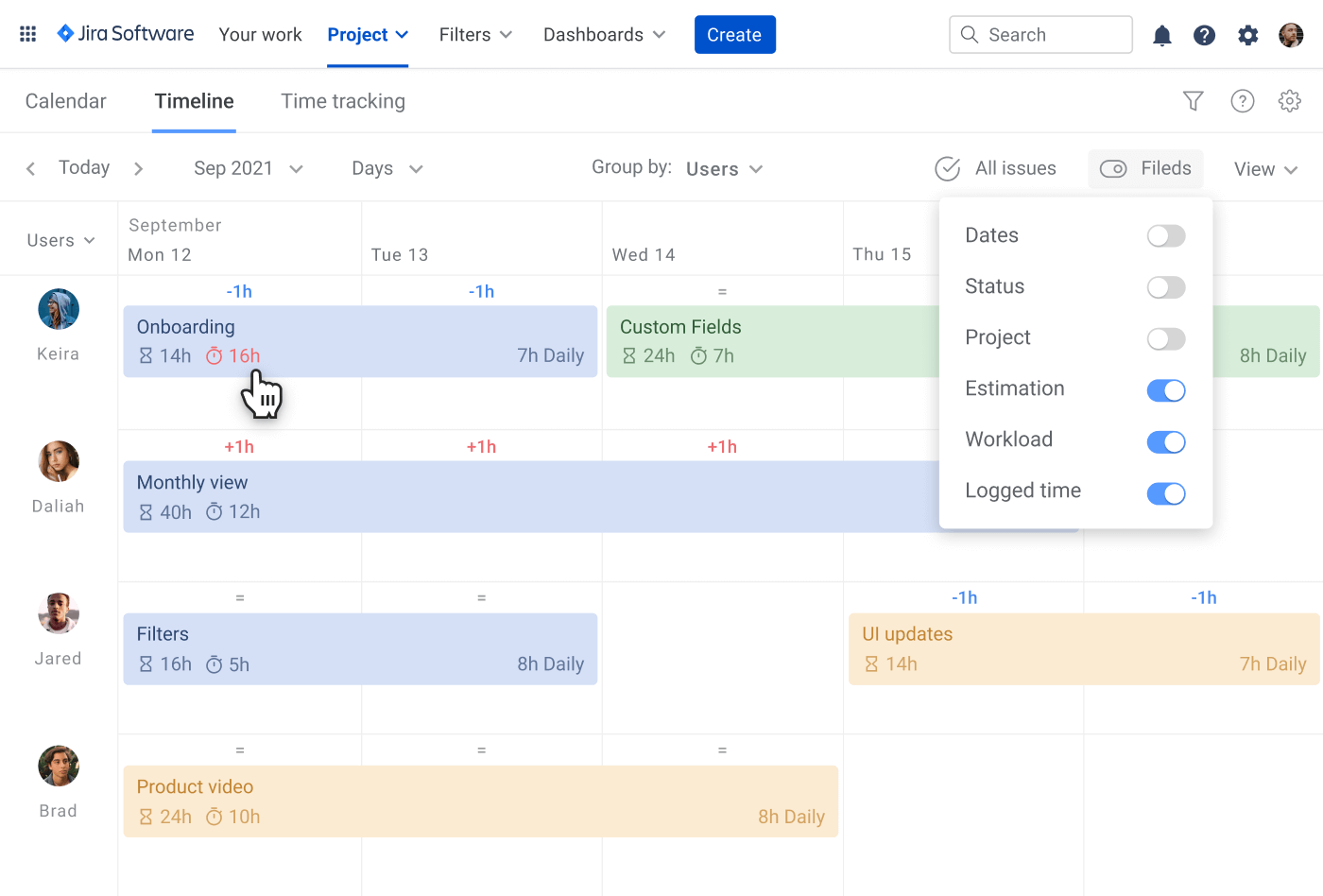 V. Build reports
If you need to get the representation of what exactly your teammates were working on, you can visualize this data in Reports and, if needed, export it to the Excel file.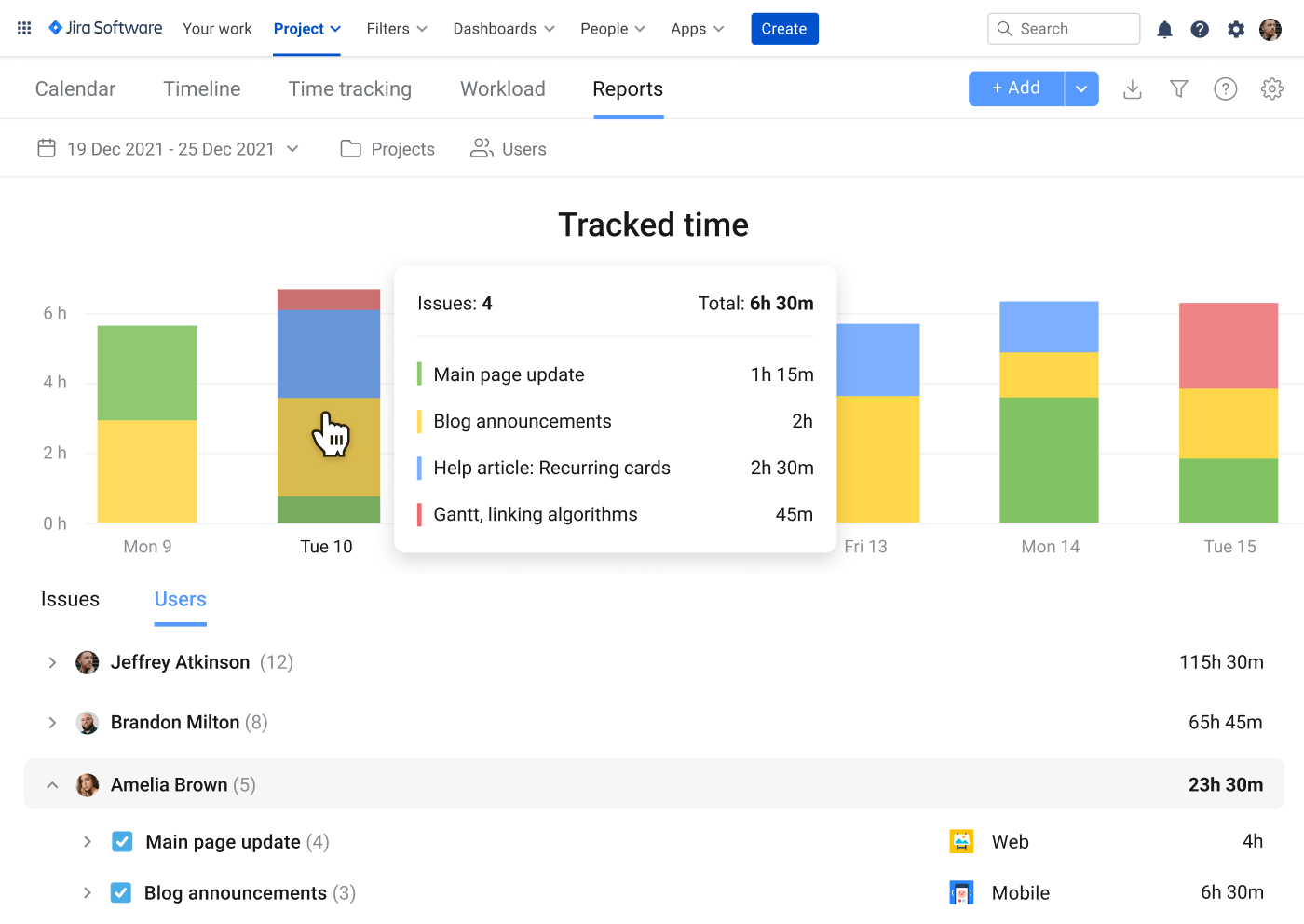 2. Activity Timeline: Capacity Planning and Time Tracking for Jira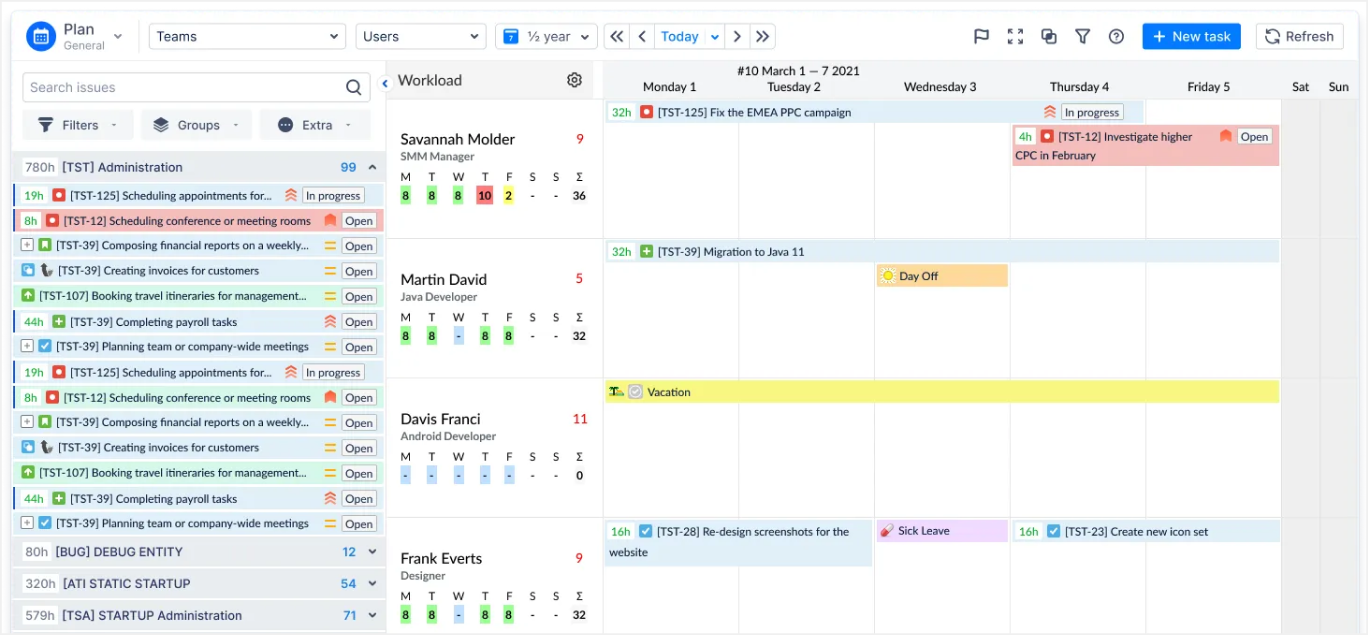 An activity timeline tool is an application that allows you to create a visual representation of a series of events or activities in Jira over a specific period of time. It can be used for project management, event planning, scheduling, or personal tracking.
Activity timeline tools typically allow you to input data such as dates, names, descriptions, and images for each activity or event. The tool then creates a timeline that displays the events in chronological order, with labels, markers, and other visual cues to help you identify important milestones or changes over time.
3. Capacity Tracker by Inprowiser Engineering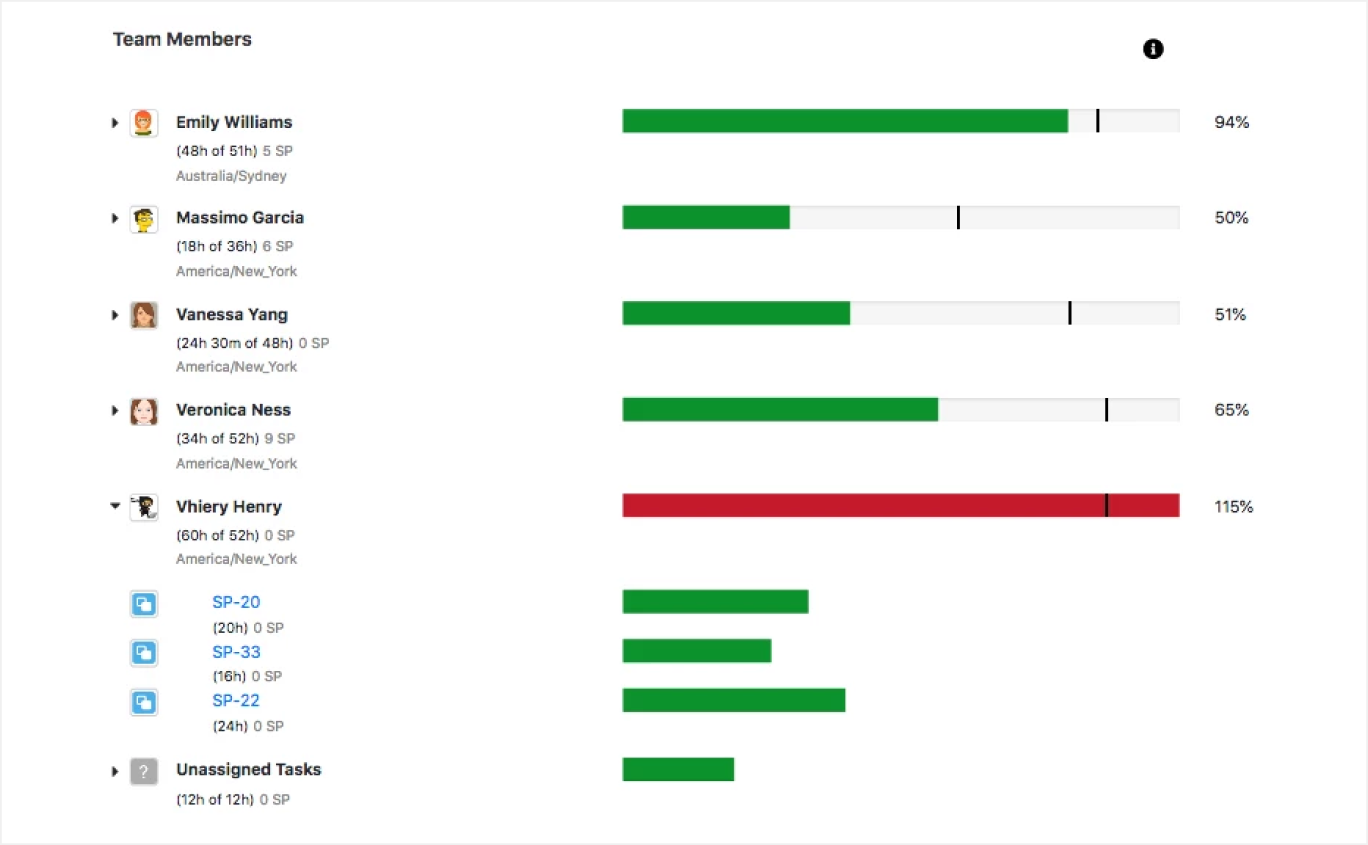 With this capacity tracker, you can easily distribute and allocate work among teams. Identify and adjust work allocation based on the availability of the team members. The app is good enough (generally), except one missing feature – planning, tracking, and reporting across multiple projects. Therefore, if you need to work on several projects while reporting to one manager, this tool isn't for you.
Capacity tracker has a public API, that allows developers to access and interact with a company's software or platform in a standardized way, and can be used to create new applications or integrate existing applications with the platform's data or functionality.
Planning in Jira for free
With new projects coming up, it's easy to fall into the trap of taking a task on board first and then realize that your team can not make it happen within the set timeframe. With capacity planning, you can work backwards: starting with a clear view of how much your team can accomplish, and then planning all the work from there.
Avoid the guess game about the team's bandwidth, set realistic deadlines, and prevent team's burnout with such capacity planning tools for Jira like the Planyway addon.
Try Planyway for free for 14 days — with all premium features. Make the right choice for you and your team, or stay on the free version as long as you need.