Jira is a powerful project management tool that allows teams to plan, track, and manage their work more efficiently. One of the most valuable features of Jira is the ability to create a roadmap that outlines the high-level goals and initiatives for a project or product.
A roadmap is an essential tool for keeping everyone aligned and focused on the same priorities. However, building a roadmap in Jira can be a daunting task without the right roadmapping tools.
In this article, we'll explore the top 10 tools for roadmapping that can help you build a Jira roadmap that is clear, concise, and effective.
From visualizations to integrations, these tools can help you take your roadmap to the next level and ensure that your team stays on track to deliver great results.
Top 10 Jira roadmap plugins for planning in 2023
We've explored the most popular Jira roadmap plugins you can find on the Atlassian marketplace that can help teams plan and execute their projects more efficiently. From customizable roadmaps to real-time progress tracking, these plugins offer a range of features that can help achieve your business objectives.
All of these roadmapping tools have their pros and cons, so let's check them out to see which one works best to build a clear, concise, and effective roadmap for your team.

📊 Try out Jira roadmap for your team projects →
Planyway is a Jira plugin that provides a visual roadmap for teams. It allows teams to create and manage their roadmap directly within Jira, providing a seamless integration with other project management capabilities like calendar, workload planner and time tracking.
The beauty of Planyway roadmap is that it allows you to build your roadmap from different perspectives thanks to grouping options.
Besides having a classical roadmap, you can group it by team members to see who is working on what at a particular time; by projects to create a project portfolio view, or by epics to manage work based on the high-level activities.
Another great difference between the biggest competitors is that you can visualize issues of any type and distinguish them by color-coding.
Pros:
✅ All-in-one tool: The app provides users with a wide range of features that fully cover all needs of a project manager: customizable roadmap, calendar visualization, workload planner, time tracking and reporting.
✅ Customizable: Planyway offers roadmap groupings that let you view the plan from different angles: teammates, epics and projects.
✅ Visualizes all issue types: Issues of all types are visualized on the roadmap by default. But you can easily filter them, to leave only those you want to see.
✅ Easy to use: Planyway offers a simple and intuitive interface that makes it easy to create and manage a roadmap. With drag-and-drop functionality, teams can easily adjust the timeline of their roadmap and move tasks between different stages.
✅ Multi-project view: Planyway lets you connect multiple Jira project to a single view to manage them all together.
Cons:
❌ Limited integrations: While Planyway integrates seamlessly with Jira, it doesn't integrate with any other external apps, including calendars. This limitation may be a drawback for teams that rely on multiple tools to manage their work.
❌ Limited scalability: Teams that work across too many projects at the same time may find Planyway too slow when loading information.
❌ No Gantt hierarchy: If you're willing to have a classical Gantt chart visualization, you have to know that the app doesn't provide this structure. Meanwhile, apart from the roadmap, you may have all issues listed in the talk list view at the side of the screen.
Price: Free for teams up to 10 members, then USD 3.00 per user for bigger teams
Hosting Options: Cloud, Data Center
Rating: 3.5/4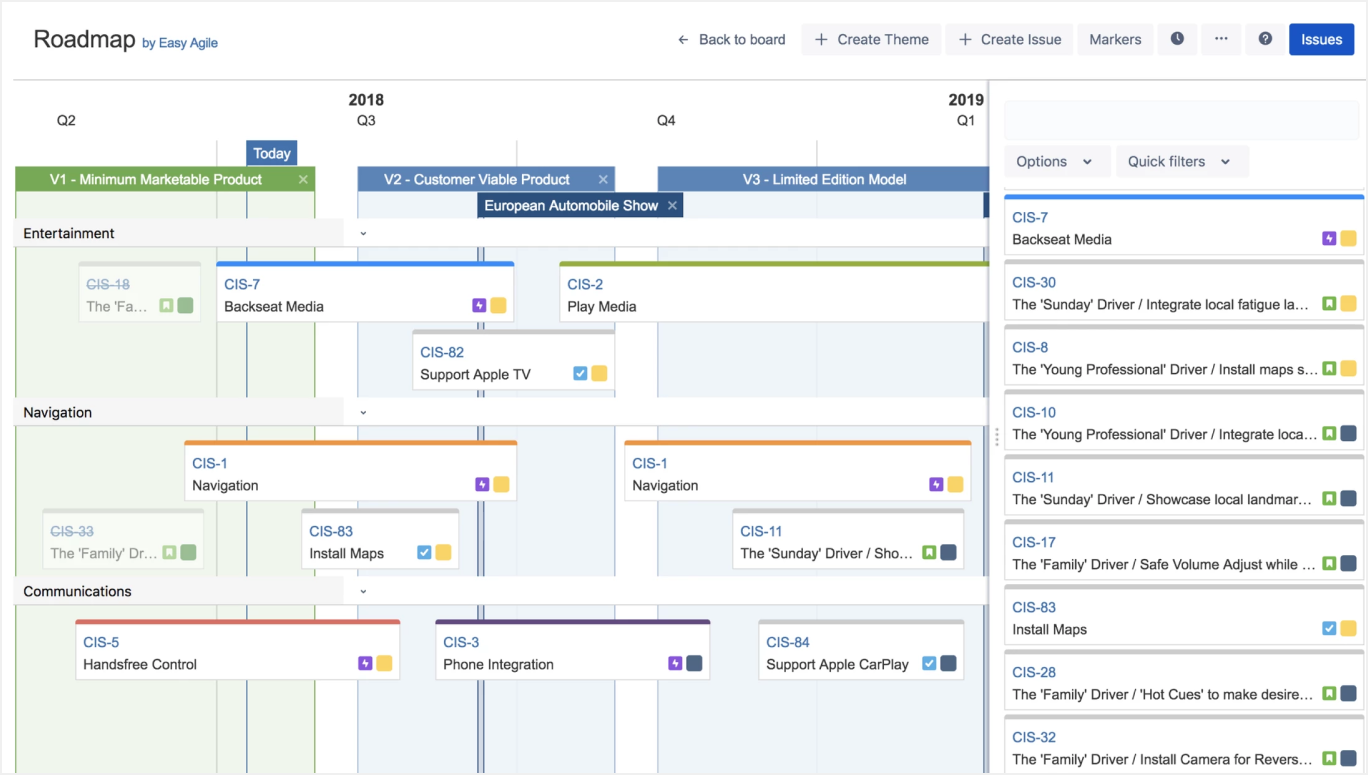 Easy Agile is the app that solely focuses on creating roadmaps to make teams able to align around the project vision and understand where the project is heading.
Apart from a regular project visualization, it allows its users to group issues into high-level streams of work that represent different teams or customer outcomes.
➕ Pros:
✅ Easy to use: Easy Agile Roadmaps has a super user-friendly interface that makes it easy for teams to get started
✅ Theme/Team swimlanes: Theme swimlanes allow you to group issues into high-level streams of work, that represent customer outcomes, or teams
✅ PDF export: PDF export allows you to easily share the roadmap with external stakeholders.
✅ Free for 10 users: Thanks to free plan, the app is available for small teams.
Cons:
❌ Limited functionality: The app solely focuses on one roadmap view. But ss teams grow, they may need more advanced features and capabilities that Easy Agile Roadmaps may not offer.
❌ Limited integrations: While Easy Agile Roadmaps integrates seamlessly with Jira, it doesn't support integrations with any other tools.
❌ Limited reporting: Easy Agile Roadmaps does not offer advanced reporting features. Teams may need to export their data to other tools to generate the reports they require.
Price: Free for teams up to ten members, then $1.75 per member
Hosting Options: Cloud, Data Center
Rating: 3.0/4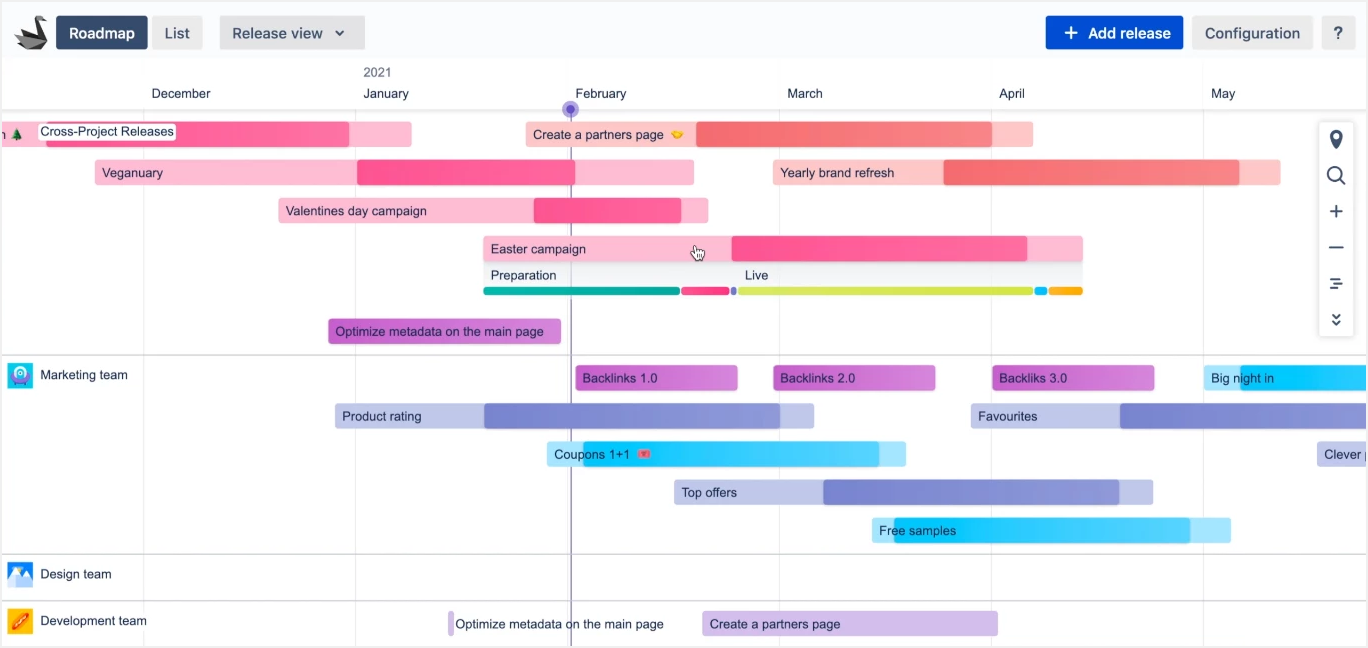 Swanly was created with the idea of clear data visualization across projects, reached through roadmaps and dashboards. The tool gets access to all Jira projects and is able to provide you with a portfolio issue roadmap to view any issue from any project, a project release roadmap to centralize releases and create cross-project releases with sync versions.
Along with the roadmaps, Swanly can show data in the list view to see high-level data like name, status, type, progress, description, and start & end dates in one place.
Reporting is another plus that lets you have insights into each of your releases. You get access to all details needed including the scope progress, time or story point progress, burndown chart, and lots more.
Pros:
✅ Advanced reporting: Swanly offers advanced reporting features that allow teams to generate reports on their roadmap progress, team performance, and more. This feature enables teams to gain insights into their work and identify areas for improvement.
✅ Free for 10 users: The app doesn't charge small teams.
✅ Structured hierarchical view: Swanly provides a clear project hierarchy, so you can easily navigate between interdependencies.
✅ Customizable: Roadmap timeline can be grouped by project, status, fix version and more.
Cons:
❌ No resource allocation: Swanly provides a general roadmap view and doesn't let you structure it by team members, which might be a disadvantage for those who require more resource management capabilities.
❌ Limited integrations: Swanly doesn't support any external integrations.
❌ Only Epic visualization: The app visualizes only epics on the roadmap, not other issue types.
❌ No Data Center: Swanly had only the Cloud version. There is no option for Data Center.
Price: free for teams of up to 10 members, then $1.50 per user
Hosting Options: Cloud
Rating: 3.3/4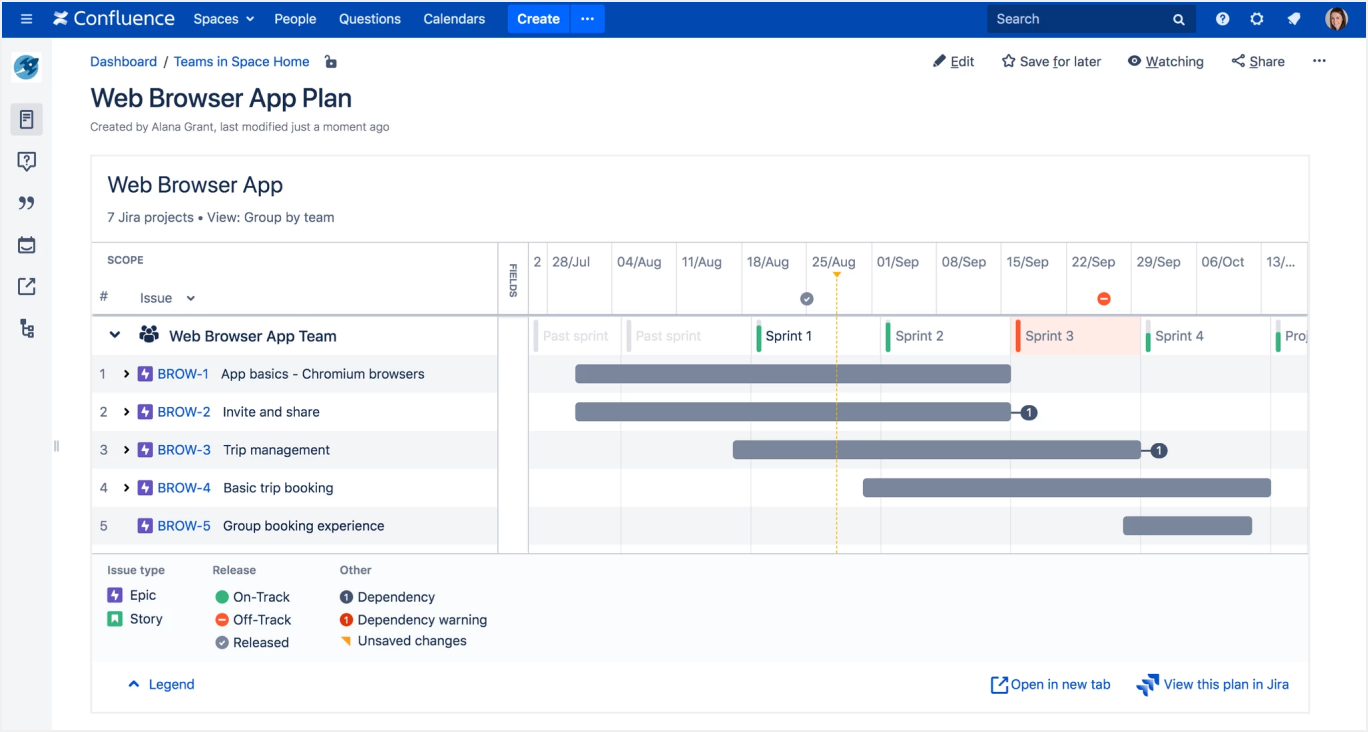 Advanced Roadmap is a powerful plugin that enables teams to plan and track multiple projects and their interdependencies. It offers real-time insights into the progress of individual projects and their impact on the overall roadmap.
Pros:
✅ Advanced portfolio management: The add-on offers advanced portfolio management features, including scenario planning, what-if analysis, and capacity planning.
✅ Team allocation: Teams allow you to group and filter work based on teams, and manage the allocation of work on the roadmap based on capacity.
✅ Dependencies: Advanced Roadmap offers the dependency feature, which is useful for tracking interconnections between issues.
Cons:
❌ Cost: Advanced Roadmap can only be purchased in the Jira Premium subscription, which is quite costly for smaller teams or organizations with a limited budget.
❌ Complicated onboarding: As the solution offers lots of roadmapping features, the onboarding process can be quite difficult for your teammates.
❌ Price: included into Jira Premium subscription that costs $15.25 per user monthly Hosting Options: Cloud, Data Center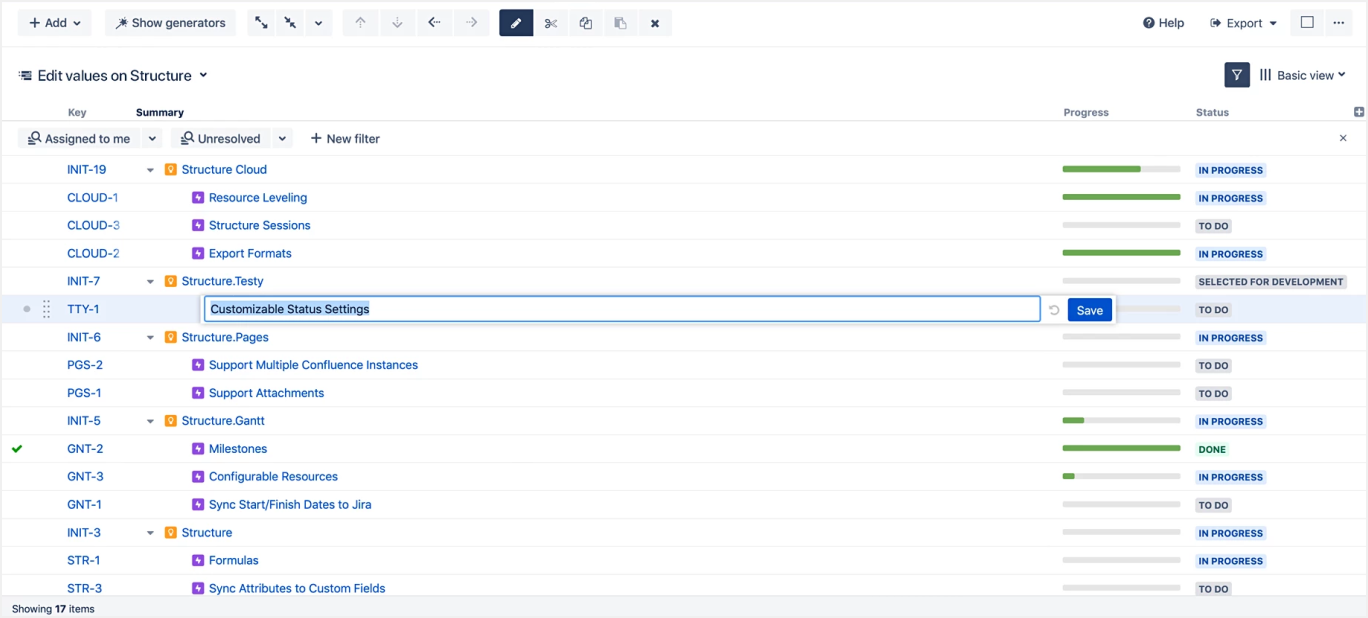 Structure for Jira is a plugin that enables teams to create and manage hierarchies within Jira. With Structure for Jira, teams can organize their roadmap by epics, themes, and initiatives. It provides real-time visibility into the progress of each component of the roadmap.
Pros:
✅ Customizable: Structure for Jira offers multiple options for roadmap visualization, e.g. grouping by epics, themes, initiatives.
✅ Portfolio view: The app lets you visualize a roadmap across multiple projects.
✅ Issue hierarchy: Structure offers a Gantt view that provides a clear task hierarchy.
✅ Reporting: You can write formulas to sum values, calculate time in status, group & sort data, etc. and further transform it into valuable reports.
Cons:
❌ Cost: Structure doesn't have the free plan. So, even small teams are charged for the service. Resource management: While Structure for Jira offers a range of customization options, it has very modest resource management capabilities.
Price: Starts with $1 per user in small teams. The price rises for bigger teams.
Hosting Options: Cloud, Data Center
Rating: 3.5/4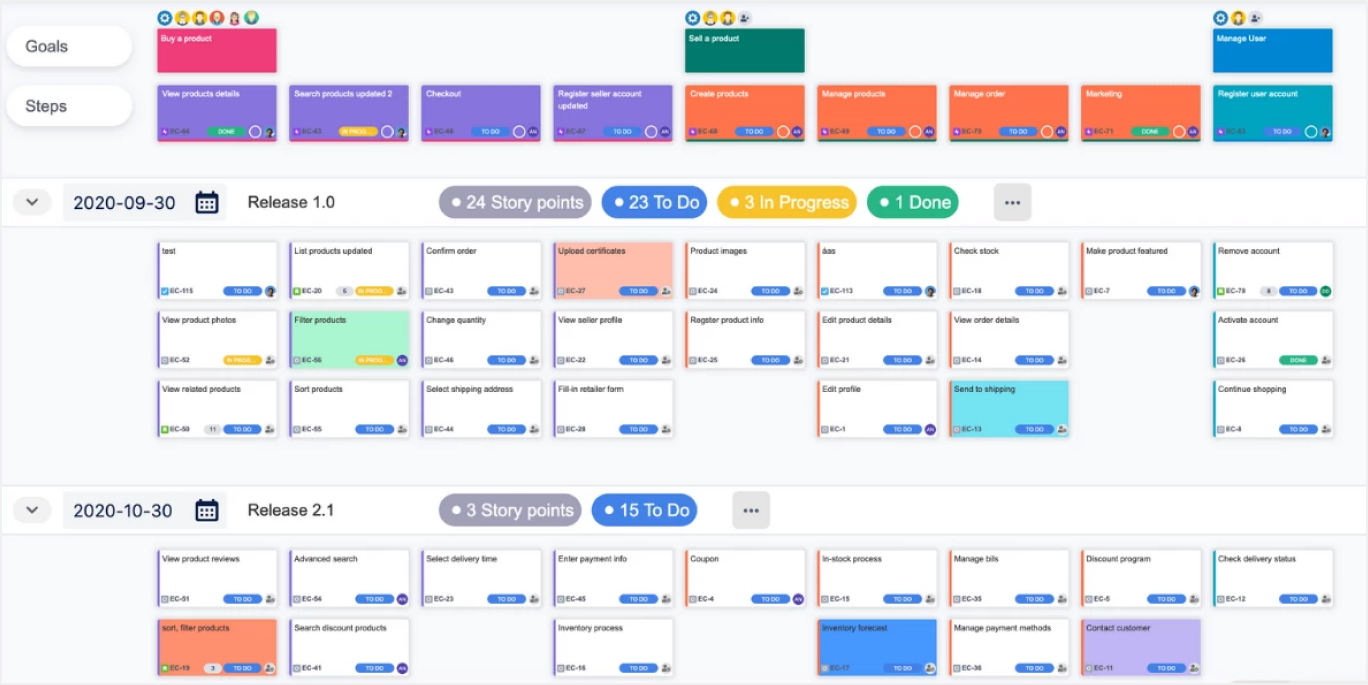 This addon is a bogof that unites two big views — a user story map and a product roadmap, that lets you see a big picture from a user's perspective. It's possible to keep working in the no-swimlane mode, or split your story map into release and sprint swimlanes. The same can be done for the roadmap, so you'll have the release and sprint timeline.
The app grants easy navigation thanks to filtering issues to display only what's needed, as well as data export to share your workflow with stakeholders.
Pros:
✅ User story mapping: Agile User Story Map & Product Roadmap offers a user story mapping feature that allows teams to break down complex projects into smaller, more manageable pieces. This feature enables teams to prioritize tasks, identify dependencies, and plan releases more effectively.
✅ Multi-projects view: The addon visualizes issues from multiple Jira projects on the same view.
✅ Free for 10-user teams: The app is totally free for small teams.
Cons:
❌ Sophisticated interface: While a combination of a user story map and a project roadmap is a powerful thing, you may find the interface very crowded with elements.
❌ Limited integrations: Same as most of the competitors, the app doesn't support any external integrations.
Price: free for teams which have fewer than 10 members, and then ​​$1.25 per user (average)
Hosting Options: Cloud, Data Center
Rating: 3.3/4
This add-on lets you manage and visualize the team's epics on a timeline. You can easily manipulate the epic boards, display statuses, and filter them. Additionally, you may link them with dependencies between epics as well as bring more clarity by visualizing milestones, version, and sprint date markers.
Pros:
✅ Easy to use: Epic Roadmap offers a user-friendly interface with a very straightforward interface.
✅ Epic hierarchy: Epic Roadmap is designed to work with the Epic hierarchy in Jira, enabling teams to map their roadmap to larger business goals and objectives.
Cons:
❌ Only Data Center: The addon doesn't support the Cloud version, so you can only host it on your side.
❌ Shows epics only: Epic Roadmap is able to visualize only one issue type — epics, which might be too limited for certain workflows.
Price: Data center version becomes available from $300 per year.
Hosting Options: Data Center
Rating: 3.3/4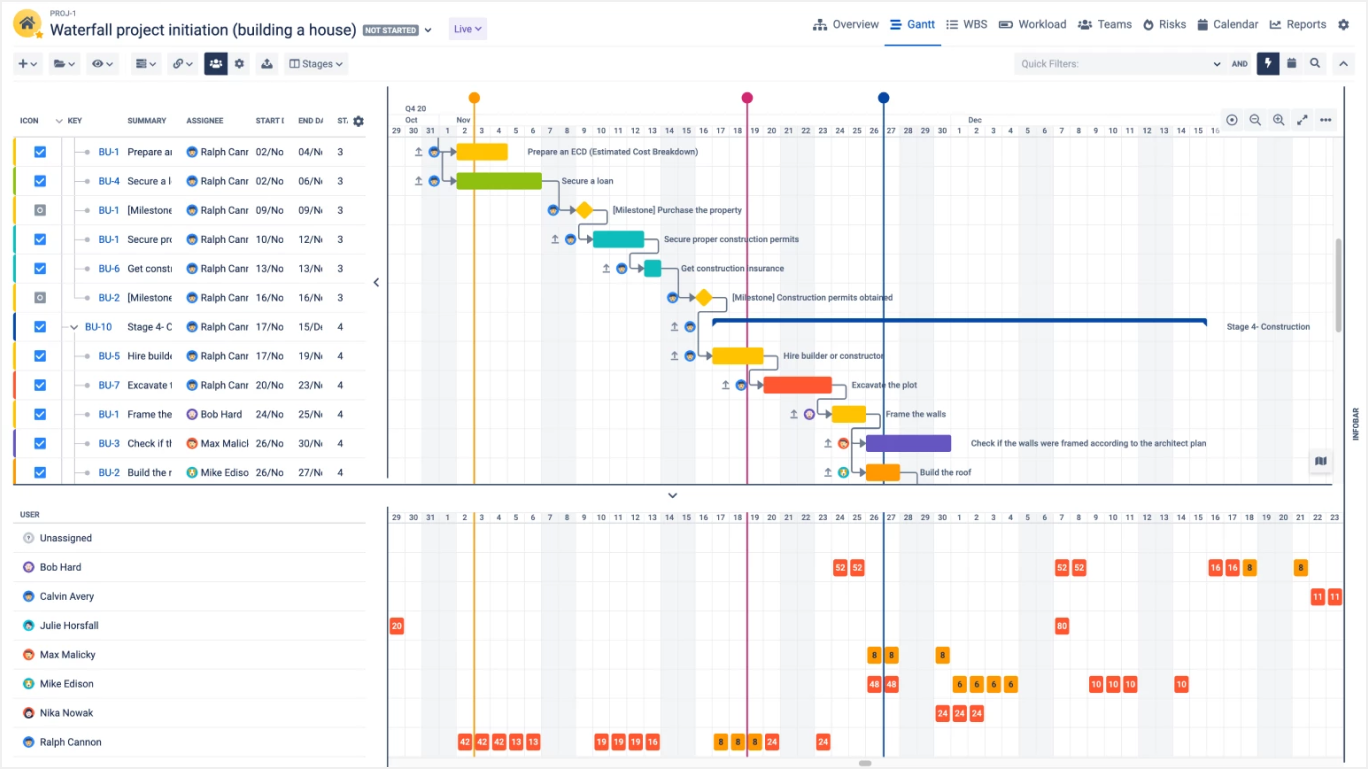 BigPicture for Jira is a project management plugin that includes a roadmap feature. It offers a customizable roadmap that can be tailored to fit the needs of different teams.
BigPicture for Jira allows teams to plan releases, set milestones, and track progress. It also provides a Gantt chart view, which enables teams to visualize their roadmap in a timeline.
Pros:
✅ Resource allocation: BigPicture offers resource allocation features that help to manage team workload more effectively.
✅ Advanced features: BigPicture offers a range of advanced features such as Gantt charts, dependency management, and what-if analysis.
✅ Free for up to 10 users: BigPicture is completely free for small teams.
Cons:
❌ Slow: There are lots of reviews pointing at the low speed of the addon.
❌ Cost: BigPicture is a more expensive app compared with similar solutions.
❌ Unintuitive UI: It will require some time for you to get used to the interface. So, then team onboarding might be a difficult thing to do.
Price: Free for 10-user teams, then USD 3.75 per user monthly.
Hosting Options: Cloud, Data Center Rating: 3/4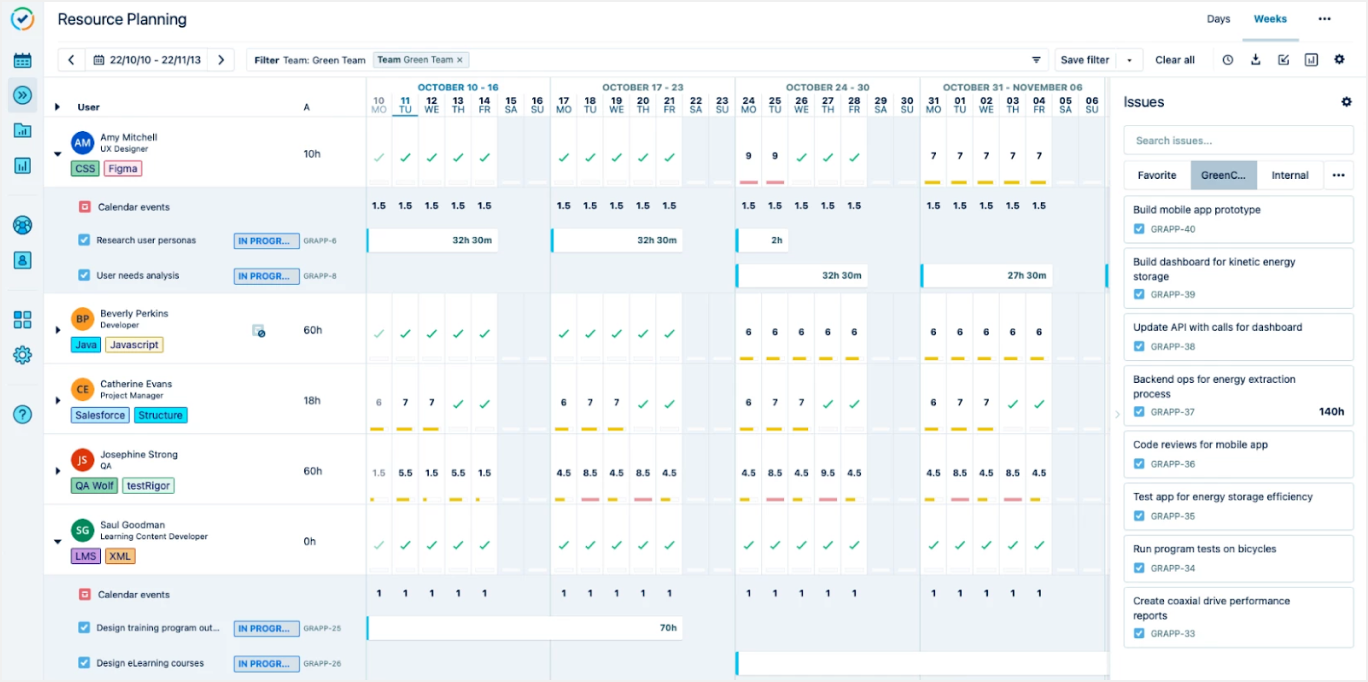 Tempo Planner for Jira is a plugin that enables teams to plan their resources and capacity. It offers a high-level roadmap that shows the availability of team members and their planned work.
Tempo Planner for Jira also provides a detailed view of each team member's workload, which enables teams to allocate resources more efficiently.
Pros:
✅ Resource allocation: Tempo Planner primarily focuses on workload management which means you'll have lots of options for capacity planning. This functionality enables teams to allocate resources across multiple projects, ensuring that the right people are working on the right tasks at the right time.
✅ Mobile app: Tempo Planner had the mobile version which makes it possible to manage team work on the go.
Cons:
❌ Focus on team members: The app allows you to plan time by team members only, not by projects. So, if you're looking for a more classical roadmapping tool, it might make sense to switch your attention to other solutions.
❌ Complexity: Tempo Planner offers advanced features that may require a learning curve for new users. Teams may need to invest time in training and onboarding to fully utilize the tool's capabilities.
Cost: Tempo Planner doesn't offer any free plans.
Price: Starts from USD 1 per user monthly, then the price rises as your team gets bigger.
Hosting Options: Cloud, Data Center
Rating: 3/4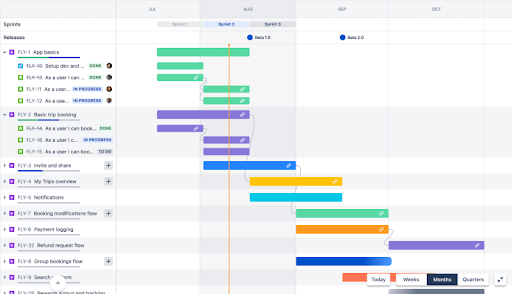 Aha! Roadmaps is a Jira plugin with lots of integrations for improving the process of product development. It has a list of the basic features to create interactive product roadmaps, reporting on progress, sharing roadmap presentations, and more.
Pros:
✅ Integration: Aha Roadmaps integrates seamlessly with other project management tools such as Trello, enabling teams to access their roadmap alongside other project management features. This integration eliminates the need for teams to switch between different tools, streamlining their workflow and saving time.
✅ Support team: There are lots of good reviews for great support in case of questions or issues.
Cons:
❌ No Data Center: The app only supports the Cloud version.
❌ Need for third-party vendors: The app can not be purchased the usual way on the marketplace page. You'll have to initiate the sales process through a third-party vendor.
❌ Learning curve: Aha Roadmaps may require a learning curve for new teams, so the onboarding process might be quite sophisticated.
Price: No open pricing. The app can only be purchased through third-party vendors.
Hosting Options: Cloud
Rating: 3.9/4
Why do you need a Jira project roadmap?
Creating a Jira project involves many variables that you will need to keep track of. And while managing everything just with the means of Jira boards seems too overwhelming, a visual project roadmap grants you an illustration of your workflow over time which can help you:
1. Keep everyone focused on the same goals
As the roadmap is a pure visualization of the work to be done to achieve your goals and objectives, it can pass this idea to the whole team making it clear why they do what they do and what they need to reach by the end of their path. Also, roadmap planning serves as a reminder of all important deadlines that increase the changes to deliver expected results on time.
2. Identify task priority
The roadmap is a great instrument for representing task priority. By simply checking the roadmap timeline, all team members instantly get which tasks are more prioritized than the others and demand the most attention, which helps you spend less time on coordination and make sure that everything goes by plan.
3. Communicate with stakeholders
As a roadmap visualizes your high-level project plan, you can make use of it for demonstration in front of other stakeholders. With a clear representation of your work plan, they can easily understand the execution process, form their expectations just by having a look at only the most important project milestones without diving into unnecessary details.
4. Adapt to changes
Having a roadmap in front of you will help you stay focused on your initial goals and objectives in case some changes happen along the way. So, it becomes sort of a compass holding your team on course.
5. Visualize status updates
Because the roadmap timeline is dynamic and reflects all updates happening, you may use it as a source of information when tracking how work is progressing from stage to stage.
How to create a roadmap in Jira?
While there are multiple solutions for creating your Jira roadmap, the basic principles stay the same no matter which tool you eventually choose.
Here are the top steps to create a Jira roadmap step by step:
1. Define your product or project goals: Before creating a roadmap, you need to have a clear understanding of what you want to achieve with your product or project. Define your goals and objectives, and determine the key milestones that you need to achieve to reach those goals.
2. Identify the features and tasks: Once you have defined your goals and milestones, you can start identifying the features and tasks that you need to complete to achieve those milestones.
3. Create a Jira project: In Jira, create a new project for your product or project. Set up the project's structure and configure the project's settings, including the project's name, description, and permissions.
4. Create epics: In Jira, an epic is a high-level user story that describes a large feature or theme that you want to accomplish. Create epics for each major feature or milestone that you want to achieve.
5. Break down the epics into smaller tasks: Once you have created the epics, break them down into smaller tasks or stories that you can assign to your team members.
6. Prioritize tasks: Prioritize tasks based on their importance and their impact on the project's goals.
7. Create a roadmap: Using Jira's roadmap feature, create a visual representation of your product or project's plan. Add the epics, tasks, and milestones to the roadmap and arrange them in the order in which they need to be completed.
8. Share the roadmap: Share the roadmap with your team members and stakeholders so that everyone is on the same page regarding the project's plan and progress.
9. Update the roadmap: Regularly update the roadmap as the project progresses and new information becomes available. This will help you to stay on track and make any necessary adjustments to the plan as needed.
Bottom line
Roadmapping is an awesome approach to visualize project pipeline, and a great source of information in a wide range of cases — when setting priorities for your team, outlining your plans for executives, and presenting work results to your clients.
In this article, we tried to explore the most popular roadmapping tools for Jira and provide a detailed listing to your judgement.
No matter which addon you choose, do not forget to reply on these principles when creating a roadmap:
✔️ Ensure everyone has access to it
✔️ Add only important information
✔️ Keep it well-structured
✔️ Focus both on short-term and long-term goals
✔️ Regularly review your project roadmap to adjust to changes
✔️ Align with stakeholders at all levels